The Energy Information Administration (EIA) released new state crude oil production data today for the month of June, and one of the highlights of the monthly update is that oil output in America's No. 1 oil-producing state -- Texas -- continues its phenomenal, meteoric rise. Here are some details of oil output in "Saudi Texas" for June:
1. Texas produced an average of 2.575 million barrels per day (bpd) of crude oil in June, which is the highest average daily output in the state in any month since May 1981, slightly more than 32 years ago (see chart below). Compared to a year earlier, oil output in Texas increased by almost 31% in June, posting the 21st straight month starting in October 2011 that the state's oil output has increased by more than 30% on a year-over-year basis.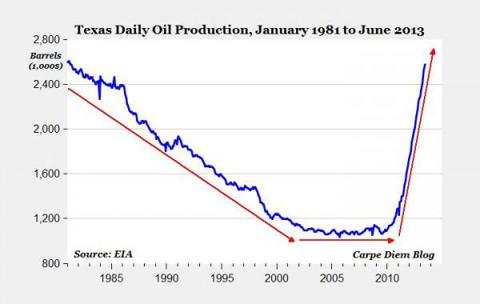 2. Amazingly, oil production in the Lone Star State has almost doubled in only two years, from 1.4 million bpd in June 2011 to nearly 2.6 million bpd in June 2013. That has to be one of the most significant increases in oil output ever recorded in the history of the U.S. over such a short period of time. A 1.2 million bdp increase in oil output in only two years in one U.S. state is remarkable, and would have never been possible without the revolutionary drilling techniques that just recently started accessing vast oceans of Texas shale oil in the Eagle Ford Shale and Permian Basin oil fields.
3. In just the last 18 months since January 2012, when the state produced 1.725 million bpd, Texas' oil output has increased by 850,000 bpd to 2.575 million bpd in June. That is the equivalent to adding an entire new oil field greater than the size of the North Dakota Bakken formation to the U.S. oil supply (based on June production in the Bakken of 757,000 bpd).
4. The exponential increase in Texas' oil output over roughly the last three years has completely reversed the previous 27-year decline in the state's oil production that took place from 1982 to 2009 (see arrows in chart).
5. In mid-2009, Texas was producing less than 20% of America's domestic crude oil. The recent gusher of unconventional oil being produced in the Eagle Ford Shale and Permian Basin areas of Texas, thanks to breakthrough drilling technologies, has recently pushed the Lone Star State's share of domestic crude oil above 30% in each of the last 14 months -- and all the way up to 35.8% of America's crude output in June.
6. Oil output has increased so significantly in Texas in recent years that if it was considered as a separate oil-producing country, Texas would have been the 11th largest oil-producing nation in the world for crude oil output in April (the most recent month available for international oil production data). That's just slightly behind No. 10 Mexico at 2.56 million bpd (Texas produced 2.465 million bpd in April). At the current pace of output increases, Texas oil production will likely surpass 3 million bpd by the end of this year. It could surpass Kuwait, Mexico, the UAE, and Iraq to rank as the eighth-largest oil-producing "nation" in the world.
7. The exponential increase in Texas' oil production is bringing jobs and economic prosperity to the state. For example, over the last 12 months through June, payrolls in the state of Texas increased by 303,000 jobs, which was a 2.8% annual increase in the state's employment level. That's close to twice the national increase in payroll employment of only 1.72% over that period. Every business day over the last year, almost 1,300 new jobs were created in the Lone Star State. And many of those jobs were directly or indirectly related to the state's booming oil and gas industry, which saw a 3.65% increase in payrolls over the most recent 12-month period through June.
The exponential increase in Texas' oil production over the last several years is nothing short of phenomenal, and is a direct result of America's "petropreneurs" who developed game-changing drilling technologies that have now revolutionized the nation's production of shale oil. For oil output in Texas to almost double in only two years -- and increase so dramatically that the state produced almost 36% of all U.S. crude oil in June -- is undoubtedly one of the most remarkable energy success stories in U.S. history. And it's just getting started.