Somebody apparently expects Amdocs (NYSE:DOX) to make a move by early next year.

optionMONSTER's tracking systems detected unusual activity in the January 30 calls, which traded 3,405 times against open interest of just 422 contracts. A single purchase of 3,077 contracts for $0.35 accounted for most of the activity.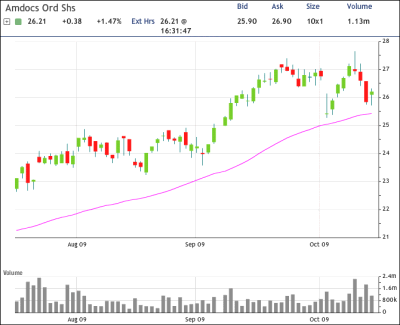 While such a transaction would normally be bullish, it occurred shortly after heavy selling of the stock. That suggests an investor implemented a delta-neutral trade, which will let him or her profit from the software maker moving sharply in either direction or from higher levels of implied volatility.

DOX rose 1.47 percent to $26.21 yesterday. The stock is up 20 percent in the last three months and has returned to pre-crisis price levels. However, it gapped lower on Oct. 2 following a Bank of America downgrade and then declined a week later after failing to hold a new high.

Implied volatility has also been inching higher in DOX, climbing to 33 percent from 30 percent on Sept. 22. A continuation of that trend would help the delta-neutral trader by increasing the value of the options they own.

The next scheduled event that could potentially serve as a catalyst for the shares is the release of fiscal fourth-quarter earnings after the bell on Nov. 4.

The activity in DOX pushed options volume in the name to seven times greater than average.
(Chart courtesy of tradeMONSTER)