By David Russell
Options action turned bullish in Eagle Bulk Shipping yesterday as investors targeted a stock still trading at one-quarter of its pre-crisis levels.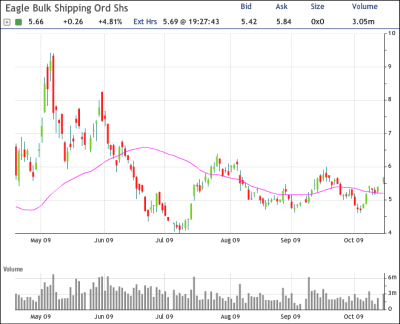 Our Heat Seeker tracking system detected unusual activity in the December 5 calls, which traded more than 9,600 times against open interest of 3,045 contracts. Large purchases for $1 to $1.05 accounted for most of the activity.

EGLE rose 4.81 percent to $5.66 in afternoon trading. The bullish trades followed a recommendation by newsletter writer Stansberry & Associates Investment Research, which apparently caused EGLE to gap higher at the open.

Some traders may see value in the stock, which is down 3.45 percent over the last six months. That compares with a 29 percent gain for the S&P 500 and a 36 percent gain for the Dow Jones Transportation Average over the same period.

The debt-laden shipping stock needs to climb about 7 percent by expiration for today's call buyers to turn a profit. It last reported earnings on Aug. 5 and hasn't yet indicated when the next release will be published.

Overall call volume in EGLE was 12 times greater than average today. Calls outnumbered puts by 14 to 1.
(Chart courtesy of tradeMONSTER)