American Eagle Outfitters, Inc. (NYSE:AEO) is a very popular fashion retailer. The company has consistently produced highly fashionable apparel for the last few decades. In addition, the company has a good balance sheet that can withstand unexpected market events. To add to that, the stock of the company appears to be very cheap and undervalued, in relation with the underlying fundamentals of the company.
Over the last few years, American Eagle has faced fierce competition from the rest of the industry. However, there is no indication that American Eagle has lost the fashion war. To maintain its market share, the company has resorted to heavy discounting, but has maintained the quality of its apparel. Here are a few factors that explore American Eagle's viability as an investment:
Is American Eagle still relevant?
It is interesting that some in the market have already written off American Eagle Outfitters. However, there is no legitimate reason for why the company would no longer be popular among customers. The company's fashion sense and forwardness have remained the same, and its earnings, although not as high as before, are rising fast. For instance, one of the major current fashion trends is the contrasting sleeve. On its part, the American Eagle website shows a great amount of application of this trend. As more customers recognize the high fashion quotient of American Eagle, the company will start to see the results.
The Gap, Inc.(NYSE:GPS), on the other hand, has already had a turnaround. Its apparel is starting to be appreciated again, after years of lagging. However, Gap Inc., which owns Gap stores, Banana Republic and Old Navy have a history of losing its way in fashion. Conversely, American Eagle's clothing has remained rather consistent. Such consistency would help American Eagle as the economy improves.
American Eagle has consistently displayed its good sense of fashion trends and its ability to survive in tough times. Although American Eagle faces tougher competition, and is bogged down by lower teen spending, these trends can only last so long. Eventually, the economy does get better, and the companies offering the best products do benefit.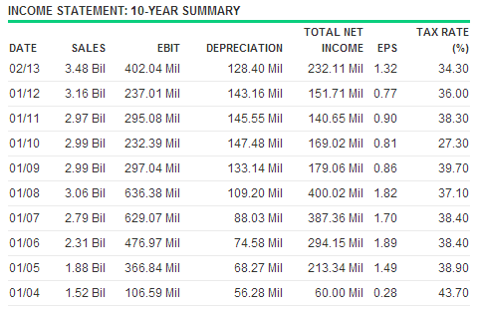 Growth:
American Eagle has seen sluggish growth over the last few years. The revenues remained stagnant for a period after the recession, but they have now achieved normal growth. Even though the company's revenues are much above the levels in 2007, the earnings are 40% lower. The reason for this is a decrease in gross margins. Abercrombie & Fitch Co, (NYSE:ANF) has suffered the same fate. Its revenues are 30% higher than those in 2007, but the earnings are 40% lower.
Fashion brands have, as yet, been unable to raise the prices for their merchandise due to weak retail spending. In addition, competition has led to heavy discounts on apparel that shave away the margins even further. As retail spending pick up, the margins at the retailers would spike up and make up for the lousy earnings they've had in the last few years. Retail spending levels are usually an indicator of the consumer sentiment, and both rise and fall together.
Financial position:
American Eagle has a high equity to assets ratio. Equity forms almost 70% of the assets, thus, signaling low leverage and credit risk. In addition, the company's current ratio is at 2.5, and can be considered sufficiently high. Current ratio of a company helps depict short-term liquidity in relation with short-term liabilities.
Conversely, Gap has a much lower Equity to Assets ratio; equity forms only 38% of total assets. Although, this is not alarming, it suggests higher sensitivity toward losses. A high proportion of debt on the balance sheet increases the burden of interest payments, and can cause problems with the refinance of debt during an economic crisis.
Stock:
American Eagle has a relatively low P/E ratio, at 13.57. The market has been less than upbeat about retail stocks in general, and American Eagle is no exception. Since the earnings are much below the levels in 2007, the stock has a lot of possible upside. In addition, the fundamentals of the company are little changed since 2007, and thus, there is no reason to expect the company not to reach those levels again. The stock also carries a handsome dividend yield of 3.29%.
Abercrombie & Fitch's stock is in almost the same position as American Eagle's. The company's P/E ratio is at 13.83, and its earnings seem depressed in relation to the pre-recession numbers.
On the other hand, Gap's EPS is at its highest level, and its P/E ratio (ttm) is relatively higher than others', at 16.37. This makes the company less undervalued than both American Eagle and Abercrombie & Fitch.
American Eagle's undervalued stock has created a huge opportunity for long-term investors. Those investors who recognize the company's inherent value can make a long-term bet on its survival and profitability.
Conclusion:
American Eagle has maintained its vitality as a fashion brand. The company continues to manufacture apparel that is trendy. However, tough competition has lowered its gross margins and caused the market to lose faith in its long-term profitability. Since there is no viable justification for such pessimism, we must conclude that the company is likely to gain favor with investors again. In the meantime, American Eagle's stock could be purchased at a low price. Value investors should definitely consider an investment in American Eagle.
Disclosure: I have no positions in any stocks mentioned, and no plans to initiate any positions within the next 72 hours. I wrote this article myself, and it expresses my own opinions. I am not receiving compensation for it (other than from Seeking Alpha). I have no business relationship with any company whose stock is mentioned in this article.