What's going on in the sporting goods market? Hibbett Sports, Inc. (NASDAQ:HIBB) recently lowered fiscal 2014, earnings and same-store sales guidance. This Zacks Rank No. 5 (Strong Sell) is only expected to grow earnings by 1.3% in fiscal 2014 as the retail environment remains challenging.
Hibbett Sports operates sporting goods stores predominantly in the South, Southwest, Mid-Atlantic, and Midwest regions of the U.S. Its stores average about 5,000 square feet and are located in strip malls and enclosed malls in small to mid-sized markets.
Comparable-Store Sales Soft
On Aug. 23, Hibbett reported second-quarter results and beat the Zacks Consensus by 2 cents. Earnings were 40 cents compared to the Zacks Consensus of 38 cents. But comparable same-store sales rose just 0.3% year over year. The company blamed the soft sales on a "challenging economic environment."
Fiscal 2014 Guidance Cut
Despite being encouraged by a strong start to the third quarter, and beating the Consensus Estimate for the second quarter, Hibbett still lowered its full-year earnings guidance to the range of $2.65 to $2.77 from previous guidance of $2.85 to $3.05. Full-year comparable-store sales are now expected to be in the low single-digit range, which is down from the low- to mid-single-digit range it had been forecasting.
The analysts didn't wait around for more news. They cut fiscal 2014 to $2.76 from $2.91, but they aren't optimistic on fiscal 2015 either. They slashed fiscal 2015 to $3.16 from $3.35.
Shares Volatile
Shares plunged on news of the cut to full-year guidance.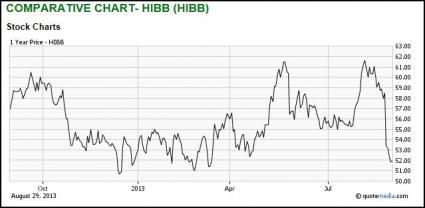 It doesn't look as if things will improve in the near term. Even the company said there were "ongoing uncertainties" in this economic environment. If you must own a company in that sector, Big 5 Sporting Goods Corp. (BGFV), which is based out West, is expected to grow earnings by 79% this year. It's a Zacks Rank No. 3 (Hold).
Big 5 Sporting Goods: Free Stock Analysis Report (email registration required)
Hibbett Sports: Free Stock Analysis Report (email registration required)