Tesla (NASDAQ:TSLA) has made cars sexy again. The auto industry is in the middle of a renaissance, and that includes the auto parts suppliers like Magna International, Inc. (NYSE:MGA). This Zacks Rank No. 1 (Strong Buy) has surprised on the Zacks Consensus Estimate seven quarters in a row.
Magna is based in Ontario, Canada, and has 315 manufacturing operations in 29 countries. Its customers encompass nearly every auto company in the world. It produces body, chassis, interiors, exteriors, seating, powertrain, electronics, mirrors, closures, and roof systems.
Record Q2 Sales
On Aug. 8, Magna reported second-quarter earnings and beat the Zacks Consensus by 11.3%. Sales jumped 16% to a record $8.96 billion. This was better than vehicle production, which rose 7% in North America and fell 1% in Europe. Complete vehicle assembly sales jumped 23% to $796 million compared to $645 million last year.
Raised Full-Year Sales Guidance
The auto supplier is optimistic about North American production. It gave 2013 guidance of 16.1 million vehicles. It also raised full-year revenue guidance to the range of $33.3 billion to $34.7 billion from its previous guidance of $32.6 billion to $34 billion.
Zacks Consensus Estimates for 2013 and 2014 Move Higher
Magna didn't give EPS guidance, but that didn't stop the analysts from raising their estimates for both 2013 and 2014 after the big earnings beat. Eight out of 10 estimates have moved higher for 2013 since the report, pushing the Zacks Consensus Estimate up to $6.14 from $5.96.
Similarly, analysts expect the good times to keep rolling in 2014, as nine out of 10 estimates have been raised for 2014 in the previous 30 days. The 2014 Zacks Consensus jumped to $7.38 from $7.11 in that time. That is earnings growth of 20.1%.
Shares Near Five-Year Highs, But...
Shares have soared over the last year and are now hovering near five-year highs.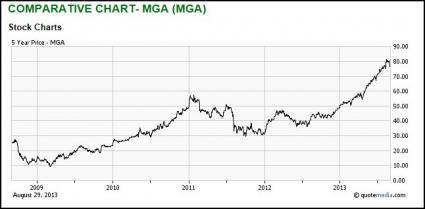 But valuations are still very attractive. Magna is trading with a forward P/E of just 12.4, which is well under the S&P 500 average of 15.5. It has a price-to-book ratio of just 1.9, which puts it in value territory. Magna also has a price-to-sales ratio of just 0.5. A P/S ratio under 1.0 usually indicates value. Investors looking for a hot industry, earnings growth, and value can't go wrong with this auto supplier.
Magna: Free Stock Analysis Report (email registration required)