The Company
Uranerz (NYSEMKT:URZ) is a near-term uranium producer currently building a mine in Wyoming with first production scheduled for late this year.
The Summary
Our concerns about Uranerz and its abilities to reach production without further shareholder dilution were confirmed a few days ago. The company announced a bought deal worth $10M in funds. In response the share price dropped 11% to $1.12 reflecting the associated dilution of the share registry. Even with these additional funds in the bank the company will struggle to reach production without going back to the market unless it receives funds from the Wyoming state government it has applied for. Turning production into free cash flow will be difficult unless uranium prices rise from current levels.
The Project
Uranerz is building a uranium mine in the Powder River Basin in Wyoming. The project is called Nichols Ranch and is fully permitted to produce a maximum of 2M lbs of yellowcake. Uranerz will be using in-situ recovery, or ISR, which is a comparatively inconspicuous method of mining uranium. Modern ISR involves the circulation of water, fortified with oxidation agents, through a uranium ore body. The fortified water is pumped into injection wells and through the uranium ore body. Uranium is oxidized and solubilized and pumped back to the surface through extraction wells. This liquid is transferred to an ion exchange unit for uranium removal.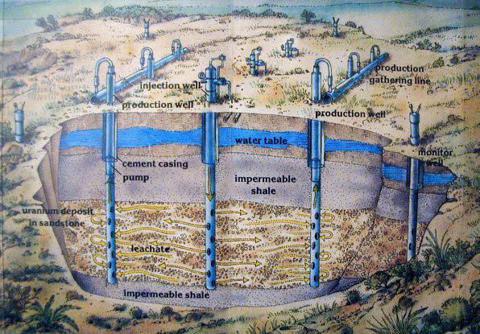 (photo from here)
The Nichols Ranch project is situated in a region exceptionally prospective for uranium. Industry leaders such as Cameco (NYSE:CCJ) and Uranium One (OTC:SXRZF) have producing mines in adjacent land holdings. Uranerz management is experienced in applying ISR to uranium deposits.
The total resource is comprised of 5 deposits scattered across a 20km by 20km region. Production will start at the Nichols Ranch deposit which hosts an indicated resource of close to 3M lbs of uranium. The Jane Dough deposit is of a similar size and could be connected with a pipeline to the processing facility at Nichols Ranch. There are three other deposits hosting additional 12M lbs in uranium resources at a greater distance from the facility. Uranerz is targeting initial production of 600,000 to 800,000 lbs per year.
A PEA was published in 2008 indicating direct operating costs of $35/lb including royalties and taxes. Considering inflation and also the current uranium spot price it will be difficult to achieve free cash flow. Not all production will be sold at spot price due to two off-take agreements which will pay above that level. However, even industry giant Cameco realized a price of only $46.30/lb uranium in the second quarter this year when the average spot price registered as $40.18/lb. As indicated by the chart below the uranium spot price has since dropped again to $35/lb.
Construction of the ISR facility is nearing completion. Uranerz has completed drilling the first of two deep disposal wells which are required to be operational prior to commencement of uranium recovery operations. The second well should be finalized sometimes in fall.
Uranerz has a toll processing agreement with Cameco whereby Uranerz will deliver loaded resin to Cameco's Smith Ranch facility and have it refined into Yellowcake there. This arrangement reduces execution risk and initial capex and it should also lower production costs especially during ramping up.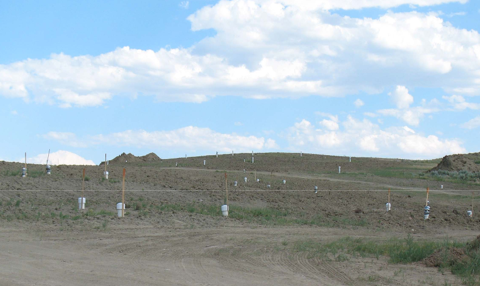 (Nichols Ranch well field. photo taken from company website)
Uranium Outlook
Numerous commentators have been making a bullish case for uranium. Arguments typically include:
We remain skeptical with regards to the immediate impact of these factors on the uranium price. They have been touted for a long time now, but the uranium spot price has only known one trend ever since the Fukushima disaster. Whether or not the rebound will happen in time for Uranerz to reap the benefits of its new operation without having to raise more money at a depressed share price again remains to be seen.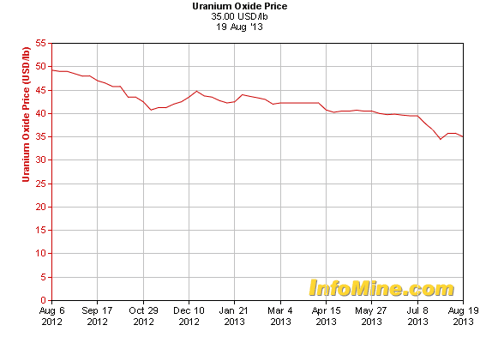 Stock & Financial Information
Including the new shares to be issued in the course of the mentioned bought deal there will soon be close to 86M Uranerz shares outstanding. The market capitalization is currently listed as $85M and does not include these new shares which have already been priced into the share price following the announcement. Five analysts are covering the company providing a median price target of $2.50 which compares favorably with the current share price of $1.10. Insiders are holding 13.6% and institutions are holding 16.6%. (Data as provided by Yahoo.com).
The company has been living hand-to-mouth for a while awaiting funds from an industrial bond program offered by local Wyoming authorities. In late 2012 Uranerz submitted an application to the Wyoming Business Council for a $20,000,000 loan. The company has received favorable reviews and approval of the loan was recommended by the WBC to state officials in March. State officials have confirmed their support for the application in May but no money has been released so far. The company entered into a $6M short-term loan agreement in June and has now announced the mentioned $10M bought deal. These financings will give the company some breathing space and should be sufficient to tide Uranerz over to finally receiving funds from the industrial bond program.
Conclusion
Uranerz is nearing first production at the Nichols Ranch ISR facility. Provided the company finally receives funding from the industrial bond program the project should be financed to first production and beyond. Achieving free cash flow from production is dependent on successfully ramping up production to the targeted initial production rate of 600,000 to 800,000 lbs per year and most importantly, the long overdue recovery of uranium prices.
An investment in Uranerz is certainly speculative at this stage. Companies are typically very vulnerable at the point where Uranerz is finding itself right now. Further delays in receiving funding from the industrial bond program, or delays and problems in ramping up the facility are very real concerns. On the other hand, if the company is able to execute its path to production without too many hick-ups it should reward investors handsomely.
Given the company's ties with Cameco and its geographical vicinity to Cameco's operations a takeover by this major uranium producer is certainly a real possibility.
Disclosure: I am long URZ. I wrote this article myself, and it expresses my own opinions. I am not receiving compensation for it (other than from Seeking Alpha). I have no business relationship with any company whose stock is mentioned in this article.