Apple (NASDAQ:AAPL) faces a conundrum. iPhones and iPads are losing favour with consumers in favour of Android devices and in particular so-called Phablets, which are smartphones with screens between 5 and 7 inches, particularly in Asian markets. IDC reports that 25.2 million of these devices were sold in the second quarter in Asia, approximately equal to the total sales of tablets and laptops of 25.3 million in the period. None of the "Phablets" sported an Apple logo in a market which doubled quarter on quarter and was up over 600 percent year on year. Apple is rumoured to be planning to introduce an iPhone with a "Phablet sized screen" perhaps as early as September 12, 2013 at its forthcoming event.
Why the conundrum? Apple needs a Phablet but such a device will almost certainly cannibalize sales of iPhones and iPads. An iPhablet as I will call it will be a direct competitor of the iPad mini and is likely to displace the latter device substantially since it will not only perform all of the tasks of the smaller iPad but also will be a phone. Moreover, with the "Phablet" market already crowded with offerings on both Android and Windows platforms, Asian customers are used to paying lower prices than Apple traditionally enjoys in its "premium" product positioning.
Samsung, Micromax, Sony, Coolpad and Lava are among the most popular brands of phablets in India, for example.
Numerous brands of Phablets are in evidence and the designs are slim and elegant like this Vsun model.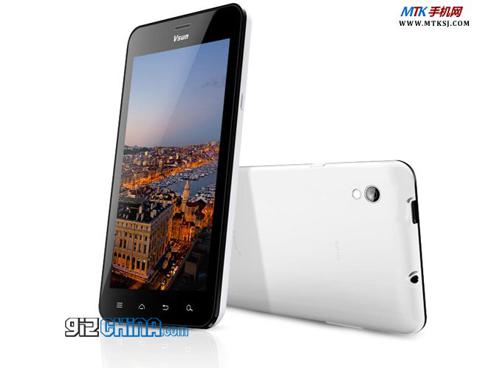 The Huawei Ascend, shown below next to an iPhone, demonstrates the size difference between a Phablet and the current Apple smartphone.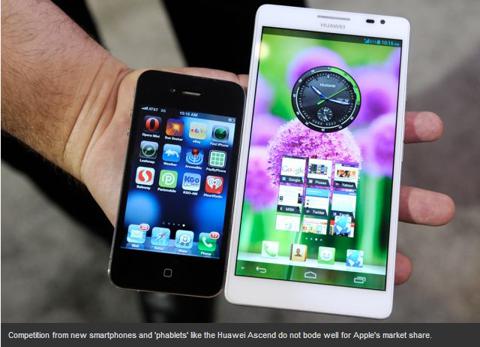 The Phablet market is wide open and consumers can expect to see any number of new models in the near future, including Android, Windows and BlackBerry (NASDAQ:BBRY) models. The early entrants from Samsung and HTC were Android based.
Nokia (NYSE:NOK) is rumoured to be planning a Phablet device later this year based on the Windows OS.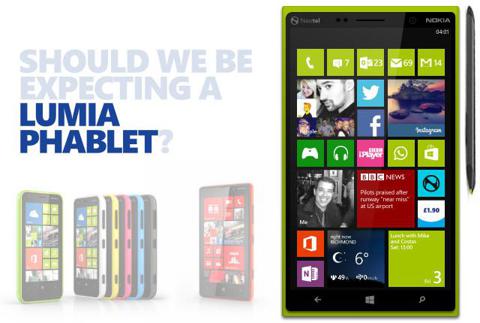 BlackBerry is expected to introduce a Phablet sized device code named Aristo, shown here.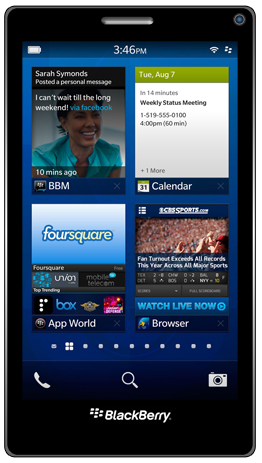 Apple is highly likely to follow suit.
The problem for Apple is both product and product positioning. The Phablet market is now over a year old with the Samsung Galaxy Note one of the first out of the gate and the HTC One not far behind. Samsung continues to advance its designs and will launch the latest version of the Galaxy Note in early September, possibly just ahead of Apple's planned announcements according to reports. More recently, Motorola introduced the Droid Max, which Verizon offers along with the HTC One.
With consumers being offered a wide range of very attractive Phablet devices, Apple has to decide not only what screen size and features to offer but also what price to set, bearing in mind that in this case it is late to the game and consumers have already formed expectations for price and features. Priced too high, it will very like command only limited volumes. Priced too low, it will become a lower margin product likely to displace higher margin iPhones and iPad minis, possibly shrinking its own market as some consumers opt for a Phablet instead of an iPhone and an iPad mini.
We don't have enough information on Apple's plans to form a meaningful judgment on how it proposes to deal with the burgeoning demand for Phablets, but we do know enough to see that it will be a very competitive arena and one that is likely to be destructive to demand not only for iPads but also for conventional iPhones, at least in Asian markets.
The arithmetic is not complex however. To sell an iPhablet in volume Apple will likely have to price it at about $600. At that price, it would generate a profit margin of about 35% to 40% owing to its highest cost components, particularly the larger screen. Customers who buy the device will do so instead of an iPhone selling for slightly less but with a 55% to 60% profit margin, and many of them will not purchase an iPad or iPad mini since the iPad functions are pretty well covered by the iPhablet. There goes another $320 in sales for an iPad mini at margins of 25% or so. The risk is that the $240 in margin earned in every iPhablet will come at the expense of $300 margin on an iPhone and another $80 margin on an iPad mini (numbers are representative of course), for a net loss of profit margin of $140 per device.
Of course, Apple will attract new users who owned neither an iPhone nor iPad and may not have planned to purchase either, switching from their Android or other device. But in my judgment, there will be substantial cannibalizing.
Apple is very likely to introduce an iPhablet. My view is that the effect will be to generate considerable enthusiasm among Apple investors and users of Apple products, but from a financial point of view, I suspect the benefits will be muted and consistent with what we have seen from Apple for a few quarters now - lower market shares, shrinking profit margins, stagnant profits and lower share price. Accordingly, I am short calls on the stock at a $500 strike hedged by a short put position at the same strike.
Disclosure: I am short AAPL. I wrote this article myself, and it expresses my own opinions. I am not receiving compensation for it (other than from Seeking Alpha). I have no business relationship with any company whose stock is mentioned in this article.
Additional disclosure: I am short Apple calls hedged by short Apple puts, and may short the stock following the September new product announcements