Strict regulations and increased negative public opinion of smoking has led to many changes in the tobacco industry. Health concerns have added to the growing distaste for cigarettes, but led to the introduction of the electronic cigarette - a so-called healthier nicotine product that produces water vapor instead of a poisonous discharge of chemicals. This revolutionary product has climbed from $500 million in sales as of 2012 to an expected $1.2 billion for 2013.
As a society, (we have to admit) we have a penchant for certain vices regardless of the economy. As savvy investors though, we can profit by buying companies that take advantage of this pervasive human condition.
"Sin" stocks, as they are popularly known, offer an opportunity to invest in companies with a fantastic business model: they sell products that people simply become addicted to, which creates a loyal base of customers who will bear the brunt of inflationary expenses. One such business is cigarette manufacturing. And despite continued political pressure, the industry is not going anywhere, although it is evolving.
As the regulation of tobacco continues to rage on, the electronic cigarette will provide consumers with an alternative that is becoming more popular worldwide.
The e-cigarette has become a new growth opportunity for big tobacco and has just topped $1 billion in sales according to V2 Cigs, an online leader in e-cig sales.
These three tobacco stocks should perform well in an expansionary or inflationary environment. All three have exposure to the growing electronic cigarette market, or are engaged in a similar product that meets the public demand for a healthier alternative. And they all pay a solid dividend and engage in stock repurchases, providing positive defensive action in down markets.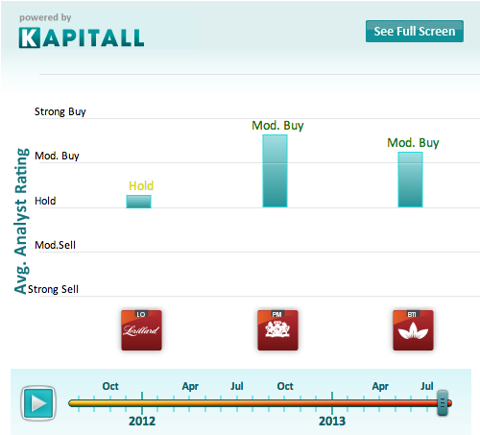 Sourced from Zacks Investment Research.
Let's start with Lorillard (NYSE:LO). It is the third largest cigarette manufacturer in the United States. Aside from Lorillard's flagship Newport brand, they also own Kent, True, Maverick, and Old Gold. Lorillard was the first and is currently the leading company in the electronic cigarette market via the acquisition of the Blu Cig label in 2012 for $135 million in cash. Lorillard claims to control more than 40% of the entire e-cigarette market share, with a planned expansion into Canadian markets in the third quarter.
As the cigarette industry is subject to the constant threat of fines and taxes, the ability to pass on price increases to customers without losing them is vital. And according to the Lorillard second quarter earnings report, the company was able to increase pricing by 6.9% - more than the 5.9% increases in the first quarter - while still maintaining sales volumes.
Lorillard carries a strong balance sheet with cash and cash equivalents in excess of current liabilities - $1.64 billion to $1.15 billion - which gives them an edge in tough environments. Operating margins have been strong, over 28% for the last three years, but Lorillard's 5% dividend may ultimately be the most attractive feature to defensive investors. In the most recent quarter, they repurchased $169 million in stock, providing an additional cushion during market downturns.
Next, Philip Morris (NYSE:PM), an internationally recognized tobacco company that dominates the market with seven of the world's top 15 brands, according to the company's website, including the number one brand worldwide: Marlboro. The company has yet to expand into the explosive electronic cigarette business, but has announced the development of a healthier cigarette alternative that will be available by 2017.
Fundamentally, Philip Morris is a solid stock. Operating margins have been improving - over 16% - and they have had steady growth of 12.5% over the last five years. Like Lorillard, they are a high dividend income play at 4%, an amount that has grown 84% since 2008. Possessing over 16% of the world market share of cigarettes, and a market cap of over $137 billion, Philip Morris has the ability to weather down economies and inflationary concerns.
In the second quarter, they bought back $1.5 billion in stock. On the technical side, a quick look at the Relative Strength Index indicates the stock is on the verge of entering oversold territory, representing a buying opportunity.
Finally, British American Tobacco (NYSEMKT:BTI). This is an international cigarette company listed as an ADR on the NYSE. Similar to Lorillard, British American Tobacco entered the electronic cigarette market through the acquisition of CN Creative Ltd. And Britain's Medicines and Healthcare Products Regulatory Agency is set to endorse British American Tobacco's e-cigarette with widespread regulation coming online on 2016.
Another solid dividend play at 2.6%, British American Tobacco provides investors with downside protection. Operating margins are high - over 36% - and they bought back $508 million in stock for the last quarter. British American Tobacco may also benefit from the rising tide of European markets right now as their relative P/E of 14 is seen as less than the U.S. market's 17.83.
Looking for companies with the potential for growth as well as possessing defensive attributes is a tall order. The emergence of the electronic cigarette industry however, has managed to provide investors with the opportunity for both.
Disclosure: I have no positions in any stocks mentioned, and no plans to initiate any positions within the next 72 hours.
Business relationship disclosure: Kapitall is a team of analysts. This article was written by Daniel Cross, one of our writers. We did not receive compensation for this article (other than from Seeking Alpha), and we have no business relationship with any company whose stock is mentioned in this article.