I've written numerous articles over the past 6 months swearing up and down and left and right that the market is going to be coming to a bearish stance at some point soon, and that the bull market as we know it - although it's had a good run - is likely to end on the heels of the Fed tapering, among other macro catalysts (more on that here).
However, as the inevitable hand of time marches us through Q3 2013 and into Q4 2013, we're looking like this is simply going to go down in the books as a great year for stocks - no matter what the sentiment is going into 2014. Over the last year, the Dow will have yielded somewhere around 20%.
(Dow Industrials 1 Year Chart - Not Too Shabby - click to enlarge)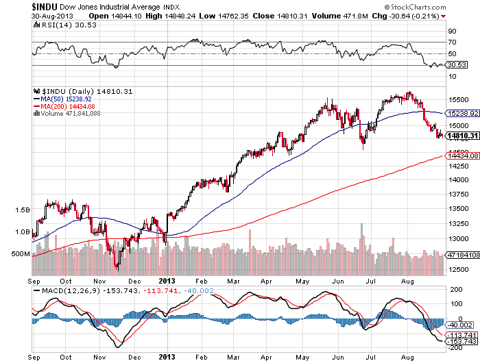 I've been arguing for the past few months that this market we are in is due for a correction. I've been called, in my comments and private messages, everything from a permanent bear to conspiracy theorist - I assure you, I'm neither. I had cited signs like the Fed, QE, the social media bubble, wild Nikkei trading, building tensions in Syria, and the beginning retreat of U.S. consumer sentiment to support my thesis.
However, born of the section of the article where I write about what the potential risks are with my strategies, I started to play "devil's advocate" about the chance, albeit small, that the market could continue to thrive ever as the Fed starts to taper its bond buying program.
If you remember, the market was crushed and bonds skyrocketed in June when Ben Bernanke alluded to the fact that the Fed could start a taper. However, as soon as July arrived (and on the heels of job data), bonds sank yet again and stocks began their advance once again.
The general sentiment behind rising interest rates is that they can stop a bull market in its tracks. Some bulls argue that bond rates rising is simple for the "all around" good reason that the economy in general is simply getting better. Furthermore, Bernanke has basically committed to keeping interest rates extremely low until sometime around 2015.
Some bigger stocks faced a bit of a correction during the mid summer shenanigans. But, there's bullish reasoning that this was due to the fact that those stocks were simply overbought, and that it didn't have much to do with the Fed. Many bulls continue their steadfast sentiments in major blue chips (which I agree, I'm generally simply bullish on), REITs, and staple stocks.
Bonds, on the other hand, I don't think are likely to continue to rise for the time being - again, with this being attributable to Bernanke telegraphing that interest rates aren't going to rise much before 2015.
We next hear from the Fed on September 17th, and unless they comment on keeping interest rates in the cellar, there might be another small offloading of stocks, which bulls would argue as a buying opportunity.
If you think the Fed is likely to taper and the market stay bullish, you need to be positioned correctly. Again, this is, to me, the least likely scenario to happen - but, it's possible - that's why this is a "devil's advocate" look. I'm a big believer that if the Fed tapers, the smart money goes with it, causing the market to go bearish. However, if you think this bull market has enough strength to stand on its own and will continue to go up in the face of the Fed tapering, I'd be extremely cautious. I'd start with a portfolio of items that take advantage of both long and short moves. From the start, though, this portfolio would include:
Small to medium cash position
Small long positions in silver and gold, as broad market hedges using iShares Silver Trust (NYSEARCA:SLV), SPDR Gold Trust (NYSEARCA:GLD)
Small long positions in bullish ETFs, for short term swings like S&P SPDR ETF Trust (SPY)
Small positions in bond ETFs, as broad market hedges, like iShares Barclays Aggregate Bond Fund (NYSEARCA:AGG)
Large long positions in big dividend payers [AT&T (NYSE:T), Coca-Cola (NYSE:KO), Apple (NASDAQ:AAPL)]
Sector wide hedges for these by short positions like [Verizon (NYSE:VZ), PepsiCo (NYSE:PEP), Intel (NASDAQ:INTC)]
Long positions in smaller companies with growth potential (companies that have crazy beta or pay no attention to what the market is doing as a whole).
We'll know more in September when we next hear from the Fed. I hope you're positioned for however you think the Fed is likely to move the market come that time, and I wish all investors the best of luck.
Disclosure: I am long VXX. I wrote this article myself, and it expresses my own opinions. I am not receiving compensation for it (other than from Seeking Alpha). I have no business relationship with any company whose stock is mentioned in this article.