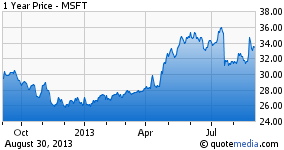 It was a big week for Microsoft (NASDAQ:MSFT) shareholders as long time CEO Ballmer announced he will step down within the next year late last week. After the stock's initial surge, shares gave back most of the post-Ballmer rise by the end of this week. The company and the stock are at an inflection point. Investors will be watching intently for the company to answer two key questions. Although ultimately the answer to the second question is more important than the first, investors might get clues on to the first earlier than the second.
What will Microsoft do with its cash hoard?
The activist fund ValueAct has made its presence felt since it took a less than 1% position in Mr. Softie earlier in the year. Microsoft just awarded a possible board seat to the fund's president, the first time an outsider had achieved this in the Seattle's giant history. There are also rumors that it had some push behind Ballmer's retirement announcement, although both the company and the fund deny it.
One of the key ways any activist fund can be successful is to help unlock shareholder value. I think ValueAct will copy David Einhorn's lead with his stake in Apple (NASDAQ:AAPL) that helped result in the largest corporate stock buyback in history and a substantial hike in its dividend payout.
The first indication of whether Microsoft will embrace some of the common measures to enhance shareholder value by more effectively utilizing their ~$70B cash hoard will be the expected dividend announcement later in the year.
The company typically announces its dividend policy for the coming year in September. Bloomberg recently projected that the company will announce a 3 cent a share quarterly hike, or a 13% increase given the stock a 3.1% going forward. If Microsoft announces a dividend hike of 5 cents a share or better I would view this as confirmation that ValueAct is gaining traction pushing measures to better award shareholders.
Who will be the company's next CEO?
The big question is who will replace Steven Ballmer as the next CEO, and the answer to the question is critical to whether Microsoft can escape its long tech laggard reputation and provide investors with greater capital appreciation going forward.
Speculation on who will be the next leader of Microsoft is already becoming a parlor game on the street with numerous possible candidates both inside and outside the company being proffered. My personal preference is for an outsider who has credibility in the tech community. It should be someone that it is focused on enterprise software, as I think Microsoft has well established it is not going to be a player in consumer hardware; outside of Xbox.
Valuation & Core Assets:
The new CEO will find a company with challenges that have been in place for quite some time. However, the company has strengths outside its core franchises of Office and Windows franchises. It has two "cloud" businesses (Office 365 and Azure web services) that have over $1B in annual sales and growing rapidly. The company is a stalwart in the corporate sector with it SQL server offerings and a leader in consumer gaming with its market leading Xbox console which is soon to launch a new version.
The stock is not expensive at less than 9x forward earnings after taking its cash holdings into account. It is one of the four companies in the S&P with a triple AAA credit rating. The company is growing revenues at a solid 6% to 8% annual rate which is higher than tech brethren IBM Corporation (NYSE:IBM) and Intel (NASDAQ:INTC) even though it sells for lower valuation based on P/E. The shares also yield 2.8%, which should be increased shortly as noted above.
Long time shareholders have good value with the current state of Microsoft. They will be watching for the company to provide answers to the two questions posed above to see if the company can unlock significant additional capital appreciation. Stay Tuned.
Disclosure: I am long MSFT. I wrote this article myself, and it expresses my own opinions. I am not receiving compensation for it (other than from Seeking Alpha). I have no business relationship with any company whose stock is mentioned in this article.