By David Russell
DSW Inc. (NYSE:DSW) ripped to its highest price in almost two years Thursday, prompting bearish trades streamed into the specialty footwear retailer.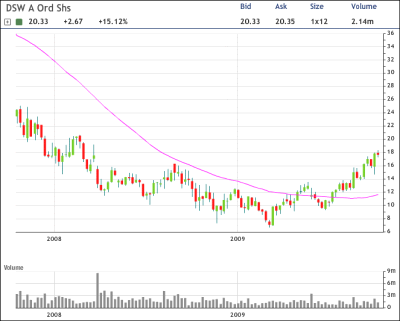 optionMONSTER's Depth Charge tracking system detected a number of so-called risk-reversal trades Thursday morning as the stock approached $21. The transactions consisted of investors selling January 25 calls for $0.65 to $0.70 while buying January 17.50 puts for $1.05 to $1.10.
The strategy was used about 2,130 times, pushing options volume in DSW to 6,159 contracts--nine times greater than average. The trades resulted in net debits of about $0.40 and will earn profits from the stock falling below $17.10 by expiration.
DSW is up 15.12% to $20.33 in midday trading after management roughly doubled its full-year earnings guidance. Earlier the shares were as high as $21.29, their highest price since December 2007.
If placed in isolation, Thursday's options trades will generate losses if DSW climbs higher than $25. However, they could also have been implemented by a shareholder willing to sell for $25 and wishes to hedge against a potential correction. Such a strategy is known as a "collar."
DSW traded more than 2 million shares Thursday, making it the busiest session for the name since March 2008.