I am writing this Renesola (NYSE:SOL) article as some investors have requested an update on the company's prospects. Before reading this article, readers might want to go through my earlier articles to get a background on the company and the investment thesis
i) Renesola - A Multi Bagger Idea
ii) Renesola rises by 75% in Last One Month - Here's why it can go higher
Chinese solar company Renesola again came out with some very good results, shipping over 800 MW of wafers and panels in the last quarter. The company's gross margin also improved substantially by 930 bps to 7.3%. The company is now among the top 10 solar panel suppliers in the world from being nowhere in the picture just 3 years ago. The stock markets also seemed to like the result, pushing up the stock price by ~8% even as the rest of the solar sector was mostly in the red. Renesola has been one of my favorite stocks and I would admit I am a bit biased towards it. However, there was very little to criticize about the results, which were pretty stunning in my view. If you combine the wafers and modules, then Renesola has become the biggest solar company in terms of shipments. The company shipped more wafers plus panels than companies such as First Solar (NASDAQ:FSLR), Sunpower (NASDAQ:SPWR), and Trina Solar (NYSE:TSL). Only GCL Poly has shipped more solar wafers during this period and that company does not make solar cells or panels. To remind investors, Renesola has become the biggest completely integrated crystalline silicon company from polysilicon to panels. Even as other solar wafer producers such as LDK Solar (NYSE:LDK) have fallen by the wayside, Renesola has gone from strength to strength. The stock is still quite cheap and I would remain invested in the stock with a Price Target of $8, which would mark a 300% upside from my initial buying price of $2.
What was Good about the Results
a) Margins increased solidly - Jumps to 7.3% from negative -2% last quarter
Renesola's margins increased quite dramatically in line with other Chinese solar companies, reaching 7.3% this quarter on the back of improved ASP and falling costs. Volumes also increased substantially as Renesola ran at full capacity. This was also a factor in margin improvement. Though Renesola's margins are still lower than Jinko Solar's 18% GM, one should remember than Renesola also has a big wafer operation where the margins are much lower. Renesola is also outsourcing production to non-Chinese factories to beat the import duties imposed by the US on Chinese solar panel imports.
b) Volumes Surged
The company's combined solar wafer and module shipments came to a whopping ~850 MW this quarter. To give some perspective, Jinko Solar (NYSE:JKS) shipped about 500 MW of solar products this quarter, while Trina Solar shipped around 650 MW. This represented a 28% jump over the last quarter and 70% over last year. ASPs increased for both solar wafers and solar modules as demand increased and Tier 1 supply has moderated.
Solar Wafer and Module Shipments
| | | | | | |
| --- | --- | --- | --- | --- | --- |
| | 2Q13 | 1Q13 | 2Q12 | Q-o-Q% | Y-o-Y% |
| Total Solar Wafer and Module Shipments (MW) | 849.3 | 662.1 | 497.3 | 28.3% | 70.8% |
| Wafer Shipments | 415.2 | 335.5 | 341.0 | 23.8% | 21.8% |
| Module Shipments | 434.1 | 326.6 | 156.3 | 32.9% | 177.7% |
c) Company expands into more solar products
Renesola has the biggest product portfolio among all solar companies in the world. It is the only company to make polysilicon, cells, panels, inverters and mounting systems as well as saws used to cut wafers. I don't know of any other company with such a wide product range. The company is also present in downstream installation of solar systems. As the industry continues to expand in the high double digits, Renesola should grow bigger and more profitable as it cross sells different products.
d) Bright outlook for the rest of the year - The company gave a positive outlook for the rest of the year as well with 2.8-3 GW of combined wafer and module shipments and forecasted a better gross margin for the third quarter than the current quarter.
For Q3 2013, the Company expects total solar wafer and module shipments to be in the range of 730 MW to 750 MW, with solar module shipments expected to be in the range of 430 MW to 450 MW. Q3 revenues are expected to be in the range of US$360 million to US$380 million and gross margin is expected to be in the range of 7% to 9%.

Source - Seeking Alpha
Other Positives
Renesola continues to do well on multiple fronts. The company is shipping to multiple countries to diversify its county specific risks. It has gained certification for its products from multiple regulators and has also been accepted as a Tier 1 module seller. The company recently bagged a ~70 MW contract in the UK.
Renesola's debt is also in control and the company does not have any liquidity issues with ~$400 million in cash and around~$700 million of net debt. No big debt problems like Suntech Power (NYSE:STP) and LDK, which have more than $2 billion of net debt.
Please turn to Slide 8 for an update on our cash and debt position. As of June 30, 2013, we have debt of $909.9 million, excluding $111.6 million in convertible notes. Total debt borrowing decreased by $48.7 million sequentially as of the end of second quarter. Our net cash and cash equivalent positions plus restricted cash was $405.8 million as of the end of second quarter, a decrease from $442.7 million as of the end of the first quarter. Our net cash inflow in Q2 2013 from operation activities was $65.5 million compared to a net cash inflow of $4.5 million -- $4.2 million in Q1 2013.

Source - Seeking Alpha
Risks
Still negative operating margins and losses - Despite the improvement seen in the last few quarters, Renesola is still making losses and has negative operating margins. However, the company's margins and shipments continue to improve each quarter and it's only a matter of time before the company returns to the black.
Overcapacity problems and Japan/China risk - The industry still suffers from an overcapacity problem as the Chinese government is still supporting bankrupt concerns such as LDK Solar and Suntech. Even though a lot of major companies such as General Electric (NYSE:GE) have exited the industry, there is still around 15-20 GW of extra solar panel capacity left. Also the global demand has become dependent on Japan and China, which are seeing dramatic booms. If these countries pull back, then we might see a price fall once again.
Stock Valuation and Price Performance
The stock is priced still cheaply with a P/S of 0.4x compared to the 1x multiples seen by the other top solar panel companies such as First Solar and Sunpower. As the company's profit margins stabilized and return to more sustainable levels, the multiple should expand.
Renesola has outperformed the top solar panel suppliers in the last 6 months as the company's fundamentals have shown a dramatic improvement. The stock price is now trading near $4.75, which is ~10% below its 52 week high.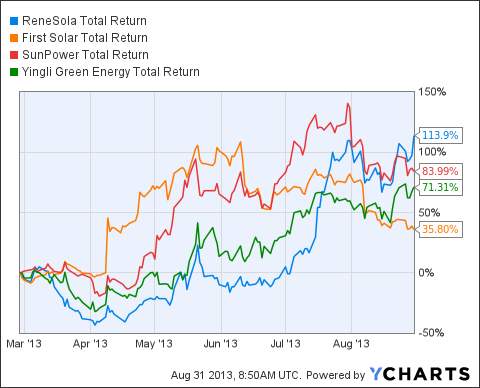 SOL Total Return Price data by YCharts
Summary
Renesola continues to outperform as I have mostly predicted, taking advantage of the tailwinds in the industry. The company grew its market share even during the downturn in 2012 and now is pulling further ahead of the pack. The company is showing continuous improvement in all facets of the business such as costs, prices, volumes, new product launches, expansion into new countries, etc. The valuation of the company is still quite cheap and I think that it should show another ~80% upside from the current stock price.
Disclosure: I have no positions in any stocks mentioned, and no plans to initiate any positions within the next 72 hours. I wrote this article myself, and it expresses my own opinions. I am not receiving compensation for it (other than from Seeking Alpha). I have no business relationship with any company whose stock is mentioned in this article.