After dropping to its year-to-date low of $1,180 in June, gold prices are up by more than 16%. The turn higher was initially a function of another surge in physical buying after the slump through the second half of June, plus a degree of profit-taking by speculative shorts, and was aided by a reversal in U.S. real yields as Treasuries regained some ground after a marked sell-off.
Since the start of August, gold prices are up by ~7%. This renewed momentum in the gold rally is a result of a number of factors. Geopolitical uncertainty in the Middle-East, instability in the emerging markets, and growing uncertainty about Fed tapering beginning in September have all resulted in strong physical demand and a pause in gold ETF liquidation. Let's first discuss these factors before we get to what they have resulted in, and finally if the rally in gold prices is sustainable or not.
Unrest In The Middle-East
A worsening geopolitical situation in the Middle East, particularly in Syria and Egypt, and the potential knock-on effects on Saudi Arabia, Iran, and Turkey, with a resulting rise in the price of crude oil has supported a rise in gold prices. Amid uncertainty surrounding a possible US-led military strike on Syria, the precious metal remained a safe investment hedge in August.
The fluctuation in the yellow metals' price in the last week itself gives an idea of how the news surrounding Syria is impacting the gold prices. Gold prices rallied sharply as the United States and its allies prepared to strike the strongholds of Syrian President Bashar al-Assad; however, prices dropped on Thursday and Friday on news that any military action may be delayed as the United States and its allies await the report by UN weapons inspectors. As the new events are unfolding it seems unlikely that the U.S. would wait for UN weapon inspectors to submit their report and go ahead with the strikes after likely congressional approval. Gold prices are getting a boost from the uncertain situation in the Middle-East, but if the U.S.-led strikes on Syria do not affect crude oil supplies from the Middle East, gold prices could actually drop in the near term.
Instability in Emerging Markets
Another reason that has contributed to the recent rally in gold prices is the instability in emerging markets, which was evident first in rates, and more recently and starkly in another heave lower in the currencies of India, Thailand, and Turkey, three key gold buying countries. Volatile currency markets and renewed demand for jewelry in China and India pushed prices higher.
The speculation that the Federal Reserve is close to reducing its $85 billion in monthly bond purchases has stirred up currency prices in emerging markets as investors flee the currency, equity and bond markets of these countries. Previously investors would borrow in dollars at low rates and invest in these fast growing emerging markets in Latin America and Asia. But now since U.S. interest rates have started to rise in anticipation of Fed tapering its bond buying program, investors are liquidating their emerging market investments and converting the proceeds back in dollars.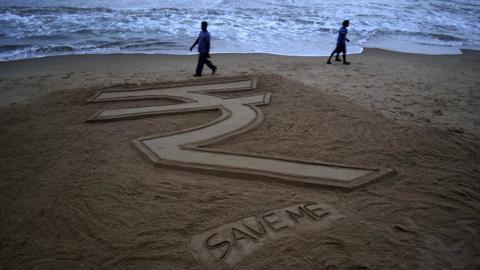 Source: AP Photos
India, once a star performer among emerging markets, is likely to kiss a return to rapid growth goodbye if the rupee continues to fall. India's rupee last week hit an all-time low of 68.85 versus the U.S. dollar, and Indonesia's rupiah also fell to its lowest level in a few years. Other big emerging markets like Brazil and Mexico are also seeing their currencies battered. Equity and bond markets are taking a hit in these countries as investors grow increasingly concerned about growth.
Indian Rupee, Turkish Lira, and Thailand Baht versus USD in the last 6 months

Source: Yahoo Finance
The weakness in the financial markets of these emerging nations could influence the gold prices greatly. The combination of rising gold prices and deteriorating currency is making it extra hard for consumers in these countries to buy gold. Physical demand of these markets was one of the main reasons for a rebound in gold prices since printing the low of the year ($1,180) so far at the end of June. If consumer demand in emerging markets dwindles, it could have consequences for gold prices.
"Physical gold demand, most notably from the India and China, is likely to be curbed given the recent rally over" $1,400 an ounce, said James Steel, an analyst at HSBC, noting gold priced in rupees hit an all-time high Wednesday. Steel also said falling premiums for bullion on the Shanghai Gold Exchange also indicate lower demand.
Fed's Crucial September Meeting
There is also growing uncertainty, or less conviction about Fed tapering beginning in September, particularly after the release of poor new home sales and durable goods reports, plus increased attention to the U.S. debt ceiling due to be hit again in October.
Patrick O'Hare, chief market analyst at Briefing.com, is of the view that September tapering is not warranted, but the Federal Reserve is certainly keen to start the process of tapering.
The escalation in the Syrian civil war adds to a layer of uncertainty of what the Fed might do, and it's possible that the Fed might "err on the side of caution in September and announce a minimal taper, maybe just a token taper just to say they are getting the process going," O'Hare said.
All these factors mentioned above: instability in emerging markets, worsening geopolitical risk in Middle-East, and growing uncertainty around the Fed's tapering have resulted in a pause in gold ETF liquidation, and strong physical demand across the Middle East, the Indian sub-continent, and South East Asia. Although the Indian government and the Reserve Bank of India's attempts to talk down gold buying and a further increase in import duties to 10% have had a dampening effect on imports through official channels, the high local premiums and ongoing deterioration of the Indian currency are likely to be incentivizing unofficial import trade.
In early August, gross short positioning fell to the lowest level since early May and posted the largest short covering activity in a single week since June 2000. Although short positions remain elevated, leaving scope for additional short covering activity, changes in the market's perception of Fed tapering or weaker-than-expected data could trigger a reestablishment of the record gross shorts, exacerbating the downside for gold prices.
Conclusion
The question now is can the rally be sustained? Probably in the near term it can, but not in the medium term. A possible U.S. military strike on war-torn Syria could provide further near-term upside in the gold price, however any rally is likely to be short lived. If we look at previous conflicts, such as the Iraqi invasion of Kuwait, the gold price jumped on the initial conflict but subsided thereafter. In the medium term, downward pressure on the gold price remain as inflation concerns over the future of the U.S. dollar as the status as the world's reserve currency appear to have subsided and money printing has not translated into increased demand for money. The physical market will also need to remain strong to mop up the excess supply that is likely to stem from ETP disinvestment, placing downside pressure on prices.
Disclosure: I have no positions in any stocks mentioned, and no plans to initiate any positions within the next 72 hours. I wrote this article myself, and it expresses my own opinions. I am not receiving compensation for it (other than from Seeking Alpha). I have no business relationship with any company whose stock is mentioned in this article.