Introduction
Out of six analysts evaluating the 3D printing leader Stratasys (NASDAQ:SSYS), three recommend a Buy, one indicates an Outperform rating, whereas the other one prefers the neutral Hold, and the last one - a Sell rating. This situation creates a bit of uncertainty for the average retail investor - should he or she jump in with both feet (Buy) or remain on the sidelines (Hold) for the time being until additional guidance is received?
Here is one year share price movement chart for this company from YCharts:
Latecomers to the game might wonder if this is real or just another over-hyped technology that will not live up to its promise in the long run.
In this article, we will examine what Stratasys stock is really worth. In addition, you will see a clearer picture on where SSYS currently stands to help you see possible potential and risks you may face in the future. Our argument makes a fundamental case for suggesting whether or not this stock is a smart choice for your portfolio.
How Much Is Stratasys Really Worth?
Before reaching any conclusion, we will analyze key statistics for Stratasys. Here I'm going to use the "Stock Valuation Model" to find out whether SSYS stock is a right bet for your future profits.
The stock valuation model rates stocks from 1 to 10, with 10 being the best using a system of advanced mathematics to determine a stock's expected risk and return. I am using different fundamental and technical factors in order to rank a stock.
1 - Value Test
The bars below the main financial metrics indicate which value test components the company falls into when compared to the whole market. For example, if a stock has 3 bars colored for Earnings Yield, the company's earnings yield is between 40% and 60% in the market.

Financial data from YCharts on 1 Sept, 2013
SSYS has got a very low value score (1/10), far below an average value score. This value test indicates that company's earnings and assets are very low compared to its market price. There is a high probability that Stratasys stock could become a better bargain in the future. However, the market is paying handsomely for value that may or may not be realized.
2 - Fundamentals Test
The fundamentals test allows us to look at the company's financial health at fundamental level. This type of analysis examines key ratios of any company to determine its financial performance and gives investors an idea of the stock value. In addition, the fundamental analysis helps investors expose positive and negative factors.
Let's look closely if SSYS fails any of ten tests shown below.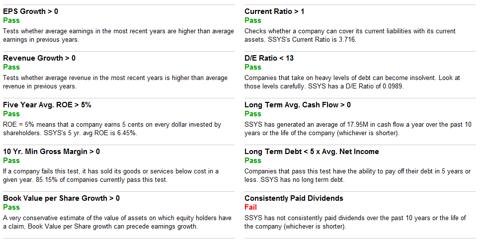 Financial data from YCharts on 1 Sept, 2013
SSYS currently has a strong fundamental score (9/10). The company currently has a strong financial health, and there are no obvious red flags in its performance that could imply any risk for investment. However, investors should keep an eagle eye on the failed test (consistently paid dividends) carefully for possible weakness.
3 - PS Valuation Method
The PS Valuation technique estimates stocks by applying a historical average of median Price to Sales Ratios to current trailing 12 months sales numbers. Investors should always check to ensure that they are comfortable with the estimated historical Price to Sales Ratio given information today before investing based on this valuation.
Many investors prefer to use sales numbers to estimate stocks since they are slightly more difficult than earnings to correct using accounting practices. This technique tends to overvalue companies (growth firms) that have historically traded at very high PS ratios, and tends to undervalue companies that historically traded at low PS ratios.
In order to help investors avoid unreasonable valuations, there is a set of maximum Price to Sales multiple at 10, even if the company historically has traded at higher values. If the intelligent investor has good reason to apply a higher multiple, they may choose to do so, but we will not publish numbers that high because they are rarely sustained.
Formula: Value = Price/Sales3yr x SalesTTM
Where:
Price/Sales3yr = 3 year historical average of annual median Price/Sales Ratios, maximum of 10
SalesTTM = The trailing twelve month sales per share
PS Method Valuation = $66.00
Based on SSYS's financial data taken from YCharts, calculation of the company's value according to PS Valuation Method makes us suggest that a current fair value for Stratasys stands at $66.00.
The results of fundamental analysis suggest the following: at a price of about $107.27, SSYS's stock is considerably overvalued. Fair stock price valuation indicates that currently overvalued SSYS stock has at least 63% premium over its fair value.
What Will Fuel Stratasys's Growth?
Recently, Stratasys acquired MakerBot, the leader in desktop 3D printing, in order to merge two global 3D printing industry leaders. Under the terms of the merger agreement, Stratasys will issue about 4.76 million shares in exchange for 100% of the outstanding capital stock of MakerBot.
Stratasys had given its firm commitment to buy MakerBot in an attempt to tie up the 3D printer market, a deal valued at up to $604 million. SSYS is confident that it will have a full subscription of $4.8 million in additional common stock valued at $84.60 per share. The subscription will raise an additional $403 million followed by $2.4 million in additional shares valued at $201 million based on MakerBot's performance through end of 2014.
MakerBot's printers were priced at $1,400 and the company expects to sell 22,000 units by the end of this year, providing additional revenues of approximately $30.8 million.
The combination of these two industry leaders will drive faster adoption of 3D printing for multiple applications and industries, as desktop 3D printers are becoming a mainstream tool across many market segments.
Competition between 3D Systems (NYSE:DDD) and Stratasys should drive down the price of both consumer and industrial 3D printers, increasing market penetration. Industrial and medical applications are likely to continue to grow. The battle to watch will be for the wallet of the consumer. Now that Stratasys is making a serious bid in this space, the competition is likely to drive the price of a home 3D printer under $1,000. In addition, watch for expansion in available materials from which objects can be made. For 3D printers to go mainstream as did high priced 2D printers and other electronic gadgets, price and flexibility in materials and color processing are a must.
It is clear from the above mentioned information that the company's growth is highly dependent on cash flow from financing activities (additional subscription of common stocks). Investors, on the other hand, are very optimistic about the growth of the 3D printing industry. The concern is whether or not SSYS will be able to manage the rapid growth through acquisitions.
You can see the charts below with promising analysts' expectations on the key financials for the 2013-2015 period.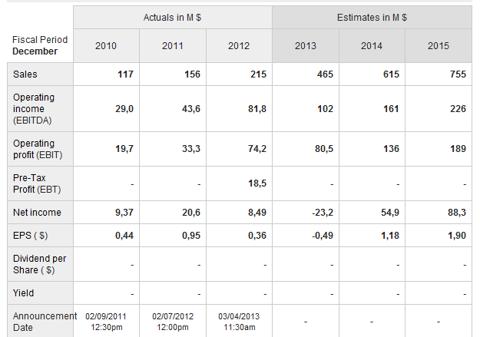 Source: 4-traders
Stratasys appears to be a worthy investment due to the company's sights firmly set toward the solid future.
Final Verdict
I would never recommend purchasing overvalued stocks. However, Stratasys's shares are (surprisingly for me) an exception to this rule. Due to its rapid growth phase, this hot stock can easily defy gravity and continue to rise for the prolonged time frame. Selling Stratasys's shares too early will limit your profits. However, by "letting it ride" and holding onto SSYS shares, shareholders will profit as more investors pile in.
The must-know point is that once someone decides to add considerably overvalued Stratasys's stock to his/her portfolio, it would be useful to track all developments and see whether the market remains optimistic.
Disclosure: I have no positions in any stocks mentioned, and no plans to initiate any positions within the next 72 hours. I wrote this article myself, and it expresses my own opinions. I am not receiving compensation for it (other than from Seeking Alpha). I have no business relationship with any company whose stock is mentioned in this article.