Angie's List Inc. (Nasdaq: ANGI) stock is trading close to its highest levels since it went public in 2011. The strong stock performance is partly due to a decent revenue growth rate but looking at the strides being made by its competitors, there is a significant downside threat to this revenue growth rate and the stock.
Cash returns for the company are not improving inline with the improvement in revenues. Competitors are gaining share of the traffic flow and the weak balance sheet is pointing towards a severely weak strategic position.
The stock is trading at expensive valuations with a negative book value. If the competition stays aggressive with their "free for member" offerings, the company might have to follow suit and change its business model. Any such change might prove disastrous for both, company's growth and the stock.
Business of references
Angie's List operates a website for paid members to research, hire, rate and review local professionals for "high cost of failure" services like home repairs. Ratings and reviews are available only to members and cover more than 550 categories. It also helps local service providers find customers by offering them the opportunity to offer exclusive discounts to members through their online profiles, inbound member call center and in the "Angie's List magazine".
The company competes with many "free for member" online ratings websites such as HomeAdvisor, part of InterActive Corp. (Nasdaq: IACI), Yelp (Nasdaq: YELP), Groupon (Nasdaq: GRPN) and Insider Pages. Competition from HomeAdvisor have increased sharply after some management changes in 2011.
Angie's List spends close to 85% of revenue on selling & marketing expense, which is a very high level, both relative to its peers and in an absolute sense.
HomeAdvisor is catching up very fast and is free for members
One of the biggest reasons for this increased spending is a very active competition from HomeAdvisor. HomeAdvisor is a website offering services similar to Angie's List but focusing on the "Home" services, all for no charge to its members. New management, since 2011, is leading the company and has prior experience managing brands such as Nutrisystem and Blockbuster. Company has been very aggressive in the last 12 months as shown by the search trend chart below and has successfully caught up with Angie's List.

Source Google trends: Orange line is Angie's List and Blue is HomeAdvisor
Looking at the all-important sites "Unique Visitors" traffic, it seems like HomeAdvisor has actually beaten Angie's List. Below are the Unique Visitors for ANGI at close to 4.5 million levels.
Source: Compete.com. Angie's List Unique Visitors
HomeAdvisor, within 12 months, has brought unique visitors to Angie's List level at 4 million visitors per month.

Source: Compete.com. Unique Visitor count for HomeAdvisor
As per the Compete ranking chart below, within one year, HomeAdvisor has tied closely with the Angie's List at number 5.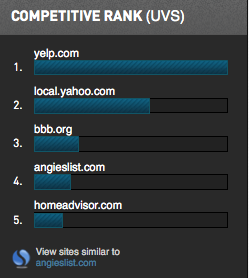 Source Compete.com
How does Angie's List stand against Yelp.com?
Angie's List does not have much luck against Yelp either, especially looking at the search trends. Below are the relative search trends of Angie's List and Yelp, for last 12 months. Angie's List is shown in blue and Yelp in red.

Search Trends for Yelp and Angie's List. Source: Google Trends
Part of this skewed trend in favor of Yelp is due to the much larger service offerings of Yelp. Another reason is the 25 million unique visitors, who go to Yelp every month.

Unique Visitors count of Yelp. Source: Compete
Important to note, that Yelp has close to 1500 employees, whereas Angie's List has only 200.
Scenarios, if "free to member" offerings gain traction among customers
Angie's List has limited operating leverage (ability to expand operating income more than the revenue growth) or the balance sheet strength. In such a scenario, it's clear that the company would have to keep growing its member base in order to stay competitive.
If customers follow these site traffic shifts, major risks for the business going forward can be all or any of these:
1. Start losing members or slow growth: With competitors offering "free for member" deals, losing its paying members is a very plausible risk for Angie's List. If it happens, operating losses may arise from negative 23% level currently, due to the high level of fixed expenses. The company's deferred membership revenue may start to decrease as well.
2. Increase Marketing expense: The company may have to increase its selling & marketing expense, to compete with HomeAdvisor, from 84% of revenues currently. Any such move will be disastrous for both operating profitability and the balance sheet, as cash and deferred membership revenue figure is already trailing closely.
3. Make the site free for members: Looking at the "Unique Visitor" count of Yelp at 24 million/ month or HomeAdvisor at 4-5million/ month, it looks financially possible to run such business as an ad supported business. But if Angie's List were to change it now, its membership revenues (27% of total revenue) may sink, putting pressure on its operating loss and balance sheet.
The possibility of either losing revenue growth by 1/3 (from 60% Y/Y levels) or a further increase in operating loss is real.
If the short thesis is wrong, upside is limited by sky-high valuations as discussed below.
Valuation
Looking at the worksheet below, it is evident that investors like the membership based revenue model of Angie's List and rewarding the company for that with lofty valuations. Since Yelp has a much bigger traffic flow to its site and InterActive Corp. has a much bigger revenue base but the market cap difference is not reflective of that.
UV's (6/20/13)

Revenue ($M)

Market Cap ($B)

ANGI

4,239,617

$200

$1.36

YELP

23,874,380

$178

$3.11

IACI (owner HomeAdvisor)

4,089,654

$3,020

$4.17

* For IACI. UV's are just for HomeAdvisor but Rev and Market cap is for IACI
Conclusion
Aggressive competition and new startups are common in a fast growing industry like this but they add an additional layer of risk, especially when the company has negative book value and weak cash position. The stock is trading at 70 times next year's consensus earnings and analysts are expecting a 40% revenue growth for next year. If you are long the stock, watch out.
Disclosure: I have no positions in any stocks mentioned, and no plans to initiate any positions within the next 72 hours. I wrote this article myself, and it expresses my own opinions. I am not receiving compensation for it (other than from Seeking Alpha). I have no business relationship with any company whose stock is mentioned in this article.