According to Wall Street, 3D printing seems to be all the craze these days. Some of the hottest buzzwords this past spring were "3D Printing" and "Additive Manufacturing". Until recently, "Additive Manufacturing" was the more common of the 2 phrases. I would attribute that to the end users of the product, which for the last 23 years have been mostly large manufacturing corporations.
I know you are thinking that there was a typo in that last paragraph - he must have meant 2 or 3 years, not 23. I started my initial research into the 3D printing area in October 2012, based on a bullish article that I read from Investors Business Daily.
Upon researching the sector, I was surprised to learn that 3D Systems (NYSE:DDD), the leading firm in the 3D printing revolution, has been a public company since November 1990. That's right, for over 23 years. That is right around when I got my first computer, with a 386 processor and 2 megabytes of motherboard RAM, a real burner at the time! And to think they were already "3D printing"! It was hard to grasp at first that this sort of cool technology has been around for so many years and this was the first that I had heard of it, especially since I do consider myself an "early adopter" when it comes to new gadgets and electronics.
Here is a 20 year, weekly candlestick chart for 3D Systems, just in case you think I'm full of bologna.
click to enlarge images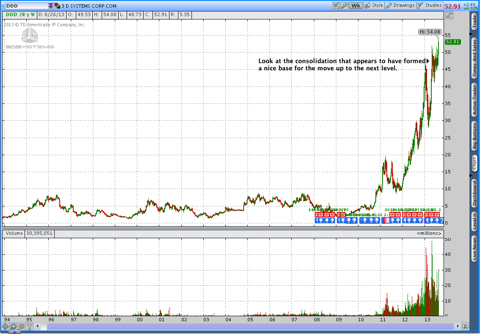 Some of the other players in the 3D printing arena are Stratasys (NASDAQ:SSYS) and The ExOne Company (NASDAQ:XONE). The ExOne Company is the newest player into the arena as the just had their initial public offering this year in February 2013. What a perfect time to have your IPO - in one of the hottest market sectors at the time. Simply brilliant.
While the entire 3D sector is still hot, this article will focus on the sector leader, 3D Systems. One of the lessons I learned from Investors Business Daily a couple of years ago is to focus on the leader in the sector - one strategy that has definitely worked well for me.
So if 3D printing has been around for more than 20 years, why has interest, as well as the share price, skyrocketed in only the last couple of years? Well, one of the first reasons I can think of when looking at their income statements is their accelerating revenue as seen in this next table.
| | | | | |
| --- | --- | --- | --- | --- |
| Values in 000's | 12/31/2012 | 12/31/2011 | 12/31/2010 | 12/31/2009 |
| Total Revenue | $353,633 | $230,423 | $159,868 | $112,835 |
| % Increase Over Prior Year | 53% | 44% | 42% | - |
Now that is what I call some growth and it is getting better each year. We will come back to this superb growth in just a bit.
So let's take a peek at just these last three years of accelerating revenue on the next chart to see how it has affected the share price. The next chart is a 3 year weekly candlestick chart. I like to look at weekly candlestick charts when analyzing long term trends as the weekly charts tend to remove most of the day to day "noise" and make it easier to see a stock's trend. Remember the old saying "a stock's trend is your friend"? I want to make friends with 3D Systems.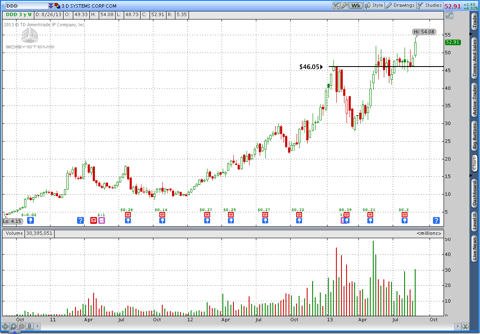 The first thing that catches my attention on the above chart is that if I want to purchase shares of 3D Systems, I sure will be paying a premium price for them. The highest closing share price on 3D Systems' first uptrend was $46.05 - that is where I drew the trend line on the above chart. If you want to learn more about trend lines, click here. After rebounding from a sharp correction, there has been quite a bit of consolidation above this level, a very bullish signal from a technical perspective.
But increasing share prices usually don't happen without great fundamentals. So as I kept perusing the income statement, another item caught my eye - the net income for common shareholders. Although, this caught my eye in a negative way. The next chart shows decelerating earnings each of the last 2 years. That means that all of those accelerating top line revenue we discussed above isn't flowing to the bottom line. The year ended December 31, 2012 looks particularly horrible - the earnings grew by a "paltry" 10% compared to the prior year.
| | | | | |
| --- | --- | --- | --- | --- |
| Values in 000's | 12/31/2012 | 12/31/2011 | 12/31/2010 | 12/31/2009 |
| Net Income Applicable to Common Shareholders | $38,941 | $35,420 | $19,566 | $1,066 |
| % Increase Over Prior Year | 10% | 81% | 1,735% | - |
Well, in performing my due diligence and reading several articles over the last few months, this article in particular from Investors Business Daily stood out and caught my attention.
The article talks about rolling out the 3D printers to the consumer market. I know there are several costs associated with rolling out any new product to the consumer market. I am certain this has to be a reason as to why the margins were hit during the year ended December 31, 2012 and the net income only grew by 10% for the year as compared to 2011. If margins can start to expand again while revenue is accelerating, whoa boy! That sounds like a winning formula for it's share price! It also sounds like a plan to keep revenue accelerating in the near future, deploying the printers to the consumer market through big box retailers.
I read in another article during my research, this one from Seeking Alpha, that expanding the line-up of materials that the printers can print with will help drive margins as well. There are specialty materials that command higher prices and produce higher margins. Improving margins can help make more of the accelerating revenue make it to the bottom line and should help boost the share price further. Higher earnings usually equate to higher share prices.
Speaking of the share price, where is 3D Systems share price currently at? Well, let's look at the next chart, a 6 month daily candlestick chart.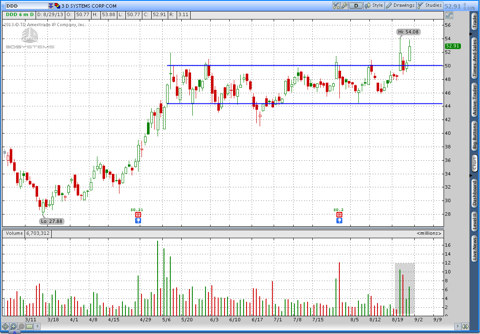 The last three months appear to have been a period of consolidation as the share price has mostly moved sideways, that was until just recently. On August 26, 2013, Ken Wong from Citi initiated coverage on DDD as seen on this real-time Seeking Alpha update and started with a $60 price target. 3D Systems popped on the news and it's share price started climbing on strong volume. 3D Systems closed today at a new 52 week closing high of $52.91.
Like I mentioned earlier, if you want to purchase shares of 3D Systems, you will be paying top dollar for these shares. That sure makes investing in 3D Systems at these prices a little more risky. But where there is risk, there could also be a reward. When I want to purchase a hot stock in a hot sector, I use a scaling strategy to enter into a position.
An example of a scaling strategy I use is as follows: let's say I want to own $10,000 worth of 3D Systems in total. Well, I would split that up into 3 separate buys, purchasing 25% of the shares I want in total in the first buy (which would be $2,500), 50% of the shares I want in total in the second buy ($5,000) and then the remaining 25% of the shares I want in the last buy ($2,500). Preferably, I am making each purchase at a higher price as the stock is trending upwards rather than averaging down as the share price is falling. I try to space my purchases approximately 2-3% apart from each other. The point of this type of trading philosophy is that I want to see positive chart action before I make each subsequent purchase. By the time I am making my second purchase, I should have more confidence and possibly confirmation of the stock's trend.
How many times have you bought a stock only to see it go down soon after? I know I have. But if you had at least used the scaling strategy I described above, you would have only been 25% invested with your first purchase rather than fully invested. As I mentioned above, I prefer to make purchases while the share price is increasing and volume is climbing, not as the share price is falling. If the share price is falling and volume is increasing, there is a good chance those shares will be under water for the near future. If that is the case, I will then wait for a confirmation of the new uptrend before making any purchases at lower prices. I would rather miss a few percentage points as the stock starts to rebound than trying to catch the proverbial "falling knife" and end up further under water.
So is 3D Systems worth the hypothetical $10,000 investment? Well, this is where I want to get back to the accelerating revenue in my first table above. Let's see how 3D Systems revenue looks on a quarterly basis so far in 2013.
| | | | |
| --- | --- | --- | --- |
| Values in 000's | % Increase | 2013 | 2012 |
| Quarter Ended March 31 | 31% | $102,079 | $77,920 |
| Quarter Ended June 30 | 44% | $120,787 | $83,610 |
| Quarter Ended September 30 | - | - | $90,532 |
| Quarter Ended December 31 | - | - | $101,571 |
Revenue growth continues to be strong for the first two quarters of 2013. And if the consumer roll out of 3D printers works as anticipated during the 2nd half of 2013, 3D Systems could be poised to continue the streak of accelerating revenue in the near future. If 3D Systems can execute on top line growth, it's share price will follow as well. If they can increase their margins, that is a bonus. I have confidence in management's ability to execute on these fronts.
Much of this article focuses on the upside potential, so let's look at a few downside risks now. What if management is not able to deliver accelerating growth due to slow consumer adoption? Will investors run for the exits? Maybe. Maybe not. I cannot predict the future but there is one thing I can assure you, I will be talking with the employees at my local Staples store to try and help gauge the consumer interest in the product at least on a monthly basis for the next few months. Now this won't necessarily be a representative sample of all Staples stores, but it could help to give me assurances during a time period when I expect 3D Systems share price to experience some volatility as it makes new 52 week highs like it did earlier this week.
High growth companies require lots of re-investment of capital to continue the growth, as we have seen in the above table which highlights the decelerating earnings. This pattern could continue for another few quarters due to the massive roll-out of the 3D printers to the consumer market that I talked about earlier, thus continuing the streak of decelerating earnings, another potential risk.
This sector has also been under a lot of consolidation as most smaller rivals continue to be acquired by either Stratasys or 3D Systems. While acquisitions tend to fuel growth, they usually take time to have an accretive affect on earnings. Matter of fact, earnings usually take a hit in the short-term upon acquiring another company. This could also negatively affect earnings in the short-term.
However, despite these risks, I am confident that 3D printing is here to stay and is the future for small manufacturing, entrepreneurs, and now the "general" public. I am so confident, that I have already scaled into my position.
Until my next article, good luck investing. I hope you enjoyed my first Seeking Alpha article!
Disclosure: I am long DDD. I wrote this article myself, and it expresses my own opinions. I am not receiving compensation for it (other than from Seeking Alpha). I have no business relationship with any company whose stock is mentioned in this article.