3D Systems (NYSE:DDD) and Stratasys (NASDAQ:SSYS) are dominant market players in the 3D printing industry, an industry acknowledged by investors for high margins and currently in a rapid growth phase. The growth of both companies relies on product development through research and development, as well as through vertical and horizontal integration via acquisition and mergers.
3D printing giants, both DDD and SSYS, are aggressive in acquisitions for attracting potential investors. My article reveals the key factors for both companies showing future growth via acquisition. What are the internal and external resources needed to generate cash for expansion while safeguarding the shareholders' confidence and keep attracting their interest? The topic highlights each company's acquisition strategy which was in line with the existing business model and to foresee the impact of future sustainability of both companies.
3D Systems Up for Additional Subscription of $300 million Common Stock for Expansion
Over the last three years DDD acquired twenty eight businesses worth $295.6 million, and the major cash generated was from the issuance of additional common stock, made possible because of high investor confidence in the consistent industry growth and their trust in DDD's business model.
In the robust 3D printing sector, DDD has set the stage to issue additional common stock worth $300 million for 2013 and onward, backed by investors' high level of expectations that the money invested is a good bet with DDD.
Generally, when an industry is in a growth phase, especially IT firms, most of the companies temporarily take a negative hit on EPS due to massive cash outflows and dilution of EPS. Luckily DDD's strategy in adding new products has not put any negative impact on EPS as the company's core products are still producing high margins and allowing the new products to settle in.
The graphs below depict a brighter picture of the company in terms of increasing acquisitions that have been consistently taking full advantage of the demand in the market.
Stratasys Took Highest Jump in Acquisitions
Stratasys took the highest jump in acquisitions among its competitors by giving a firm commitment to buy MakerBot, tying up the 3D printer maker with a deal valued up to $604 million. An important aspect to note is that this was the industry's first large deal and has been undertaken by SSYS.
SSYS is confident that it will have a full subscription of 4.8 million additional shares of common stock valued at a price of $84.60 per share. The subscription will raise an additional $403 million followed by 2.4 million additional shares valued at $201 million based on MakerBot's performance through the end of 2014. MakerBot's Replicator 2 Desktop 3D Printers were priced at $2,199, and the MakerBot Digitizer Desktop 3D Scanners -- at $1,400. The company expects to provide additional revenue of approximately $30.8 million by the end of this year.
SSYS is well positioned to honor its commitment on its financial statement 2012 by carrying $113 million in cash to move forward to buy MakerBot. During the last three years SSYS was engaged in a close competition with DDD in business acquisitions and invested $61.8 million in the years 2010 and 2011, and still has cash available to proceed with the MakerBot buy worth $403 million.
Net Cash flows from investing activities for acquisition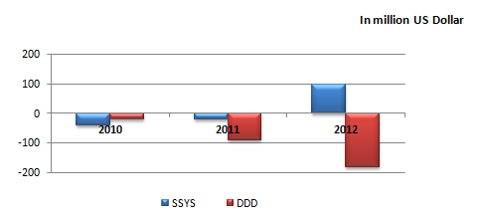 Click to enlarge
Source: Company's Financials
Looking at the numbers, it is evident that SSYS's acquisitions are being managed better than its competitor because the company paid less and received more in revenues.
Net increase in additional revenue from acquisition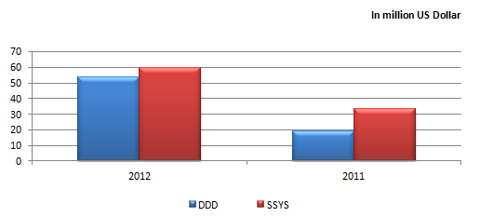 Click to enlarge Source: Company's Financials
The past three years' data reveals that DDD's net cash flows were consistently positive, with the major contributions to the cash flows coming from financing activities in 2011 and 2012. In the year 2011, $148.96 million was raised through convertible notes proceeds and the issuance of common stock worth $62.05 million in the same year. $106.8 million was raised in 2012 from issuance of additional common stock.
Net cash flow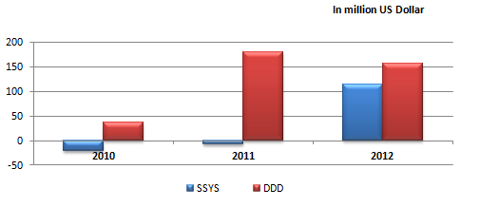 Click to enlarge
Source: Company's Financials
What is Hidden Treasure for 3D Printing Industry?
In my last article on "3D System Set to Make Investors Very Happy - Part 2", I highlighted the geographical presence of the 3D printing segment in which the lowest revenue generated was from Asian and Pacific countries. A region having ¾ of the world's population would be the biggest market for 3D printing moving forward.
Manufacturing countries well known for their reverse engineering production methods, including China and Japan, are on top of the list and would be the biggest markets for 3D printers and software followed by India, Indonesia and Russia. I expect these markets have a potential to generate similar revenues as those of the USA and Europe.
As this article covers the strategic growth of the companies through mergers and acquisitions, we can briefly consider the performance of both companies.
SSYS reported a massive increase in sales by 82.45% compared to last year from its acquisition and mergers vs. DDD, which recorded a growth in sales of 17.71% in the last twelve months.
DDD's EPS clocked in at 0.45 trailing twelve months, which shows the company's core products are efficiently supporting the company's net income while allowing new products and businesses to synchronize with the existing business model and not compromising its EPS. It has also been witnessed that the company's growth in sales is not that impressive compared to SSYS, whereas the industry's rapid growth may create an opportunity for DDD to tap into new markets.
Conclusion
In connection with the above facts I maintain my "BUY" stance on DDD shares. The rationale behind my buy call is dependent upon DDD's efficiency in skimming high margins from its core products while the acquisition of new businesses puts minimal strain on the company's net cash flows. DDD is not just focusing on growth and capturing market share but also maintains its EPS and cash flows. The robust 3D printing industry growth is attracting more investors and DDD's performance is more balanced in terms of attracting these potential shareholders.
Disclosure: I have no positions in any stocks mentioned, and no plans to initiate any positions within the next 72 hours. I wrote this article myself, and it expresses my own opinions. I am not receiving compensation for it (other than from Seeking Alpha). I have no business relationship with any company whose stock is mentioned in this article.