SodaStream (NASDAQ:SODA) is one of the best companies on the market, with a healthy balance sheet and soon to be rivers of profits. SodaStream is growing revenues at an estimated 27% for the next five years -- in this article I plan on analyzing their past earnings and potential, through both value and growth.
The market currently values SodaStream at $1.4 Billion, with 98% of the float being held by institutions and mutual funds.

The short interest as of August 15, 2013 stands at 38%, and is among one of the most shorted stocks by hedge funds. This high interest likely shows the potential of a growth slowdown, or additional competitors entering the market. In this article I would like to discuss why this might not be the case.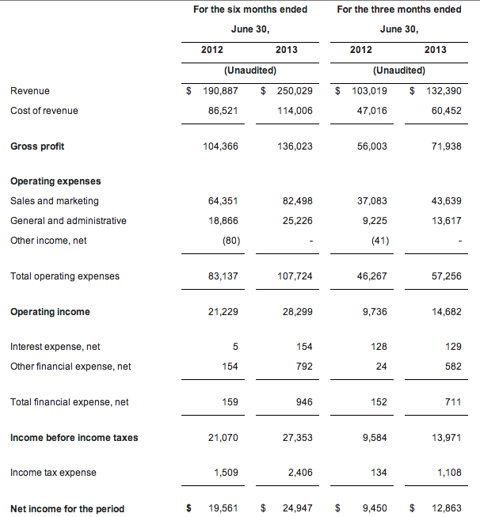 In the most recent quarter (2013 Q2), SodaStream earned revenues in excess of $130M, generating net profits of $12.8M (representing 10% net margins). SodaStream has a $1B target on revenue for 2016, representing nearly 100% growth over four years (and it is a very conservative target). In the last few months they have taken measures to help increase profitability, as well as expanding their market base and products.
Gas Exchange Program
As of July 31, 2013, SodaStream had more than 13,000 gas exchange locations in the USA since expanding to Best Buy (NYSE:BBY) this quarter. The gas exchange program will not only help expand revenues, but also give SodaStream a strong stream of profits and a competitive edge in the marketplace. Customers can exchange empty carbonate bottles in exchange for new ones, paying a small fee for the gas. In their most recent quarter they sold more than 5.5 Million carbonaters, up 31% from last year. In addition to 8.5 Million flavor sales, SodaStream generated more $79M from consumables (up 28%).

The majority of SodaStream's revenue actually comes from CO2 refills and flavors. SodaStream is still predicting 28% growth in their consumable products, showing the potential upside in the space.

The below table is SodaStream's current revenue, with management's updated guidance from their Q2 conference call (30% year over year projected revenue growth). The numbers represent only one quarter a year (2013 Q2 to 2014 Q1 growth is 15%).
| | | | | |
| --- | --- | --- | --- | --- |
| | Q2 2013 | Q1 2014 | Q1 2015 | Q1 2016 |
| Soda Makers | $49.9M | $57.3M | $74.5M | $97M |
| Consumables | $78.9M | $90.7M | $118M | $153M |
| Total | $128.8M | $148M | $192.5M | $250M |
In the first three months of 2016, SodaStream is expected to earn $250M, or 25% of their $1B target. Since most of their revenue comes in the second half of the year, SodaStream can be expected to beat these numbers. Once more, these numbers do not include any new products or penetration into new markets, meaning that SodaStream has a lot of potential upside.
SodaStream is expecting an uptick in revenue due to increased A&P, but they plan on bringing down these numbers by 2016. They are predicting net margins between 15% and 18% for 2016, representing net income between $150M and $180M (or between $7.20 and $8.60 a share) - a forward P/E between 8.7 and 7.2. 30% growth might seem high, but as I said in the beginning of the article, analysts were already expecting 27% growth every year for the next five years.
In the most recent quarter they expanded into 400 Kroger stores, as well as Office Depot, B.J.'s, and P.C. Richards. They unveiled a campaign on QVC, and announced several major partnerships with Samsung (now expanding to Home Depot (NYSE:HD) and Lowe's (NYSE:LOW)) and Whirlpool/KitchenAid (in the coming months).
Perhaps the greatest coming product is SodaCaps, bringing the competition directly to Coca-Cola (NYSE:KO) and Pepsi (NYSE:PEP). Just grab a bottle of carbonated water and press on the SodaCap to enjoy your favorite drink.
Not to mention the addition of new flavors, expansion into new countries, or the purchase of their Italian distributor, SodaStream is on its way to a river of profits. As it is now, SodaStream is trading at a TTM P/E of just 27. SodaStream is one of the best stocks in the market, with huge potential (even without the addition of new products or increased penetration). Using the numbers above (with their current 10% net margin), SodaStream will generate more than $230M in net income through the end of 2015. Not only is SodaStream growing by 30% a year, but they are also increasing their shareholder equity and portraying true value to investors.
Using conservative estimates, SodaStream will be earning (net income) more than $100M a year by 2015 - enough to expand A&P to take on Coke and Pepsi. SodaStream has a river of profits ahead, with a strong consumer base and product pushing it along.
Disclosure: I have no positions in any stocks mentioned, and no plans to initiate any positions within the next 72 hours. I wrote this article myself, and it expresses my own opinions. I am not receiving compensation for it (other than from Seeking Alpha). I have no business relationship with any company whose stock is mentioned in this article.