On Friday, August 30, it was announced that Pepsi-Cola (Thai) Trading, the local producer and distributor of PepsiCo's (NYSE:PEP) global beverage and snack brands in Thailand, has increased production capacity to meet growing demand for its products, with the US-based parent seeing Thailand as a high-potential market with a positive business outlook in the long run. The three additional production lines at PepsiCo's beverage plant located within the Amata City Industrial Estate will increase its maximum beverage production capacity by 81%. In the wake of Friday's announcement, I wanted to take a closer look at a number of fundamental catalysts behind my decision to remain bullish on the parent company's stock.
Company Profile
Headquartered in Purchase, New York, PepsiCo, Inc. states that it is the company's mission to be the world's premier consumer products company focused on the sale and distribution of convenient foods and beverages. The company is also actively seeking a number of ways to produce financial rewards for its investors and create opportunities for growth and enrichment for its employees and business partners that are located within the multitude of local communities in which they operate.
Catalyst #1 - Performance and Trend Status
On Friday, shares of PepsiCo -- which currently possess a market cap of $122.80 billion, a P/E ratio of 18.71, a forward P/E ratio of 16.78, and a forward yield of 2.86% ($2.27) -- settled at $79.73. As of June 30, 2013, and from a cash and debt perspective, Goldcorp (NYSE:GG) had a total of $8.14 billion in cash and a total of $29.51 billion in debt on its books. Based on Friday's closing price of $29.92, shares of PepsiCo are trading 2.50% below their 20-day simple moving average, 3.60% below their 50-day simple moving average, and 3.40% above their 200-day simple moving average. These numbers indicate a short and mid-term downtrend and a moderate long-term uptrend for the stock, which generally translates into somewhat of a buying mode for most traders.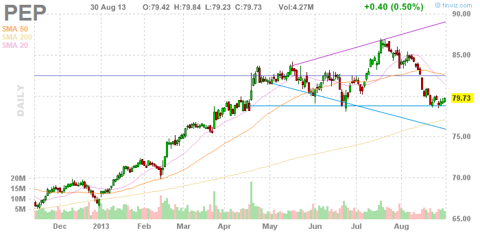 Click to enlarge
Catalyst #2 - Dividend Behavior
Since March 2, 2011, PepsiCo has increased its regular quarterly distribution three times in the last ten payable quarters. From an income perspective, the company's forward yield of 2.86% ($2.27) coupled with its continued distribution increases make this particular stock a very viable income option for long-term investors in search of a moderate-yielding play in the food & beverage sector.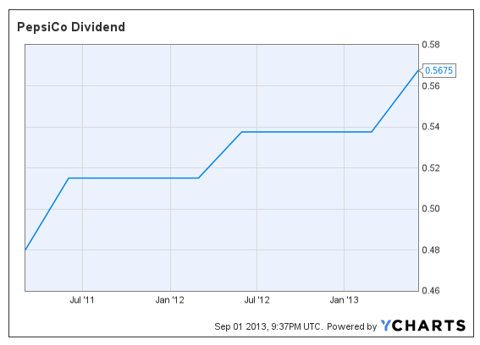 Click to enlarge
Catalyst #3 - Peer-Based Ratio Comparison
When it comes to any company's price-to-free-cash-flow ratio (P/FCF), price-to-sales ratio (P/S) and its PEG ratio I always think it's best to do a side-by-side comparison with some of its top competitors, which in the case of PepsiCo, I did a side-by-side comparison using Coca-Cola (NYSE:KO). When it comes to each company's P/FCF ratio, PepsiCo's P/FCF ratio of 29.62 is 44.34% lower than that of Coca-Cola's current P/FCF ratio of 53.21. In terms of each company's P/S ratio, PepsiCo clearly takes the cake as the company possesses a 1.87 P/S ratio vs. Coca-Cola's P/S current ratio of 3.57. When it comes to each company's PEG ratio, both could use some serious improvement even though PepsiCo (2.27) has a slightly better PEG ratio than that of Coca-Cola (2.56).
Conclusion
For those of you who may be considering a position in PepsiCo, I'd keep a watchful eye on a number of catalysts over the next 12-24 months as they could contribute quite nicely to the company's long-term growth. These catalysts include but are not limited to the company's near-term performance and trend status, the sustainability of its dividend, and its ability to fundamentally outpace its competitors. If PepsiCo can continue to expand its global footprint while cutting costs and creating jobs, I see no reason why investors should continue to avoid establishing a long-term position in the company.
Disclosure: I have no positions in any stocks mentioned, but may initiate a long position in PEP over the next 72 hours. I wrote this article myself, and it expresses my own opinions. I am not receiving compensation for it (other than from Seeking Alpha). I have no business relationship with any company whose stock is mentioned in this article.