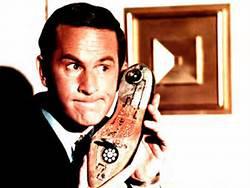 On August 16th, I commented to a new colleague and a contributor here on Seeking Alpha, regarding his request for views and feedback from the readers on Vodafone (NASDAQ:VOD). He soon wrote an article analyzing the values of assets and near-term outlook on the company. I'm long VOD as of May 2013, and my position and views on the stock at the time were this:
I'm an Investor in VOD, but cautious due to its multitude of rapid, aggressive expansions, recent performance, and the inherent market share in depressed or recessionary nations.

Those are also potentially asymmetrical growth opportunities, and will possibly lend to off-setting poor GDP &GNP recessionary exposure VOD faces in a large percentage of its markets. If these trends and countries can affect stages of recovery, the large risks will start to unwind, and perhaps VOD can opportunistically leverage those scenarios-much like the major U.S. banks and investment houses.

That's the VOD macro-risk tale, which, again, is considerable. I view the rest of the business as a partial "option-like" play, and a bond replacement. The semi-annual dividend payout is both large enough and regular enough for me to have initiated a 10-12.5% position, which I'm monitoring, and playing by ear.

As long as VOD holds its "Crown Asset" of VZ Wireless, and some potential deal may emerge, that's a positive underpinning. Personally, I hope they decide to hold these assets, or maybe outline favorable leasing terms (or something in that nature) with VZ.

Those two factors are anchoring VOD's steady share price of late.

On the plus side, they have been making some smart investments. They have more crown-jewel assets in both Australia and New Zealand, and have committed to upgrading a CAPEX project to lay a huge underwater transoceanic sea line communications trunk that will allow state of the art access content, maybe with leasing rights as an option for its competitors. 16 Aug., 06:33 PM.
I also favored Vodafone retaining all its interest in Verizon Wireless (NYSE:VZ), as the revenue growth and profit make up a considerable amount of VOD's top and bottom lines. The market share in the USA is nearly impossible to replicate, at least without an immense capital expenditure [CAPEX] and likely ten or more years' time for any telecom competitor. That's if the Federal Trade and Federal Communications Commissions permit such a goal from any new or established telco.
Without the 45% ownership of the VZ Wireless interests, I set a possible exit sell point on news of that potential deal.
Thursday, August 29th and Friday, August 30th would have made a good time to take profits. That would have been a knee-jerk trade, as any news of the deal had been based on speculation and rumor, and no material news had come to light prior to Sunday, September 1st. The deal terms agreed upon are still preliminary and not voted on by each company's respective shareholders, nor approved yet by any of the presiding government regulatory agencies.
Decisions made on rumors or on lack of verifiable facts can severely limit potential gains, and they also can incur unwanted taxable events, for no reason. I'm better off for not just selling VOD on an 8-9% gain before Labor Day.
Any investor in either of these stocks or committed to the telecom communications sector has likely got wind of Sunday's huge deal announcement.
Only after catching the highlights of the deal's terms have I changed my outlook 180 degrees, and I now have an increased respect and admiration for the senior management at Vodafone. Pending the successful outcome of the deal, and all the necessary votes and mandatory approvals are received, Vodafone made about the sweetest deal ever made, at least on the scale of the 3rd largest acquisition in history.
From Seeking Alpha's Market Currents:
Sun, Sep. 01, 2013 2:54 PM VZ Verizon, Vodafone reach $130B deal on Verizon Wireless stake-WSJ

Verizon Communications and Vodafone have reached a deal on VZ's purchase of VOD's 45% stake in Verizon Wireless, WSJ says. As expected, VZ will pay around $130B for the stake, in "roughly equal portions of cash and stock." An official announcement is expected as soon as Monday afternoon. Previous: VZ, VOD boards expected to vote on wireless deal.

Sat, Aug. 31, 2013 10:51 pm-Verizon, Vodafone boards expected to vote on $130B deal • 1:50 AM

The boards of Verizon Communications and Vodafone are reportedly expected to vote this weekend on a deal in which the U.S. telecom operator would acquire Vodafone's 45% stake in Verizon Wireless for $130B in what would be the third-largest corporate acquisition of all time. The deal could be announced tomorrow.

Verizon would pay for half the purchase with its own stock and $65B of debt. RBC analyst Doug Colandrea believes that Verizon Wireless' $28.6B of free-cash flow would enable Verizon Comm. to repay the debt relatively quickly. The company would also sell some European assets back to Vodafone.

The transaction will be structured in such a way that Vodafone's tax bill could be limited to $5B.
Outlook
Generally, this size of deal activity can spur additional M & A deals, particularly in the related sectors. We already have a statement of interest out post-deal from AT&T (NYSE:T). That will be a positive backdrop for the U.S. and E.U. markets, especially in between earnings seasons. This is a Mega-Deal.
Specifically, the previous estimates among the professionals had a larger tax liability for VOD. VZ will almost certainly divest some assets in Europe to Vodafone. Vodafone is already a dominant operator throughout Europe. Even during the recession, particularly in Southern Europe and the Mediterranean region, the company is capturing share, increasing CAPEX investment, and rolling out state of the art services like 4G and a bundling package.
The recent quarterly sales and earnings show some decreases and additional competition (in the U.K. market) for instance. VOD, however, has made traction in even the most crippled markets, and captured market share, added contract subscribers, mobile penetration, and picked-up average revenue per user [ARPU] in roughly 50% of the total European markets. The company is executing well in a difficult European market environment.
Management also noted that the business lines in countries that have had declines to its top line have slowed the downward trajectory, a positive change. For more details, please review the transcripts accessible on SA, or listen to the Interim Management Statement [IMS] for the quarter ended June 30, 2013 conference call.
Vodafone has made strategic investments globally, taking advantage of the recessionary environment to scale into markets in every continent except Latin America. It is the second largest telecommunications company, only outsized by China Mobile (NYSE:CHL). India has grown in service revenue and market share for the company, and despite that nation's woes, the trends are positive for contract subscribers versus prepaid customers, mobile penetration, and data services.
The company's vision is included verbatim below, and the company is well on track in fulfilling the long-term plans it has defined. This deal is a huge cash infusion for the company, and will ensure either/or asset acquisitions or strengthening of service quality and product offerings among its global operations.
VOD will receive a large interest in Verizon and retain a revenue and dividend income stream in N. America. The share interest in VZ may possibly allow the telco to review future North American business lines, possibly in Canada. The balance sheet is bolstered and will likely be deleveraged, and future dividends, special dividends, or assignment of Verizon shares to shareholders may be announced.
That chance alone may add to the investor base, both dividend income-oriented investors, as well as growth investors who will realize the long-term possibilities of the global powerhouse, and appreciate the smart management behind the positioning of VOD. This most recent announcement came out early Monday morning:
SA Mkt. Currents:
Monday, Sep 2 3:05 AM:

Vodafone confirms "advanced discussions" with Verizon

Vodafone says it is in "advanced discussions" to sell its 45% stake in Verizon Wireless to Verizon Communications for $130B in cash and shares. The company will make a further announcement "as soon as practicable," which reports say could be today. The sides were working late into the night to iron out the final details, sources say, including the cash-stock ratio of the deal. The debate about what Vodafone should do with the proceeds of the deal is already well under way: while shareholders are hoping for a healthy windfall, the FT reports that the company is interested in expanding its presence in the wire-line sector in Europe with deals similar to its proposed acquisition of Kabel Deutschland. Liberty Global (NASDAQ:LBTYA) has cropped up in the speculation as a potential target.

VZ will finance with (the largest) $60B bridge loan.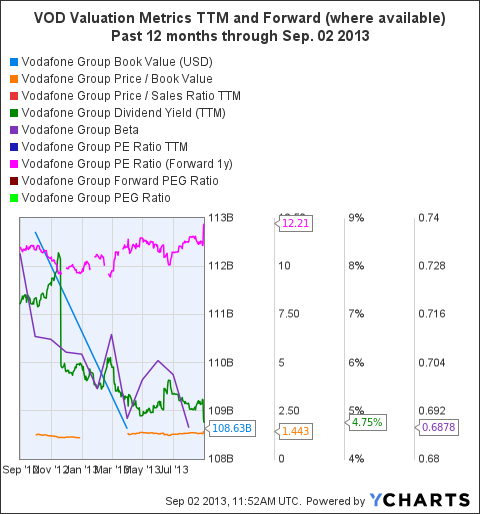 VOD Book Value data by YCharts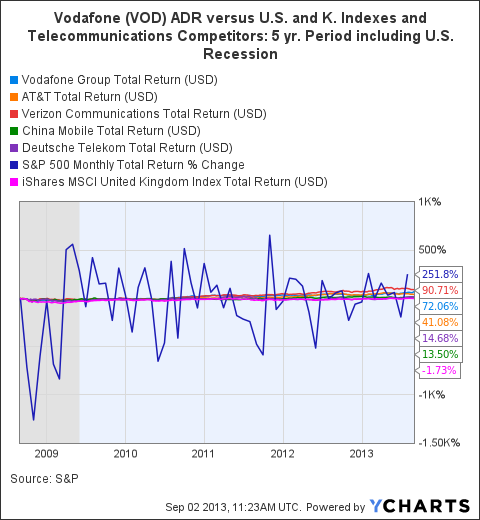 VOD Total Return Price data by YCharts
Conclusions
Watch for upgrades for both the stock and bond issues for VOD, and possible downgrading of VZ's debt. Let's see if AT&T will actually add to the revaluation of the European assets by making some sort of offer.
If the Verizon deal, as structured now, results in selling its Italian assets to VOD, Vodafone will be leveraged at a perfect inflection point in increased Italian services and with growth in Europe reemerging. The recent news out of Europe generally indicates a bottoming and a start in an EU recovery.
Despite weakness in consumer data via unemployment, debt, and reduced spending over a protracted period in many of the countries in which it conducts business, VOD has stated that the trends to wireless and mobile conversion are still strong, and are essential to business and personal needs. That's why they're called utilities.
There may be further growth initiatives of VOD via CAPEX and expansion into data services, and more cable-centric assets, like the recent German Kabel Deutschland acquisition.
Chances are good for a shareholder-friendly offering of some combination of the coffers that the company just won. With the user views of the multiple services in this large communications company and a stronger balance sheet and outlook for growth prospects, VOD may be one of the best and least risky plays to invest in global markets.
From the Vodafone corporate website
Our vision:

•A scale data company

•A strong player in enterprise

•A leader in emerging markets

•A selective innovator in services

•A cost efficient organization

Our strategy:

Consumer 2015

•Vodafone Red: new strategic approach to consumer pricing and bundling in Europe, offering our customers greater freedom of usage and stabilizing ARPU

•Targeting 10 million Vodafone Red customers by March 2014

•Maximize the opportunities in emerging markets through smart data pricing, the development of low cost smartphones and selective innovation in areas in which we can truly differentiate

Enterprise 2015

•Accelerating our converged offers

•Consolidating our lead in M2M

•Growing Vodafone Global Enterprise and our Carrier Services business

•Leveraging our hosting capability

•Offering cloud-based software as a service

Networks 2015

•Delivering a consistently excellent data experience to our customers

•Extending our 3G footprint at 43.2 Mbps and 4G coverage across five major European markets to 80% and 40% respectively by 2015

Operations 2015

•Focus on standardizing and simplifying our business both across and within countries

•Targeting £0.3 billion reduction in European operating expenses in the 2014 financial year
Disclaimer: The opinions in this document are for informational and educational purposes only and should not be construed as a recommendation to buy or sell the stocks mentioned or to solicit transactions or clients. Past performance of the companies discussed may not continue as implied, projected, or assumed. Any investment information contained within these materials are not an intention to advise individuals to invest, sell, promote, market or advertise any company or investment products.
These are the writer's opinions, personal recommendation, are based on individual analysis, and material facts contained within all contained and related content may differ materially, is subject to change, and taken from multiple sources. All investors should do suitable due diligence before making any investment decisions as a result of any facts, information, or opinions in this article. Information in this analysis and report should be used as only a single factor in making their investment decision.
The Contributor-Author is not responsible for any error, which may be occasioned at the time of printing of this document or any error, mistake or shortcoming. No liability is accepted whatsoever for any direct, indirect or consequential loss arising from the use of this report. The author expressly disclaims any fiduciary responsibility or liability for any consequences, financial or otherwise arising from any reliance placed on the information in this document. The author does not (1) guarantee the accuracy, timeliness, completeness or correct sequencing of the information, or (2) warrant any results from use of the information. The included information is subject to change without notice.
Disclosure: I am long VOD. I wrote this article myself, and it expresses my own opinions. I am not receiving compensation for it (other than from Seeking Alpha). I have no business relationship with any company whose stock is mentioned in this article.