In general, conglomerates are rather difficult to value properly. This is especially the case regarding General Electric (NYSE:GE). GE is mostly an industrial growth stock, but still gets a large chunk of its earnings from its lending segment GE Capital. However, on August 30, GE announced that it intends to exit retail finance via spinning off the U.S. consumer-lending operations of GE Capital. Do note that this segment represents only about one-third of GE Capital's revenues. Breaking up GE Capital into smaller pieces is less than ideal, but a buyer for the entire segment is unlikely due to its large size.
GE's current valuation compared to pure-play industrial peers
When looking at TTM PE ratios, GE appears to be undervalued when compared with other industrial stocks such as Honeywell (NYSE:HON) and Emerson Electric (NYSE:EMR). Both Emerson and Honeywell have typically traded at around a 20X PE while GE has struggled to maintain even a 17X PE. This is not a short-term trend as GE has consistently traded below both names in terms of valuation over the past 4 years. Do note that, when adjusting for certain one-time items, GE's TTM PE ratio is more towards 15X, implying even more of a discount.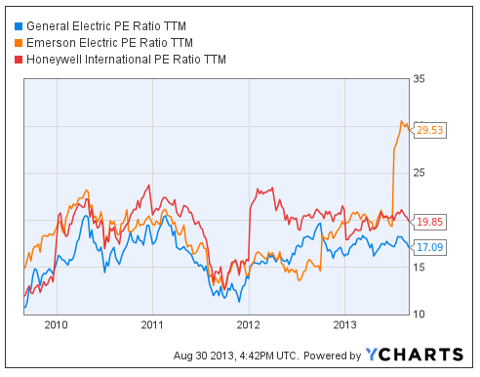 While most certainly the most used, I will admit that earnings are often not the best way to determine value. A better method of determining value is by using the enterprise multiple. This is simply enterprise value, or EV, and divided by EBITDA. This method allows us to factor debt into the valuation and generally has less earnings-related noise. As shown below, GE trades at nearly a 30% discount to Honeywell and a 50% discount to Emerson when compared by enterprise multiple.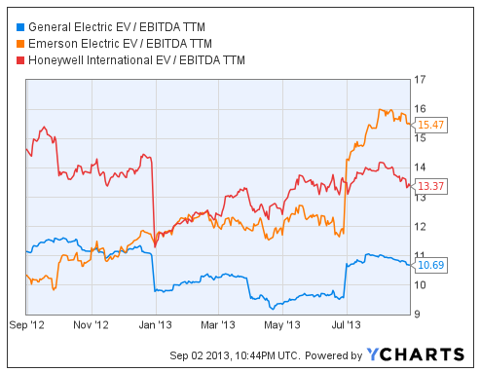 GE's current valuation compared to financial peers
Keeping with enterprise multiple theme, let us compare GE to several financial stocks. As GE Capital is somewhat diversified, with various operating segments, we need to pick several different types of financial stocks. For my comparison I use American Express (NYSE:AXP) and Wells Fargo (NYSE:WFC), as one represents a growth-oriented credit card company, while the other is a more traditional banking stock.
Even here, GE appears to trade at a substantial discount, with American Express commanding nearly a 30% premium while Wells Fargo trades at 12% premium. Do note that GE Capital's assets are generally of much lower quality, which may be a factor in the valuation.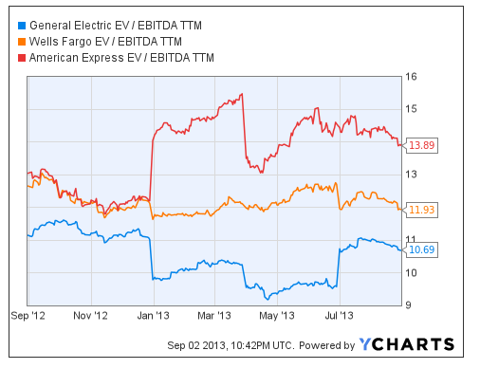 Upside Catalyst: Massive share buybacks and possible dividend increase
Earlier in the year, GE announced that it would use most of the proceeds from its $16.7B sale of its minority stake in NBC Universal to Comcast (NASDAQ:CMCSA) for share buybacks. The company also noted that it would like to lower its share count to below 10B, which is the level GE was before the 2008 crisis. Assuming its current share price, this would cost GE about $4.2B. GE also noted that it has paid out about $9.9B of the $18B it plans to return this year to its shareholders via dividends and share buybacks. Of special note is that GE's CEO Jeff Immelt estimates that the company will generate $100B that will be allocated to dividends over the next few years.
Regarding dividends, GE's last two dividend increases came during Q4. While dividend increases are not carved in stone, it seems unlikely that GE will not increase its dividend this year. GE's last two dividend increases were about $0.02 per share per quarter, or about $0.08 annually. This would appear to be a likely target for GE's next dividend increase as it would be in line with its EPS growth this year. Assuming that GE does increase its quarterly dividend by 2 cents, this would imply a 3.63% yield and 55% payout ratio using its current price and TTM adjusted earnings.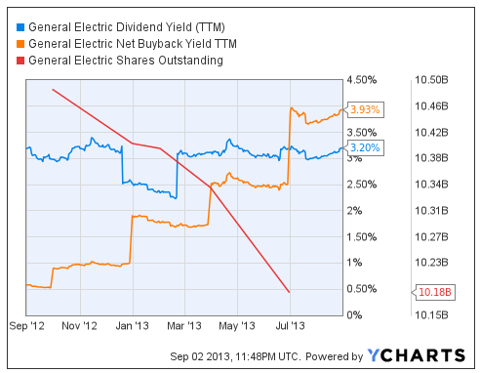 Conclusion
GE Capital's assets are not of the highest quality and were the cause of significant losses during the 2008 financial crisis. As a result, GE was forced to seek federal aid via a massive $140B bailout and was also a factor in the decision to cut the dividend nearly 70% in 2009.
The market appears to be having trouble valuing GE. The company trades at a large discount when compared to both its industrial and financial peers. If GE Capital were completely separated from GE it would likely be valued more correctly, which is likely to be in line with other financial stocks.
Make no mistake about it, GE is an industrial stock first and foremost. The decision to exit retail financing should be considered a good first step for investors in GE. It is my opinion that GE Capital has been drag on GE's valuation. The company would most likely command a higher multiple if GE consisted solely of its growth oriented industrial segments.
Disclaimer: The opinions in this article are for informational purposes only and should not be construed as a recommendation to buy or sell the stocks mentioned. Please do your own due diligence before making any investment decision.
Disclosure: I have no positions in any stocks mentioned, but may initiate a long position in GE over the next 72 hours. I wrote this article myself, and it expresses my own opinions. I am not receiving compensation for it (other than from Seeking Alpha). I have no business relationship with any company whose stock is mentioned in this article.