This article takes note of the improving Eurozone economy and looks at the undervalued European stock markets. An analysis is made of the Vanguard FTSE Europe ETF (NYSEARCA:VGK). It is a diversified and inexpensive way to take a position in that market and it provides a high dividend yield.
The European Economy
Labor Day has passed and there was no Eurozone crisis this summer, an annual event since 2010. The European economy emerged from its longest postwar contraction. Following six consecutive quarters of decline, the 17-nation group posted a quarterly growth increase of 0.3% for the second quarter. While it is easy to point at remaining pockets of darkness on the continent, the largest economies are gaining ground and optimism abounds. The UK also appears to have turned the corner.
Market Valuation
What does this mean for the US investor who has shunned participation in the troubled area's stocks? Is it time to reestablish positions? I think for many the answer to that is yes. Compared to US stock prices, European issues are cheap. The P/E and P/B of the stocks indicate that they are inexpensive compared to their historical norms and compared to the US stock market.
The below chart is from JPMorgan's Market Insights 3Q|2013 Guide to the Markets, Europe.
If I may draw your attention to the top portion of the chart, you will note that three of the largest developed markets, France, Germany and the UK are cheap relative to their own histories and cheap in relation to the rest of the world and even cheaper compared to the US. A broader look at the European market, published in an iShares blog by Russ Koesterich, reveals that overall the European P/B stands lower than its norm, and at a high discount to the US market. The main points presented there are:
Europe's economy is stabilizing. After six-consecutive quarters of contraction, Europe grew a better-than-expected 0.3% in the second quarter. While still weak, the economy - particularly around the core countries - is improving.
Eurozone equities are cheap relative to US stocks. Eurozone stocks currently trade for less than 1.30 x book value. This is a 25% discount to their long-term average valuation and nearly a 50% discount to the book value of US stocks. The Eurozone market typically trades at a discount to the US market due to its lower profitability and larger allocation to financials, which tend to trade at lower multiples than other sectors. However, the current discount looks excessive.
There is less risk that the euro will be dissolved. A year ago investors were reasonably concerned that the single currency may not survive. But last year's actions by the ECB, coupled with some modest reforms in peripheral European countries, significantly lowered the risk of dissolution.
The Vanguard FTSE Europe ETF

A description of the fund includes:
Seeks to track the performance of a benchmark index that measures the investment return of stocks issued by companies located in the major markets of Europe.
Holds stocks of companies located in Austria, Belgium, Denmark, Finland, France, Germany, Greece, Ireland, Italy, Luxembourg, the Netherlands, Norway, Portugal, Spain, Sweden, Switzerland, and the United Kingdom.
Follows a passively managed, full-replication approach.
The benchmark index for this fund is the FTSE Developed Europe Index. This index consists of approximately 500 common stocks located in 17 developed European countries. The below table from FTSE defines the number of stocks (called constituents or cons here) per country and the total weight given each country.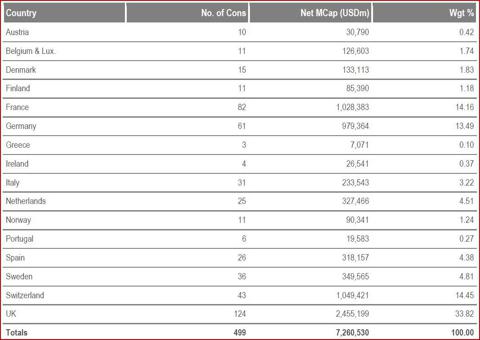 Four countries account for over 75% of the weighting. They are the United Kingdom (34%), Switzerland (14%), France (14%) and Germany (13%). The more troubled countries have a much smaller proportion of the holdings. They include Greece (0.1%), Ireland (0.4%), Italy (3.2%) and Spain (4.4%).
FTSE has three different European indexes the Developed Europe, the European and the Eurozone. This is important to note when comparing somewhat similar funds as the indexes perform quite differently. The Developed Europe Index, because of its constituents and their weight, performs much better over most periods compared to the other two as is shown in the table below.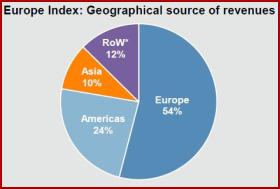 As with other European stocks, these companies include within their markets a much higher percentage of sales to Asia and emerging markets than their US counterparts do. So, one gets the benefit of deep penetration into the European market and also exposure to revenue from emerging markets.
Listed below are the largest holdings of the index and the fund. These are large multinational engines of capitalism, established and durable creators of profits.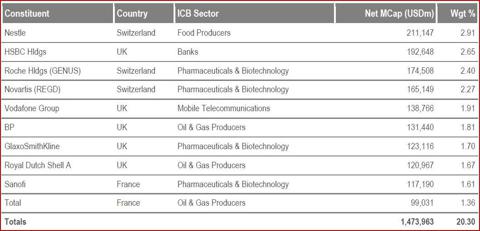 Suitability
This fund provides an excellent means for many investors to diversify into Europe at what may be an opportune time. We believe the Developed European markets are undervalued, as illustrated in the Market Valuation section. For the income-oriented investor, VGK offers a yield of over 5%. While there are risks attendant in any European investment, these are somewhat mitigated by the large number of stocks and the heavier weightings in the more stable countries.
Alternatives
For a resident of the US, it is much more difficult to manage a portfolio of individual European stocks than it is a similar portfolio of US stocks. A primary consideration is the various tax withholding rates on dividends, which range from 35% in France to 10% in Greece and 0% in the UK except on REITS. Treaties provide some relief for IRA accounts in some cases, and not in others. Dividends withheld on IRA accounts cannot be recaptured for credit on one's US tax return. The IRS attempts to explain the ins and outs of this in Publication 901. I prefer not to involve myself in this, and prefer to have Vanguard pay appropriate taxes and pass through to me a dividend on which no foreign taxes are due. For me, and for other investors who hold primarily US individual company shares, this is a case where it makes a lot of sense to turn to an ETF for this diversification.
Morningstar Premium provides a comprehensive view of ETF alternatives.
IShares S&P Europe 350 Index IEV is the closest alternative. In fact, 90% of VGK's portfolio overlaps with IEV's. But IEV's 0.60% expense ratio makes it less attractive. Investors looking for pure exposure to the European Monetary Union might consider iShares MSCI EMU Index EZU, which only holds companies listed in countries that have adopted the euro. Consequently, EZU does not hold any firms based in the U.K. or Switzerland, which together account for nearly half of VGK's portfolio. Unfortunately, EZU charges a relatively high 0.53% expense ratio. SPDR EURO STOXX 50 FEZ (0.29% expense ratio) is a cheaper, but more concentrated, Eurozone option. FEZ rests on a narrow base of 50 blue-chip companies. Over the past three years, EZU and FEZ were 0.98 and 0.97 correlated with VGK, respectively.

BlackRock offers a suite of iShares products that track individual European countries, such as iShares MSCI United Kingdom Index EWU (0.52% expense ratio), iShares MSCI Germany Index EWG (0.51%), and iShares MSCI France Index EWQ (0.52%) among others. Although they are more expensive than VGK, these funds are ideal for investors who want direct control over their country allocations.
Conclusion
European economies and stock markets are poised to continue higher. Equities are undervalued based on their historic valuations and compared to US stocks. A very good way to get wide diversification in the Developed European Countries is with the low-cost Vanguard FTSE Europe ETF, VGK. I believe this Vanguard offering is the best in its class.
All investments carry risks and foreign investments carry currency risks. Do your own due diligence or seek qualified advice before making any investment decision.
Disclosure: I have no positions in any stocks mentioned, and no plans to initiate any positions within the next 72 hours. I wrote this article myself, and it expresses my own opinions. I am not receiving compensation for it (other than from Seeking Alpha). I have no business relationship with any company whose stock is mentioned in this article.