Leggett & Platt (NYSE:LEG) is on the low rung of the ladder when it comes to risk assessment. Even in recent slow economic times, it performed well by generating impressive returns and strong dividends. With a strong risk assessment and solid business plan, Leggett & Platt continued to generate massive returns for more than four decades.
With 42 consecutive dividend increases, Leggett offers a quarterly dividend of $0.30/share at present. Leggett has increased its dividend at a compound annual growth rate of 13%, which is the highest rate among top S&P 500 companies. Meanwhile, Leggett is also increasing initial investment in the form of price appreciation. Since 2009, its share price has gained nearly 57.75%.
Click to enlarge images.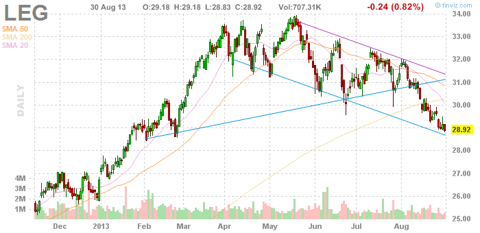 Source: Finviz.com.
At the time of writing, its shares are trading at $28.92/share, which is well below its 52-week high of around the $34 mark. This company is still undervalued, as its shares are trading at a price-to-earnings ratio of 16.8 when the industry average is at 34.4. Also, analysts have a mean target price of $35/share for this company. Its forward price-to-earnings ratio of 13.7 suggests the potential for further growth.
Let's dig into the company's business strategy and financial situation to gauge its cash-generating potential for sustainable returns.
How Safe Are the Returns?
Leggett & Platt's three-part strategic plan is working so far. As per the plan, it is divesting its low-performing businesses while focusing on improving margins and returns. The company has been looking to achieve top-line growth in the mid-single digits, and bottom-line growth in the high single or double digits. To do this, Leggett & Platt is also making acquisitions to enhance its industrial materials portfolio.
Last year, it acquired Western Pneumatic Tube Holding, a leading provider of aerospace components, and this quarter the company acquired a small U.K.-based aerospace tube fabrication business. This acquisition falls into the business strategy of concentrating on core market areas and managing its portfolio of businesses proactively and intentionally. For Leggett & Platt, these acquisitions established a strong competitive position in the higher return, higher growth aerospace market. It is operating under 20 different business segments; however, it focuses mainly on four segments: Residential Furnishings, Industrial Materials, Commercial Fixturing and Components, and Specialized Products.
All four business segments are increasingly generating profits year after year. At the end of the recent quarter, its overall sales increased by 3% when the bottom-line growth is at 7%, representing margin expansion. Its EBIT margin increased 100 basis points to 10.3% at the end of the recent quarter. For full-year 2013, Leggett & Platt expects to increase sales from 1% to 4% with an expectation of a 2% to 12% improvement in its EPS.
With massive amounts of operating and free cash flow, Leggett & Platt deserves to be called a cash machine. Cash from operations in the trailing 12 months is at $427 million, and capital expenditure is at $56 million; therefore, free cash flows are at $351 million. Here, free cash flows are fully protecting dividend payments as they stand at only $163 million.
Leggett and Platt's both top- and bottom-line growth enables it to generate strong cash flows. The company has sufficient cash to keep reducing outstanding shares after paying dividend and retaining cash for growth activities. In the past quarter alone, it repurchased around $1.2 million shares. The number of outstanding shares decreased to $141.9 million. This repurchase will further enhance Leggett & Platt's ability to increase its payout ratio.
Where Other Players Stand
Leggett & Platt's main industry competitors are Mohawk Industries, Inc. (NYSE:MHK) and Fortune Brands Home & Security, Inc. (NYSE:FBHS). Mohawk Industries designs, manufactures, sources, distributes and markets flooring for residential and commercial applications.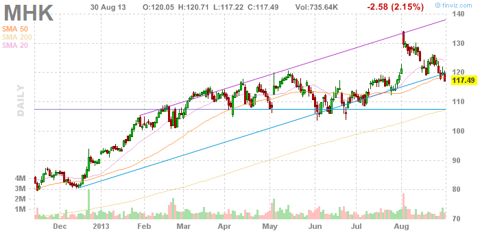 Source: Finviz.com.
Mohawk Industries is on a run-up over the past few years. Its share price gained nearly 79% in the last year alone. It is a value stock, and the company does not offer any dividends. Mohawk retains cash for acquisitions and investment in growth opportunities. At the moment, Mohawk is trading at a very high price-to-earnings ratio of 31, which is higher than the S&P average of 18.1.
However, this company has shown a strong financial situation over the years. In the recent quarter alone, it grew its sales by nearly 35% and EPS by 61%. Its legacy business and recent acquisitions delivered solid performances. Its legacy net sales increased 6% with the balance of growth stemming from recent acquisitions of Pergo, Marazzi and Spano.
Fortune Brands Home & Security is a home and security products company. This company has four segments: Plumbing & Accessories, Kitchen & Bath Cabinetry, Advanced Material Windows and Door Systems, and Security and Storage. Fortune Brands just started to payoff dividends. Recently, it announced a dividend of $0.10/share.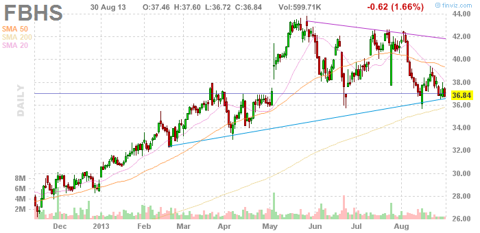 Source: Finviz.com.
Fortune Brands has been showing solid financial results, which is impacting its share price. This company has shown a strong surge over the past year. At the moment, its shares are trading well below its 52-week high of $43. The company's shares look undervalued, as its price-to-earnings ratio is lower than its industry competitors. With an exceptionally high forward P/E of 20, the stock has potential to continue its surge.
Fortune Brands has generated solid momentum in the first half of the year by focusing on profitable growth. In the last quarter alone, the company increased its sales by 11%. Additionally, Fortune Brands has increased its full-year outlook with strong confidence in the home products market and its efficient closing of the WoodCrafters acquisition. Fortune Brands can be a decent buy with bright future prospects.
Conclusion
Leggett & Platt's top and bottom lines are growing by divesting low-performing businesses and focusing on improving margins. Strong cash flows are also paving the way to invest in growth opportunities. Leggett & Platt's past few acquisitions set the company up to keep growing its revenue and earnings. Leggett & Platt's dividends look absolutely safe with strong growth potential and the ability to generate massive cash flows. At a price of $28.92, Leggett & Platt appears to be a smart buy.
Disclosure: I have no positions in any stocks mentioned, and no plans to initiate any positions within the next 72 hours. I wrote this article myself, and it expresses my own opinions. I am not receiving compensation for it (other than from Seeking Alpha). I have no business relationship with any company whose stock is mentioned in this article.