Sony (NYSE:SNE) is one of the biggest names in the electronics business and the Japanese manufacturer has been a leader in electronics for decades. After disappointments from its smartphone and television divisions, Sony is finally on the right track under new CEO Kazuo Hirai. Hirai's "One Sony" strategy is already paying off and Sony's products are catching eyes of consumers, once again.
After buying out Ericsson's stake in Sony communications, Hirai has already laid importance on the mobile phones division as being a crucial part of the company's future. The company faces competition mostly from Apple (NASDAQ:AAPL), Nokia (NYSE:NOK) and Google's Android devices in the smartphones segment while Microsoft (NASDAQ:MSFT) is a huge competitor in the gaming segment.
Valuation
With a market cap of over $20.4bn, Sony is currently trading around $20.2. The company's latest earnings report showed a profit of around $35mn and even though the number isn't huge, it's a major improvement over a loss of $312mn same time last year. Improved performance from Sony's smartphone division was one of the key profit boosting factors as it sold over 9.6mn smartphones in the quarter.
Apple, on the other hand, is currently trading around $500-$501 with a market cap of around $455bn. The company saw a major boost in share prices after the news of its two upcoming versions of the iPhone, with one being a budget-friendly version.
Nokia, with a market cap of $15.41bn, is trading around $4.15. The Finnish company is still somewhat struggling in the market which it used to dominate a couple of years back. The company's earnings report was also far from an indicator of improvement as sales missed out on analysts' estimates.
Smartphones
This is a crucial segment for Sony going forward and the company is well poised to capitalize on the emerging smartphones and tablets market. After performing relatively well with the first generation of the Xperia smartphones, without Ericsson, the second generation of Sony's smartphones have already made the headlines.
The flagship Xperia Z smartphone has impressive hardware, along with Sony's signature design, but is also resistant to water. Samsung's S4 smartphone has not lived up to the hype, which is why Sony might finally be able to improve its market position significantly by the end of the year.
The reception of Apple's upcoming smartphones will also be crucial in determining Sony's position in this specific industry, especially because Apple has finally decided on releasing a budget iPhone, which would compete against Sony's cheaper Xperia smartphones. That being said, Sony's marketing campaign, along with the quality of its smartphones, should definitely increase sales in upcoming quarters.
Nokia finds itself in a very similar position as Sony, struggling to get a major chunk of the market. While Apple and Samsung might be the biggest threats to Sony, growth in the market share of Windows Phone OS is also likely to affect Sony's performance. WP8 share in the market has already risen to 3.3%, which is dominated by Nokia and if Microsoft can improve on developer support for its platform, then this is likely to improve Nokia's position in the market and thus, affect Sony's market share.
The Company's latest offering, Xperia Z Ultra, falls under the phablet category, which is a niche market for Sony. The upcoming Honami smartphone should also add to the success of the Xperia Z and it's good to see how Sony is catering to a wide audience with various different devices.
Gaming Consoles
Sony has also been a dominant force in gaming with its PlayStation consoles. After enjoying a decade of success, Microsoft's entry into the market gave the company a tough time in this particular market. The Xbox and the Xbox 360 have been doing quite well since the last couple of years; however, Sony is likely to lead the race in the upcoming generation of gaming consoles.
Sony's PS4 event went extremely well and the console is likely to be a success. However, Microsoft's Xbox One received quite a lot of negativity, specially because of the company's strict game sharing policies. Aside from that, Sony managed to offer a release price $100 lower than the Xbox One, which should be enough to drive consumers away from Microsoft towards Sony.
Sony's latest deal with Viacom for a TV streaming service on the PS4 is also something to be optimistic about. This will not only help the PS4 become even more attractive, but will also help Sony convert the PS4 console into a family entertainment box.
Sony's Refusal To Sell Its Entertainment Business
Sony, after ongoing discussions, refused to sell part of its entertainment division: a proposal brought forward by hedge fund manager Daniel Loeb. Despite Sony's shares dipping after the refusal of this cash raising proposal, this will definitely help Sony improve its brand in the long term.
Sony believes that owning 100% of the entertainment division is essential for the company's future, fitting under the "One Sony" strategy. Upcoming distribution platforms, better Internet access and growth in the smartphones industry are the factors which are likely to take the entertainment business to the next level in the near future.
Further Analysis
The key now is to focus on Sony's core improving divisions. As you can see in the chart below (Source:Sony), the smartphones division got a major boost of 36.2% and growth is likely to improve further in upcoming quarters: a segment where Sony will capitalize in the future. Home Entertainment, Pictures and Music were also up YoY, which shows improvement in other key business segments.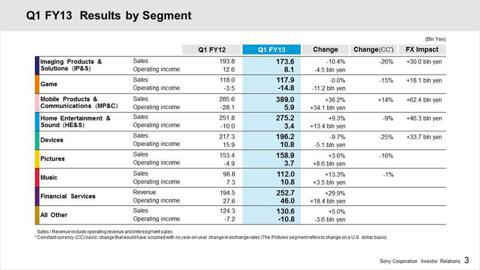 Aside from growth in major divisions, Sony's average quarterly earnings growth, for the past 4 quarters, stands at a solid 69%. Earnings are likely to boost further, specially during the holiday season, translating into greater value for shareholders.
Conclusion
Sony's solid strategy under its new management is already paying off and the company is definitely heading in the right direction. Sony's investment in smartphones will be crucial for the company's future and the company has already made headlines in the smartphones industry with its flagship devices.
The company is also well poised in the gaming division with the upcoming PS4, especially after Microsoft's "slip" in the segment. Even though Sony still needs to step up its game in all of its divisions, I don't see why the company won't be able to become the company that it used to be in the near future.
Disclosure: I have no positions in any stocks mentioned, and no plans to initiate any positions within the next 72 hours. I wrote this article myself, and it expresses my own opinions. I am not receiving compensation for it (other than from Seeking Alpha). I have no business relationship with any company whose stock is mentioned in this article.