On August 15th, Seadrill Limited (NYSE:SDRL) and North Atlantic Drilling Ltd (OTCPK:NATDF) announced a partnership with an unnamed 3rd company that would potentially open up additional business and revenues for all companies. Although it wasn't disclosed who the new partner was, it offered the following insight into their identity:
Strong foothold in the Russian market
Vast experience and competence in Arctic operations
Unique expertise in ice management
During their 2Q13 conference call, management stated that while the final details are being worked out, they were not at liberty to disclose who the new partner is.
"About two weeks ago, we announced that Seadrill and North Atlantic had reached a preliminary agreement for a partnership with a strong industrial player in order to increase North Atlantic's growth potential, particularly in Russia. We expect the deal to be finalized in the third quarter.

Please note that right now we are not in a position to disclose more detail than what we have done in the news release published on August 15. But we will follow up with missing pieces, including the identity of the potential partner, following the conclusion and closing of the deal."
During the Q&A portion of the conference call, Amy Wong from UBS, tried to pull additional information out of management, but was again rebuffed:
Amy Wong - UBS

The first one is on the North Atlantic Drilling partnership agreement. Just what are you looking for in this industrial player? Could you give us the quality that you're looking for, and how this industrial player will help you move that strategy forward? It just seems a fairly complicated transaction overall.

Alf Ragnar Lovdal - CEO, North Atlantic Drilling

I will have to refer you to the announcement of August 15. I'm sorry, and I ask you to respect that.
So while neither side is talking, I thought it best to begin the speculation and evaluate potential partners and what they may bring to the table. While there are several large oil and gas exploration companies in Russia, I confined the list to those that offer the most likely potential for a partnership.
Rosneft: Rosneft (OTC:RNFTF) is an integrated oil company with the majority being owned by the Government of Russia. ROSN launched projects in the Kara and Barents Seas in 2010 after obtaining four licenses to explore Russia's Arctic shelf. In the autumn of 2011 Rosneft and ExxonMobil signed a strategic cooperation agreement for joint development of the three East Prinovozemelsky blocks in the Kara Sea, containing an estimated 21 billion tons of oil equivalents. The oil is relatively shallow (40-350 meters deep), but is icebound 270-300 days a year with ice that ranges in the 1.2-1.6 meters thick. They also own an additional block in the Barents Sea that is still in the developmental and exploration stage, but with an estimated 13 million tons of oil and 5 billion cubic meters of gas. In my opinion, they have described this partnership to a "T". It fits all the requirements they described, and the Rosneft-Exxon partnership is ready to develop the fields. By creating this partnership with SDRL and NADL, they can lock in the rigs needed to drill the field and bring the oil and gas to market. It's difficult to monetize this relationship without knowing the full extent of the plan.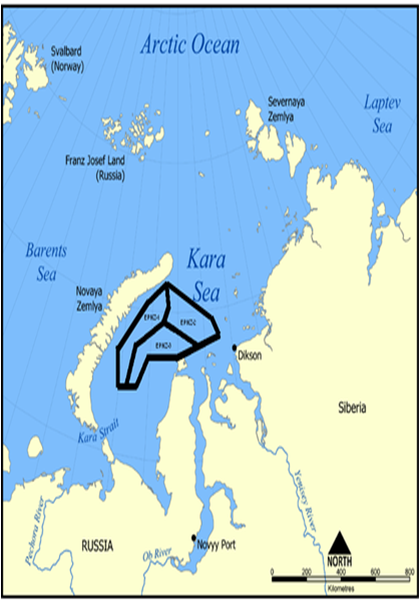 Sakhalin-I: Exxon Neftegas Limited is a subsidiary of ExxonMobil and the operator of Sakhalin-I Consortium which is involved in exploration and production of oil and gas on Sakhalin Island (Russia) and offshore, in Chayvo, Odoptu and Arkutun-Dagi fields located in the Sea of Okhotsk. The field was first drilled in 2005 and since then has expanded. This would meet all three criteria of a reputable Russian company, with experience in the Artic, and experience in ice management. However, I don't see any advantage to the consortium by bringing in SDRL and NAVD.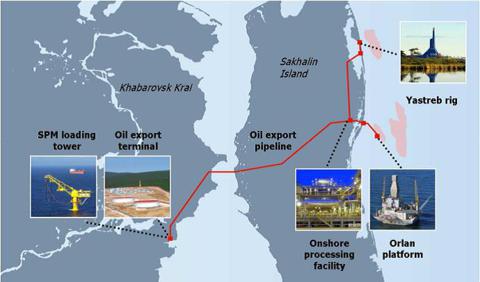 Conclusion: While both of these companies are likely partners, I believe that when announced it will be Rosneft. They have completed the exploration and development phase, and would benefit the most from locking in platforms for drilling wells. I have a hard time monetizing the value of this partnership, but the East-Prinovozemelsky area covers 125,000 square kilometers (48,000 sq mi), and President Putin estimated the project to initially run in the tens of billions of dollars, with a final cost of around $500 billion. SDRL currently has 18 rigs on contract with $19 billion in back orders. I could easily see this as being a long term investment that possibly doubles their current back log, while soaking up the current new builds and getting them on contract.
Disclosure: I have no positions in any stocks mentioned, and no plans to initiate any positions within the next 72 hours. I wrote this article myself, and it expresses my own opinions. I am not receiving compensation for it (other than from Seeking Alpha). I have no business relationship with any company whose stock is mentioned in this article.