Codorus Valley Bancorp, Inc. (NASDAQ:CVLY), through its principal subsidiary PeoplesBank, provides a full range of financial services. Codorus is a regional bank that posted record-breaking financial results in 2012. In this article, I mainly focus on the interest rates and Codorus's earnings growth despite the low interest rate environment.
Economy - Interest Rates
The effects of the Great Recession still persist in the economy more than three years after its end because the economy has grown slowly, without taking full advantage of low interest rates to grow at its full potential. Interest rates, which play a major role in the growth of the banking sector, have been kept low by the Federal Reserve (Fed) with the main aim of spurring growth in the economy. However, low interest rates have not affected the American economy in the way the Fed expected, though the American economy has grown much more vigorously than many euro nations where the interest rates are very low. Even so, overall growth is still far behind the real potential of the American economy. The recovery was faster in 2012 than in 2011, 2010, or 2009. Demand for capital to expand and meet the demand for products and services of existing companies and start-ups increased modestly in 2012. Though signs of improvement were visible in a few industries in 2012, the overall economy is not expected to fully recover until 2014. Meanwhile, a few economists expect the Fed to start raising interest rates by the end of 2013. This process may take more than six months; that is, 2014 might be the correct time for rising interest rates.
Bottom line and growth potential
According to an analysis by Reuters, 68% of all banks reported a year-over-year decline in net interest margin in fourth quarter 2012. Codorus reported growth in its net interest margin from 3.73% in 2011 to 3.81% in 2012. The year 2012 provided considerable room for banks to consolidate their balance sheets; Codorus Valley decreased its provision for loan losses from $4.9 million in 2011 to $1.8 million in 2012, indicating strong improvement in the repayment capacity of customers. More than half of the bank's loan portfolio consists of commercial loans, which is driving the overall growth of the total loan portfolio. Of the $607 million commercial loan portfolio, $252 million, or 41%, is variable rate, which will help the bank earn higher interest when interest rates start to rise.
With market cap of $78.3 million, Codorus Valley Bancorp has 18 branches, and on May 16, 2013, it opened a new branch in Hanover. In addition, it has plans to open another branch in 2013.
Earnings Report
The bank released its latest earnings on July 16, 2013, for the quarter ending June 30, 2013. Its earnings per share declined by 6.7% to $0.56 in the second quarter from $0.60 in the prior-year quarter; the decline was mainly due to an increase in the provision for loan losses. Though there was no significant change in its interest income, its interest expense decreased significantly by 17.72% to $2.2 million in the second quarter compared with $2.6 million in the prior-year quarter, a major contributor to the significant growth of net income. Though the interest rates did not change a fraction in the past four years, the bank was able to decrease its interest expense significantly by paying low interest rates on all deposit products. Codorus's non-interest income increased by 8% in second quarter 2013.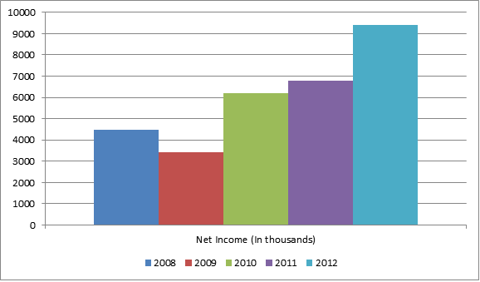 The company reported a substantial increase in its net income available to common shareholders by 69.39% in 2012. Its net income grew by 38.6% in 2012 versus 9% in 2011.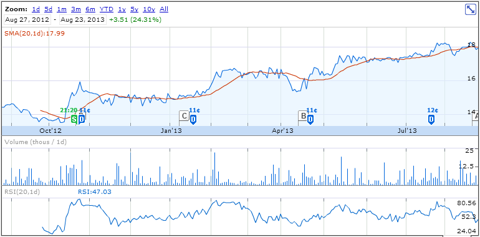 Codorus continues to post decent earnings results in the low interest rate environment and I expect better earnings in the rising interest rate environment of the near future; that would be in 2014. Buying Codorus at the current price levels of $17 - $19 is a good bet from my point of view. Codorus is trading at its near tangible book value per common share, $17.31.
Disclosure: I have no positions in any stocks mentioned, and no plans to initiate any positions within the next 72 hours. I wrote this article myself, and it expresses my own opinions. I am not receiving compensation for it (other than from Seeking Alpha). I have no business relationship with any company whose stock is mentioned in this article.