First Solar (NASDAQ:FSLR) is the only significant thin film solar panel company left along with Solar Frontier of Japan. Many thin film panel companies have folded up in recent times after taking billions of dollars in funding. Even General Electric (NYSE:GE) has given up its solar ambitions (see below). The relentless advance of crystalline silicon solar panel technology has left other technologies in the dust. First Solar has managed to survive due to its massively subsidized large Department of Energy (DOE) solar farms which are making large profits for the firm. As these projects near completion, FSLR's overall bookings are trending down. First Solar's panel costs are now uncompetitive with crystalline solar panels. The company cannot sell its solar panels in decent amounts outside of its system business. The company has now decided to invest in silicon panel technology. I think that this will be a problem for FSLR as it will have to write down its huge investment in Cadmium Tellurium solar panel factories as well as compete against established silicon panel companies such as Sunpower (NASDAQ:SPWR), Yingli Energy (NYSE:YGE), Trina Solar (NYSE:TSL) etc. I would avoid First Solar stock and look for better solar alternatives such as Renesola (NYSE:SOL).
General Electric has also thrown down its arms. GE had boasted of building America's biggest solar panel factory using technology acquired from a Cd-Te startup Prime Solar. The company had said its efficiency would be higher than FSLR and its costs would be lower. GE had earlier announced that it was going slow in its expansion plans and now the company has given up by selling its technology to its arch rival FSLR and firing 50 workers. Again to any solar industry watcher, this was inevitable. I don't foresee more than 5 thin film solar companies surviving this downturn and am not sure that First Solar will be able to keep up its thin film technology.

Source - Greenworldinvestor
If you can't beat them join them
The cost cuts implemented by crystalline solar companies in the past couple of years have been nothing short of amazing. From $4.00/watt ASP in 2008, the current solar panel ASP has declined to only 60c/watt. First Solar which used to be far ahead of the competition in terms of its cost structure, has seen its competitive position erode. First Solar's cost of ~63c/watt is now ~25% higher than the lowest cost silicon panel cost (Jinko Solar has a 50c/watt cost). The processing costs of silicon solar panels will continue to decrease in the future and there are few chances of polysilicon prices increasing given the massive overcapacity. First Solar cannot sell solar panels outside of its own projects because of its higher costs and lower efficiency. The company has no choice but to join the silicon panel bandwagon if it wants to remain relevant. Though the company says that it is getting into silicon panels for the rooftop segment, the fact remains that its Cd-Te panels are uneconomical on a standalone basis.
Why we would avoid First Solar
First Solar has seen its stock continue to decline from the $50 level, after the company issued secondary stock sale and reduced its 2013 revenue outlook. The company's intention to buy a silicon panel firm means that the company has little confidence left in the success of its Cd-Te technology. The company's thin film panel division has negative value in my opinion, given that the company will have to spend a lot of money to shut down the thin film operations. The company will also have to invest a lot of money to ramp up silicon panel operations. If the management remains adamant about keeping thin film panels, then its cost structure will shoot up to support both technologies. This remains unpractical given the wafer thin margins in the solar industry.
First Solar bookings are going down due to increased competition - We also don't like the fact that First Solar has almost no presence in Japan and China. These 2 countries will account for almost 40-50% of the global demand in 2013. First Solar has become a USA dependent company with some projects in emerging markets. The pace of project wins is also slowing down for First Solar as Chinese solar companies such as Canadian Solar (NASDAQ:CSIQ) become strong EPC players. The company faces increased competition in the downstream installation space from US companies like SunEdison (SUNE) and Sunpower (SPRW) as well.
Total outstanding bookings fell from 2.6 gigawatt to 2.2 gigawatt year-to-date. Although our shipments at the end of the second quarter were higher than our new bookings, we have several large long cycle project sales in process that we expect to get across the finish line by the end of the year and cumulatively we are pursuing 1.3 gigawatts of potential bookings in the next six months.

Source - Seeking Alpha
What could work for First Solar
Strong downstream player - First Solar is the biggest solar installer in the world currently thanks to its early investments into this space. FSLR has good experience and expertise in installing massive solar farms with millions of solar panels. The company still has a big pipeline of solar projects though pipeline additions have slowed dramatically.
Good Margins and Profitable - FSLR remains one of the few profitable companies in the solar industry with one of the highest gross margins (27% in current quarter). However, the margin sustainability is doubtful over the long term as DOE projects wind down. The company has also got the strongest balance sheet in the solar industry with $1 billion in cash (thanks to the secondary sale of shares).
Valuation is expensive as the company faces structural challenges
The company may look cheap with a P/E of just 9.8x but the issue is the sustainability of those earnings. As the company's DOE subsidized projects get finished, the company's future earnings remain in doubt. The company has got a P/S of 1x which is almost 2.5 times more expensive than top tier Chinese solar panel companies such as Yingli Energy (YGE). The company faces major structural challenges to its core thin film solar panel operations which is not adequately discounted in my view.
Stock is underperforming
FSLR stock has underperformed most of the other large solar companies listed in the USA as the market has recognized some of the challenges faced by the company. Though FSLR has a good balance sheet and brand, the growth prospects of the company remain hazy at best,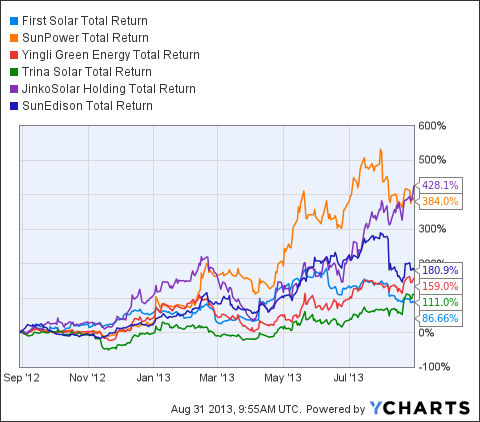 FSLR Total Return Price data by YCharts
Summary
The solar industry has seen a big recovery in the last one year, as demand has surged from Asian countries as well as the fact that solar electricity prices have declined dramatically. Supply has also moderated from Tier 2 companies as well as overleveraged and heavily loss making companies such as Suntech Power (NYSE:STP) and LDK Solar (NYSE:LDK). First Solar has benefited from the strong solar rally with its shares climbing by 35% in the last 6 months. However, I think that FSLR will underperform as the company's thin film technology will have to be mothballed. The company will have to transition itself to become a crystalline silicon panel manufacturer. This will make the company an underdog against established big players like Yingli. These companies have years of experience and expertise in the technology, while FSLR will have to learn the ropes and invest in new equipment. I would avoid FSLR and buy other undervalued companies in the solar space.
Disclosure: I have no positions in any stocks mentioned, and no plans to initiate any positions within the next 72 hours. I wrote this article myself, and it expresses my own opinions. I am not receiving compensation for it (other than from Seeking Alpha). I have no business relationship with any company whose stock is mentioned in this article.