E.On (OTCPK:EONGY) is a German-based provider of energy solutions that operates on a global basis. Despite the fact EONGY is traded on the OTC markets, its operations are quite extensive in nature and cover a vast landscape, which not only reduces business risk, but provides the capability for EONGY for sustaining its dominant position as a large market capitalization firm in the industry. This article provides an overview highlighting the key points of EONGY's business model as well as five reasons why it's a solid buy at the discount it's trading at in the market.
Overview
In terms of the solutions provided, EONGY's business model is highly focused on power and gas. Its operations are divided among five global units including Generation, Renewables, Gas, Trading and New Building and Technology that involves engineering related construction of power plants. Its operations are extensive and control the gas and electricity supply for over 26 million customers, which are primarily located in Europe. Additionally, EONGY owns approximately 68 gigawatts of renewable power production capacity.
In the market, EONGY is currently trading right below $16 per share. On a five year scale, you will notice the sharp decline in its price beginning in 2009. The combination of the global financial crisis, collapse in commodity markets, and specifically, the European financial crisis has played a major role in EONGY's security price over. It's clear that EONGY has yet to make a full recovery, but investors need not to worry - change is underway.
EONGY data by YCharts
EONGY's management divested roughly €15bn of assets spread across mature markets including Germany, the U.K., as well as the U.S. Furthermore, as part of the continued effort towards improving its balance sheet, management decided at the beginning of 2013 to invest an additional €5.25bn in countries that do not comprise the eurozone.
Five Reasons To Buy EONGY At Less Than $16 Per Share
#1 The narrow economic moat among regulated utilities in Europe is specifically designed to augment and maximize shareholders' wealth. The regulated utilities industry in Europe currently has economic moat that is relatively narrow. This is primarily due to the contractual agreements between those who provide capital and the regulators across different countries. Individuals supplying the capital have the common goal of maximizing the return on the initial outlay of capital, while the pricing structure for these services is oriented towards minimizing the cost for end consumers. Although a narrow economic moat in this particular situation may be perceived as unfavorable, it's important to recognize that investors such as venture capitalists are well positioned with the capability of generating high returns. And more importantly, the recent addition to EONGY's business model will enable it to profit in the industry from an entirely different angle. In June of 2013, EONGY management decided to begin venture capital activities.
#2 Historically, EONGY's balance sheet has attracted some negative attention. However, management's changes over the course of the last two years has continues to add vital strength. Within the last five business quarters EONGY's total level of assets has remained relatively the same, however its management has diversified its assets in a sense where more focus is outside of Germany. Additionally, during this period, EONGY has seen a strong decrease in the total liabilities outstanding on its balance sheet. For the period ending June 30, 2012 the total liabilities on its balance sheet stood at about $112.788 bn. Four business quarters later, management was able to reduce this figure to $98.118 bn. EONGY's management has consistently devoted its attention towards improving its financial position and has been successful. Looking ahead, investors should continue to see EONGY's financial position strengthen quite a bit by the end of 2013.
#3 EONGY's financials have improved and investors should expect this trend to continue going forward. The combination of ongoing projects as well as diversified investments in other assets suggests its operations will continue to grow and support a higher level of real earnings. From what was previously mentioned, we already know its operations took a nasty turn in 2009, however several events in 2011 continued to negatively impact its performance and its overall ability to make a full recovery from the economic downturn in 2009. In 2011, the discontinuation of EONGY's operations at multiple plants in Germany took a large toll on its real earnings. This forced a short-term decline in its operating margins and remains priced into its valuation today. As I strongly believe EONGY trades at a severe discount, it's important we take a further look at its free cash flow. This will not only show us EONGY's capability of producing real earnings, but also how its earnings were impacted with the slowdown in 2011. Let's take a look:
EONGY Free Cash Flow data by YCharts
For starters, note the figure on the right, $1.867 bn, is EONGY current level of free cash flow trailing to maturity. In 2010, ENOGY made a dramatic recovery and generated right around $3.181 bn in free cash flow before it took a turn in 2011. Just to put this into perspective, on a YoY basis, its free cash flow for 2010 increased by nearly 3.5x from 2009. Now in 2011, its free cash flow decline to $394 mm, which you infer from the graph above. The combination of a widespread recovery across its operation and management's ability to utilize new financing strategies provided EONGY will a speedy recover. Its operations generated $2.429 bn in free cash flow by the end of 2012. Going forward, investors should expect a smaller growth rate in free cash flow YoY, however sufficient enough to expand its intrinsic value of equity.
#4 Simple valuation suggests its common shares are trading at a discount of nearly 60% to current fair value. To arrive at an intrinsic share price for EONGY's common stock, I used a variation of the corporate valuation model beginning with a free cash flow estimate for the end of 2013 of $4.3 bn. Additionally, I used the industry average weighted average cost of capital as the firm's risk-adjusted discount rate and took into account a perpetual growth rate of 3.5%. Both of which, were used in projecting the intrinsic value of EONGY's operations. Following the addition of short-term investments in non-operating assets, I was able to arrive at the total firm value. Then after accounting for debt as well a minority interest outstanding, I was able to drive an intrinsic share price estimate for the end of 2013 of $25.25. This share price estimate implies a favorable upside of roughly 57%.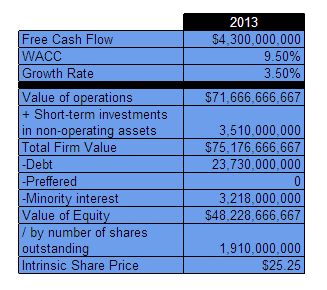 #5 Analysts seem to be onboard as well. Six analysts who cover this stock have one year mean and median price targets of $26.50 and $26, respectively. In other terms, this suggest a projected upside of roughly 66% and 63%, respectively, which are both highly favorable.
Bottom Line
EONGY remains a dominant player in the industry as a premium provider of power. Its customer base is extensive and covers an adequate landscape large enough to enable EONGY to maintain stable margins. Additionally, the underlying diversification among its business segments is a lucrative feature that will continue to advance EONGY's amount of leverage it has over its peers in terms of competition. The recent venture capital segment that was added on to its business model, will allow EONGY to take advantage of the narrow economic moat the regulated utilities industry appears to have. As previously mentioned, the pricing structure among the industry permits investors to capitalize and generate some of the highest returns, and therefore, EONGY will be able to profit off this segment of the industry going forward. Overall, EONGY is well positioned to excel and provide investors with a favorable return over the next two years. At less than $16 per share, EONGY's common shares offer pretty solid value as they continue to trade at a discount of 60% to fair value. The combination of its improving financial position and favorable outlook on the profitability side, make EONGY a solid investment over the next two years.
Sources: Google Finance, Yahoo Finance, TD Ameritrade, E.On's Company Website, E.On's 2012 Annual Report, and sec.gov.
Disclosure: I have no positions in any stocks mentioned, and no plans to initiate any positions within the next 72 hours. I wrote this article myself, and it expresses my own opinions. I am not receiving compensation for it (other than from Seeking Alpha). I have no business relationship with any company whose stock is mentioned in this article.