For months now, speculation surrounding an iWatch from Apple (NASDAQ:AAPL) as well as other companies launching into emerging "ecosystem" technology that you wear and that is part of your lifestyle outside of PCs, has been prevalent. Now, it's looking like Samsung (OTC:SSNLF) is going to be the first to hit the market - potentially beating Apple to the punch. It was reported Monday morning by CNBC.com:
Samsung is set to launch its much anticipated smartwatch on Wednesday, marking a major milestone in the emerging product category amid concerns that the smartphone market has reached its peak.

The watch, thought to be called "Galaxy Gear," is expected to be revealed at IFA (Internationale Funkausstellung Berlin) - a global innovations show in Berlin - on Wednesday evening. A report in the Korean Times, which cited comments from a senior Samsung executive, boosted hopes of the launch, but event organizers would not confirm the release, stating only that the presentation should "not be missed."

It will be the first smartwatch release from one of the world's top two smartphone manufacturers, in a new but blossoming product category that is currently dominated by unknown startup firms. A smartwatch is a computerized wristwatch with functionality beyond simple timekeeping and Samsung's device is expected to be an accompaniment to a smartphone, rather than a standalone device with its own sim card.
I wouldn't say that Samsung's stock is desperately in need of a positive catalyst, but it sure as heck couldn't hurt. Samsung has been decimated over 10% dating back the last few months, basically on concerns about the sales of the Galaxy S4. Interestingly enough, this comes at a point where Samsung has been posting record profits, as they did for Q2 2013.
The company's management has been citing different types of macro-economic issues that have been hurting the markets as a whole in South Korea. Bears are arguing just the opposite, as Samsung accounts of 16% of the Kospi's (South Korea) market cap.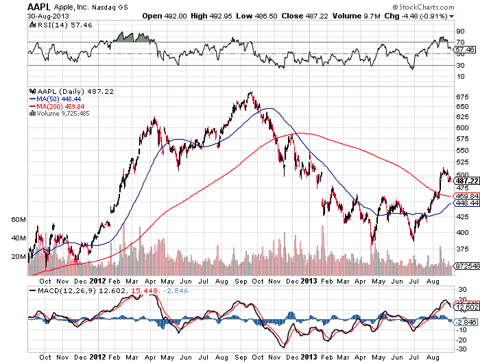 Apple stock hasn't exactly had a ceremonious year, either. Apple has basically been on a roller coaster ride over the last year, and your satisfaction in your investment likely depends on when you bought in. While Apple has shed about 25% of its price over the last 12 months, it's only off about 8% for 2013 as a whole and has yielded about 10% (plus dividends) for those that have been holding for the past 90 days. I argued in a past article that Apple's stock technicals indicate that it has broken out of its major "sub $460" slump, and is showing some signs of life of late - especially since Carl Icahn has disclosed his stake in the company.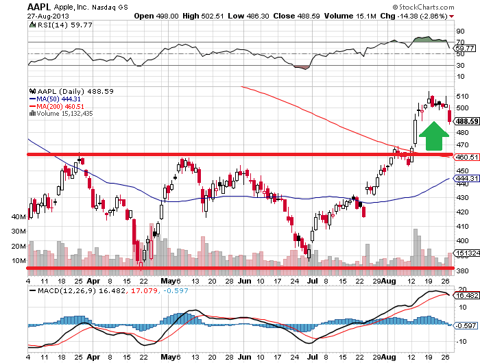 With both stocks performing relatively anemically over the last few months, the race to market for the "next big thing" technology, possibly the "smartwatch", could prove to be extremely important.
BGR commented on the comparative stock meltdown between Apple and Samsung after the launch of their most recent smartphones:
Brian Marshall of ISI, per CNN Money, noted that shares of both Apple and Samsung reached close to record highs after the launches of their flagship smartphones. Samsung's stock meltdown is nothing like Apple's, however. Shares of Samsung stock are still up nearly 20% since January 2012, while Apple's stock is up less than 5%, after rising more than 70% by last September.

Marshall's comparative chart follows below.
QTR's Analysis : Will Samsung Steal Apple's Watch Thunder?
I stated in a previous article on Apple:
Tim Cook said it himself on the Q2 earnings call. The company has products in the pipeline (hardware and software) that it is extremely excited about and plans on releasing this fall and "into 2014." Whether it's the iWatch, the iTV, or something we haven't even thought about yet, we are going to be guaranteed to have something to get excited about after the summer - in addition to iOS 7. New products mean new revenue streams, ideas for the holidays, and again, plenty of free press from major media outlets.
The iWatch we're all expecting, and have been for months, so there's no doubt it's going to be on its way.
But this isn't the only time that Apple is going to have someone rush in front of them to try and beat their thunder to market with a new product. Hell, that's been going on since Microsoft rushed to get the original Windows on the old NEC prototypes in Japan before Apple was going to launch the Mac.
For Apple, it hasn't really been about timing (possible exception being the iPhone), it's generally been about the quality of the product. Apple is of the mindset that they are producing the best quality and most innovative products in the world, and while they have a concern with shipping in a timely fashion, it's not what their model is based on.
You have your Apple cultists that have already committed themselves to the iWatch, before it's even arrived. And, you have your Apple "Ecosystem" crowd, who are already familiar with the brand. Finally, you have your Apple elitists, that have bought into the fact that Apple is trying to simply create better and more innovative products than competitors.
So, put simply, QTR doesn't think that Samsung's push to get their watch to market first is going to impact Apple negatively at all. In fact, it may come with some benefits, as Apple will get a first glance as to potential features that they might not have thought of. Keeping your friends close, and your enemies closer.
Apple has a knack for tapping into new markets. It did it first when it started into the mp3 business and they carried that over and morphed it into the iPhone. From there, it was the tablets. Every single new product it makes is nicer to look at than what's currently out there and offers superlative new function. Apple only seems to enter into a market if it can be the best. There hasn't been anything that has made major media in the world of wristwatches for as long as I can remember. After Samsung could actually be the best possible time for Apple to enter into this market - like a prizefighter waiting for his/her opponent to exhaust themselves first before striking.
Although there is some risk to explore in Samsung getting to market first with their watch, I remain extremely bullish on Apple in the long-term. I'll be riding the company's continued track record of innovation and style to make the iWatch a success no matter when it's released in reaction to Samsung. Best of luck to all investors.
Disclosure: I have no positions in any stocks mentioned, and no plans to initiate any positions within the next 72 hours. I wrote this article myself, and it expresses my own opinions. I am not receiving compensation for it (other than from Seeking Alpha). I have no business relationship with any company whose stock is mentioned in this article.