The S&P 500 (NYSEARCA:SPY) has just ended its worst monthly performance since May, falling 3.1 percent on the month. The Dow Jones Industrial Average (NYSEARCA:DIA) slipped 4.4 percent, while the NASDAQ-100 (NASDAQ:QQQ) was lower by 1 percent. But, with the low volume, this move lower is not convincing. With traders returning, September will be the month where such a move is either confirmed or rejected.
I believe the best thing that can happen to long-term stock market bulls this month is for the Federal Reserve to cut back asset purchases. That move can change the conversation from decisions on where to park free (or nearly free) money to a conversation about the market's long-term value that is simply not happening right now. With prices near historic highs, this could ultimately help prick a stock market bubble before it happens.
And, to be honest, the Federal Reserve's asset purchases are not even as effective as economic models predict they should be. In fact, instead of each dollar injecting $79.50 in M2 as happens in normal times, each new dollar is only creating an extra $1.40.
A small reduction - of $10-15 billion in quantitative easing - would do very little to impact the real market. Yet, psychologically, it could have a positive impact on the way the market functions. Rates could move to more normal levels, and the market can begin its dependency from the steroids that have propped it up.
Market Valuation
On a valuation basis, the stock market is not particularly overvalued. Equities are currently priced at 18 times trailing earnings, slightly above the historical average of 15.5. Relative to future earnings, prices are trading at a 15 multiple, which compares to an average of 12.9.
But, this is assuming that you believe Wall Street's estimates for future earnings, which may be a tall order. For future quarters, estimates anticipate year-over-year earnings growth of 3.9 percent growth in the third quarter and 10.5 percent in the fourth quarter. Following just 2.1 percent earnings growth in the second quarter, these could be ambitious.
During the time that earnings grew 2.1 percent, corporate revenues gained just 1.8 percent. So, I am joining the chorus of folks who just don't see this happening. That would ultimately cause markets to re-price.
Real Economy
Last week, the Commerce Department announced that second quarter GDP grew faster than expected, rising 2.5 percent - up from prior estimates of 1.7 percent. This increase is the result of a better trade balance (more exports vs. imports than expected) and more business investment. Besides the upward revision, this also is a notable increase over first quarter GDP, which was finalized at 1.1 percent.
Yet, despite this growth, there are no noticeable signs of inflation in the Fed's preferred measure - the Personal Consumption Expenditure (PCE) price index. The PCE price index rose just 0.1 percent in July, compared with a 0.4 percent increase in June. The Federal Reserve noted in their last policy statement that longer-term inflation expectations have remained stable.
And, with unemployment still nearly a percent above the Fed's 6.5 percent target, there is no real risk that the Fed will raise rates or do anything to jeopardize the economic recovery at the bud.
But, let's be clear, reducing the pace at which you quantitatively ease is not the same as pulling back support for the economy - and the Fed has said as much, noting that rates will remain low long after the asset purchases stop. And, until that happens, the Fed's balance sheet will continue to expand.
That is a good thing for equity prices. I believe the chart below is quite telling about the correlation (or, as I would argue, causation) between the increase in the Fed's balance sheet and the S&P 500.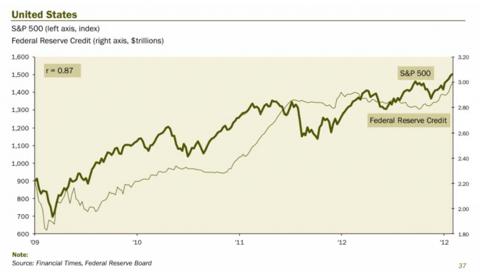 The above chart doesn't even take into account recent trends in the balance sheet - which has grown to above $3.6 trillion, up nearly 20 percent from Q2 2012. At the same time, the S&P 500 gained from 1,500 to 1,633 - an 8 percent increase.
Conclusion
If you simply look at valuations, markets are not overpriced. It is only when you challenge those assumptions - particularly the expectation that fourth quarter profits will grow by more than 10 percent - that prices appear extended.
If the Federal Reserve does taper in September, I believe investors will begin to look more closely at earnings estimates. And when they do, they will likely discriminate more in where they invest - leading the overall market to readjust. That may lead to a correction in prices that, I believe, would be good for the long term.
Disclosure: I have no positions in any stocks mentioned, and no plans to initiate any positions within the next 72 hours. I wrote this article myself, and it expresses my own opinions. I am not receiving compensation for it (other than from Seeking Alpha). I have no business relationship with any company whose stock is mentioned in this article.