The Coca-Cola Company (NYSE:KO) needs little introduction as it is the world's leading soft-drink company. Coca-Cola has successfully added non-carbonated drinks like Powerade sports drinks, Minute Maid Juices, and Dasani bottled water to its beverage empire that includes the renowned Coke and Diet Coke brands. Importantly, Coca-Cola is a favorite among value investors.
Click to enlarge images.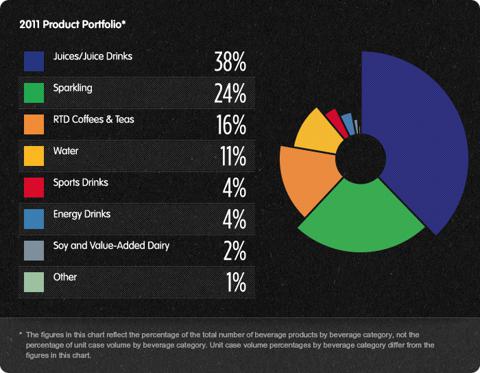 Source: The Coca-Cola Company.
The big news impacting Coca-Cola have been the reports about the toxicity of sugar. The public's growing concern that consuming soft drinks can have ill effects has led to a gradual decline in the consumption of soft drinks among American consumers. In the United States, per-capita consumption of Coca-Cola's beverages is at the lowest level in a decade. This is not good news for Coca-Cola shareholders because the U.S. is a big market for the soft-drink giant. However, Coca-Cola has always tried to stay on top of things and all this negative publicity has been used to try and revive its diet beverage brands. This could possibly help its top line, but its international growth will be the key driver of its stock price in the coming years -- not to mention the Coke brand that is worth billions.
In this article, we are going to try and calculate the intrinsic value of Coca-Cola's stock using the present value of free cash flow to equity (FCFE). We calculated the FCFE in a previous article on Coca-Cola a month ago, but there have been some developments since we wrote that on the attractive P/FCFE value that Coca-Cola has. Therefore, this article serves as an update.
As we had noted previously, FCFE is a great way to value a company because it is what is left over after a company has met its financial needs. Moreover, this FCFE is what is available to the firm for continued growth through reinvestment. Positive FCFE indicates what can be paid to shareholders in the form of dividends or repurchased stock without limiting a firm's growth opportunities.
Apparently, Coca-Cola is left with three choices. One, it can innovate and come up with a healthy sweetener. This is the best possible outcome. Two, there is the prospect of increasing penetration in developing countries that is quite likely to happen, given the high rate of income growth prevalent in these economies. Three, Coca-Cola can diversify its operations. That is, the company can do what PepsiCo (NYSE:PEP) has done with its Frito-Lay division -- the world's largest salty-snacks business. Nonetheless, Coca-Cola has been the king of the drinks market and it is debatable how much of a competitive advantage it can gain in venturing beyond sports drinks and fruit juices.
Dec. 31, 2012

Dec. 31, 2011

Dec. 31, 2010

Dec. 31, 2009

Dec. 31, 2008

Selected Financial Data

Dividends

4,595

4,300

4,068

3,800

3,521

Net income available to common shareholders of The Coca-Cola Company

9,019

8,572

11,809

6,824

5,807

Revenue

48,017

46,542

35,119

30,990

31,944

Total assets

86,174

79,974

72,921

48,671

40,519

Total stockholders' equity

32,790

31,635

31,003

24,799

20,472
USD in millions.
Coca-Cola has a lot of qualities investors like: It pays a 2.9% dividend with a low 51% dividend payout ratio suggesting that income investors should feel plenty confident that it will continue. The recent nearly 10% dividend increase in March is proof that management is committed to its shareholder-friendly policy of capital returns. And while this is good, there are unusual headwinds that appear to be restricting the beverage company's ability to grow those profits in the coming years.
In its most recent quarter, Coca-Cola's revenues fell by 3%. Sales in North America have continued to drop with soda sales down 4%. This has been the case even for its competitors: PepsiCo and Dr. Pepper Snapple (NYSE:DPS). Larry Young, the CEO and president of Dr. Pepper, blamed his company's recent 3% dip in volume on "some of the coldest and wettest weather in recent years," but weather is not a good excuse for the long-term downtrend in U.S. soft-drink sales.
It is actually health risks and consumer fears about soft-drink consumption coupled with container-size constraints and excise taxes imposed by stated and local governments that have brought down U.S. soft-drink sales. Soft-drink companies have been forced to diversify their product mix and have also pumped money into emerging markets. The good thing is that there is still a lot of growth potential in developing economies.
Consumers Have Always Loved Coca-Cola Products
Coca-Cola is an unmatched consumer brand with strong customer loyalty. And this is why Warren Buffet loves it and has continue to add to his shareholding in the belief that it will continue to create value for shareholders for decades into the future. Investors may have to settle for slower growth because the headwinds in the U.S. will be a lasting drag on top-line growth. But even the falling volumes in a big market should not impair the company's ability to grow sales globally.
| | | | | | | |
| --- | --- | --- | --- | --- | --- | --- |
| | Ratios | Dec. 31, 2012 | Dec. 31, 2011 | Dec. 31, 2010 | Dec. 31, 2009 | Dec. 31, 2008 |
| | Retention ratio1 | 0.49 | 0.50 | 0.66 | 0.44 | 0.39 |
| | Profit margin2 | 18.78% | 18.42% | 33.63% | 22.02% | 18.18% |
| | Asset turnover3 | 0.56 | 0.58 | 0.48 | 0.64 | 0.79 |
| | Financial leverage4 | 2.63 | 2.53 | 2.35 | 1.96 | 1.98 |
2012 Calculations
1 Retention ratio = (Net income available to common shareholders of The Coca-Cola Company - Dividends) ÷ Net income available to common shareholders of The Coca-Cola Company
= (9,019 - 4,595) ÷ 9,019 = 0.49
2 Profit margin = (Net income available to common shareholders of The Coca-Cola Company ÷ Revenue) × 100
= (9,019 ÷ 48,017) × 100 = 18.78%
3 Asset turnover = Revenue ÷ Total assets
= 48,017 ÷ 86,174 = 0.56
4 Financial leverage = Total assets ÷ Total stockholders' equity
= 86,174 ÷ 32,790 = 2.63
Averages

Retention rate

0.50

Profit margin

22.21%

Asset turnover

0.61

Financial leverage

2.29
It is evident that even as Coca-Cola has produced prodigious cash flow, it has some impressive financial metrics that make it a very attractive stock to buy and hold. The Oracle of Omaha has stated on several occasions that he will never sell a single share of Coca-Cola. Undoubtedly, Buffett believes in the durability of the world's most valuable brand.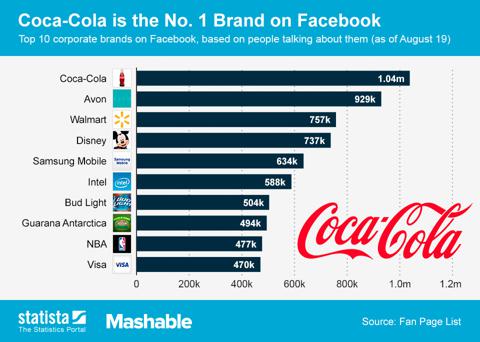 Now, we will continue with the calculation of Coke's intrinsic value by obtaining the growth rate of FCFE [g] using the numbers in the 'Averages' table above.
Growth rate of FCFE [g], as implied by DuPont
g = Retention rate × Profit margin × Asset turnover × Financial leverage
= 0.50 × 22.21% × 0.61 × 2.29 = 15.51%
Required Rate of Return [r]
There are some assumptions that need to be made to obtain the required rate of return in order to calculate the present value of FCFE. The Rate of return on LT Treasury Composite (RF) is assumed to be 3.31%. It is a proxy for the risk-free rate of return and it is obtained by taking into consideration outstanding fixed-coupon U.S. Treasury bond yields.
The expected rate of return on the market portfolio, E(RM), is calculated as 13.16%. Lastly, the systematic risk, or β of Coca-Cola is 0.49. So the required rate of return for Coca-Cola (rKO) is:
rKO = RF + βKO [E(RM) - RF]
= 3.31% + 0.49 [13.16% - 3.31%]
= 8.14%
Now that we have the discount rate, we go ahead with our FCFE valuation by estimating multistage growth rates.
FCFE growth rate implied by single-stage, constant-growth FCFE valuation model
g = 100 × (Market Cap × r - FCFE0) ÷ (Market Cap + FCFE0)
= 100 × (169,260 × 8.14% - 15,022) ÷ (169,260 + 15,022) = -0.68%
where:
FCFE0 = last year 's free cash flow to equity (USD $ in millions)
r = required rate of return for Coca-Cola
FCFE growth rate forecast
Coca-Cola Co., H-model
| | | |
| --- | --- | --- |
| Year | Value | gt |
| 1 | g1 | 15.51% |
| 2 | g2 | 11.46% |
| 3 | g3 | 7.42% |
| 4 | g4 | 3.37% |
| 5 and thereafter | g5 | -0.68% |
where:
g1 is implied by DuPont
g5 is implied by the single-stage model
g2, g3 and g4 are calculated using linear interpolation between g1 and g5
Intrinsic Value
Year

Value

FCFEt or Future value (FVt)

Calculation

Present value at 8.14%

0

FCFE01

15,022

1

FCFE1

17,352

= 15,022 × (1 + 15.51%)

16,045

2

FCFE2

19,341

= 17,352 × (1 + 11.46%)

16,539

3

FCFE3

20,776

= 19,341 × (1 + 7.42%)

16,429

4

FCFE4

21,468

= 20,776 × (1 + 3.33%)

15,698

5

FCFE5

21,322

= 21,468 × (1 + -0.68%)

14,418

5

Future value (TV5)

240,102

= 21,322 × (1 + -0.68%) ÷ (8.14% - -0.68%)

162,354

Intrinsic value of common stock

241,483

Intrinsic value of common stock (per share)

$54.47

Current share price

$38.18
USD in millions, except per-share data.
It does seem like a good time to load up on Coca-Cola shares. Using a free cash flow metric is one of the better ways to determine the intrinsic stock value as it is much less susceptible to accounting manipulation.
Coca-Cola Is a Great Company to Own
Coca-Cola and its products, like desserts and chocolate bars, are always going to be consumed. It's only when they are consumed in relatively large quantities that they can be harmful. But more and more consumers are opting for healthier beverages as soft drinks are being singled out for their ill effects, including high blood pressure and obesity. What's more, several studies have established a connection between soft drink consumption and heart disease.
Nevertheless, Coca-Cola's noncarbonated drinks have kept investors interested in the stock. But it won't be product diversification or foreign expansion that will totally eliminate Coca-Cola's risks. The real test will be the ability to develop an innovative sweetener that can replace aspartame and other ingredients that consumers don't love like the high-fructose corn syrup Coke is made with. If Coca-Cola can succeed in this endeavor, it will win back the support of discerning consumers and health groups.
Otherwise, Coca-Cola is a company that has a lot of value. It has grown its dividend payout much faster than the rate of U.S. inflation, thus protecting and boosting your purchasing power. Coca-Cola is a big reason why Warren Buffett's investment strategy has won big time and again.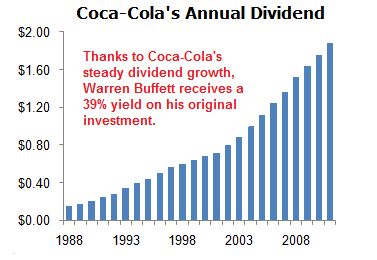 Source: StreetAuthority.
Coca-Cola has a long track record of steady and strong cash flow, and it has a wide moat. It is time to be bold, like Buffett, and buy a lot of KO shares at the current stock price of $38-ish. The intrinsic value of $54.47 computed here suggests that KO still has immense value. Buffett's focus on value and how it pays off was on display from 2007 through 2011. During this period, the S&P 500 shed 1% of its value, but Berkshire Hathaway shares surged a remarkable 42%. Buffett made those gains by taking major stakes in large and stable businesses such as Coca-Cola.
Disclosure: I am long KO.
Business relationship disclosure: This article was written by a research analyst at Investor Aide. Investor Aide is not receiving compensation for it (other than from Seeking Alpha). Investor Aide has no business relationship with any company whose stock is mentioned in this article.