Canada's largest fertilizer producer, Potash Corp (NYSE:POT), holds equity investments in four other fertilizer companies.
The four companies are Sociedad Quimica y Minera de Chile S.A. or Soquimich for short (NYSE:SQM), Israel Chemicals Ltd. (ISCHF.PK), Sinofert Holdings Ltd. (OTCPK:SNFRF) and Arab Potash Company (OTC:ABPZF).
When BHP Billiton plc (NYSE:BHP) made its blocked $130/share bid for Potash Corp three years ago, I checked the value of these positions.
In mid August 2010, the combined value was $8.17 billion USD, and this rose to $8.67 billion when I checked again on October 18, 2010.
Note that these are pre-tax figures. Any sale of the investments would trigger capital gains taxes, assuming the value was over cost.
Nevertheless, this equated to $9.76 per current share three years ago, adjusted for the three-for-one spit in early 2011.
Given the recent meltdown in fertilizer company stocks, I thought it might be interesting to see how these investments were faring about three years later, as of August 30, 2013.
The quoted value of the four investments has declined to $4.93 billion USD, or $5.70 per share.
I'm hesitant to measure the decline in the combined value of the investments because this would imply Potash Corp has lost money.
In fact, the investments were generally purchased at values less than current market, and dividends were received over the three years.
Q3 2010
Q4 2010
Q1 2011
Q2 2011
Q3 2011
Q4 2011
Q1 2012
Q2 2012
Q3 2012
Q4 2012
Q1 2013
Q2 2013
Q3 2013*
Pre-Tax Value ($B)
$8.9
$10.1
$10.3
$10.3
$8.7
$8.4
$8.5
$8.6
$9.2
$9.1
$8.5
$6.8
$4.93
Per share
$9.70
$11.30
$12.00
$12.00
$10.00
$10.00
$10.00
$10.00
$10.00
$10.00
$10.00
$8.00
$5.70

(As reported by PotashCorp)

* Calculated by BCMI Research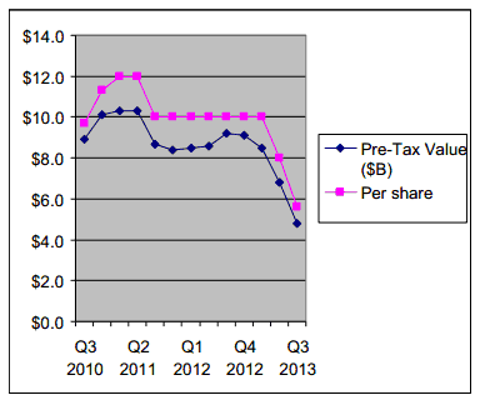 But let's go through the investments one by one to get a feel for how they have done and a few comments on recent events.
There are two angles which are particularly of interest. All these companies produce potash fertilizer, but also "something else," which might offset some of the risk that business is going to take a hit. Secondly, Potash Corp may seek to add to its position in any one or more of these companies, given its firm belief potash is going to do better than the share prices seem to indicate.
So there could be some upside if Potash Corp makes a purchase.
Soquimich
This Chilean producer of commodity potash, specialty fertilizers such as potassium nitrate, iodine derivatives and lithium, was worth $3.84 billion to Potash Corp back in 2010. It is now worth about $2.37 billion, a drop of $1.47 billion.
The "B" shares are traded both on the Bolsa de Santiago, and also as American depository receipts on the NYSE. The latter have declined from about $50 US per ADR in late 2010 to $26.25 currently. There are 263.2 million shares outstanding - 142.8 million "A" shares and 120.4 million "B" shares including the ADRs.
The company is controlled by a private holding outfit called the Pampa Group with assistance from a joint voting agreement with another small shareholder (Kowa Group), thereby holding 34% of the shares in total. Potash Corp, the only other major owner, holds 32% with about three quarters as "A" shares and a quarter as "B" shares.
The "A" shares elect more directors whereas the "B" shares vote only one. So the head of the Pampa Group, Julio Ponce, is Chairman and runs the show. Wayne Brownlee, Potash Corp's CFO, sits on the Board as Vice-Chair. There are only eight directors. So public minority shareholders have little say in matters.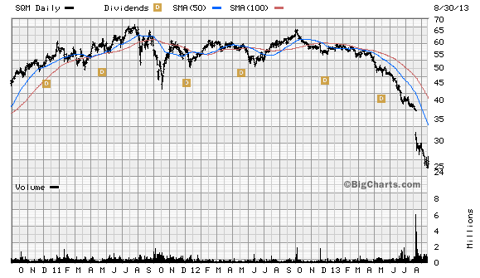 Click to enlarge
What's my take on Soquimich? The commodity potash business is going to suffer like all the others and Q2 earnings were down because of it. You'd think being in Latin America that Soquimich would have a transportation advantage to the biggest user, Brazil, but it probably has to be shipped through Panama, as it can't be carried (by mule?) over the Andes and through the Amazon jungle.
But its iodine business is of interest. The Chileans are the largest producers of iodine derivatives after the Japanese and Soquimich is the biggest. Iodine derivatives are necessary chemicals and is one of the few commodity areas not dominated by the Chinese.
I'm not sure about the lithium business - you'd think it would be doing great with all the batteries being produced, but it hasn't done much. I understand the Bolivians which also have salt flats from which these salts are precipitated are gearing up to produce lithium.
Having said all that, I hate companies that are run as personal fiefdoms (Ponce pays himself a rich directorship fee) and I understand the Soquimich core assets were obtained through personal connections at a discount price. Since a federal election is coming up in Chile, there could be some risk there if the opposition wins.
Soquimich pays an interim and a final dividend, one of the good things having two major shareholders wanting to get some cash paid out. The payout policy for 2012 was 50% of net income which came to $324.6 million of $629.2 million and a total per ADR of $1.234 (95 cents declared in November 2012 as an interim and another 28.34 cents in March 2013). So you might expect the first dividend for 2013 in November.
Israel Chemicals
It's ironic that Potash Corp was all set to takeover this major potash, phosphate and bromine producer just last October, but was thwarted by the Israeli government, declaring the sale not in the national (security) interest, because Potash Corp's own takeover by BHP was shot down by the Canadian government.
Israel Chemicals' stock has dropped by over 50% since the attempt due to a litany of problems, including union unrest, declining water levels at the core Dead Sea potash, magnesium and bromine salt evaporation operation, environmental liabilities from phosphate at the Negev Desert, a task force looking at raising government royalties, and just last Thursday, a class action lawsuit launched by unhappy shareholders due to the share price decline.
I imagine if Potash Corp had been successful in its 2012 takeover attempt of ICL, the former's stock price would be even lower than it is today.
Potash Corp's 13.8% position in ICL has declined in value from $2.32 billion USD three years ago to $1.23 billion.
ICL trades on the Tel Aviv Stock Exchange in shekels, and is trading around 25 down from 56 when I looked at it in October 2010. You can also buy ICL (if you wanted) on the OTC Bulletin Board, where it recently broke below $7 US.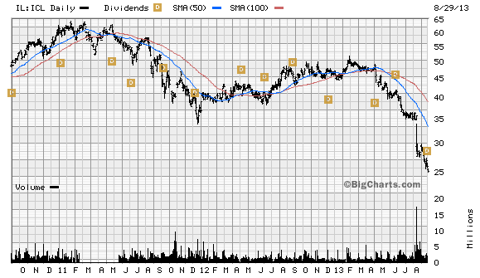 Click to enlarge
This is another individual-controlled corporation - this time by the Israeli billionaire Idan Ofer, who also was reputed to have bought the original assets at a severe discount from the government of the day, through his holding company, Israel Corporation. ILCO owns 52.4% of ICL and Potash Corp owns about 14%. ILCO has been declining in share price with ICL and its owner is attempting to split it into two separate companies, one of which would own ICL and the oil refining assets, and the other the power generation assets, the shipping and the rest.
Now I have admired ICL for several years, due to the low cost of its potash production and proximity to the Asian and Indian markets.
ICL has a substantial phosphate business including food phosphates very similar to those produced by PCS Phoshate, hence some of the attraction. ICL also is one of the three biggest producers of bromine derivatives, the others being Chemtura Corp (NYSE:CHMT) which came out of Chapter 11 a couple of years ago and is doing very well, and the other being Albemarle Corp (NYSE:ALB).
Although bromine derivatives have a plethora of industrial and food end uses, the biggest use seems to be in flame retardants (for fire suppression in extinguishers) and usage in electronic circuit boards.
Although I'm concerned some bromide flame retardants are environmentally hazardous and are being phased out, the stock prices of ICL's other two competitors seem to be doing well.
It would appear to me even at the current "half price" valuation of $9 billion USD versus when POT took a run at it, ICL is something of a basket case right now. Potash the mineral is still the largest source of profits and two of ICL's mines are in higher cost jurisdictions - the U.K. and Spain. The ICL Board run by Ofer has declared a succession of dividends recently, almost as if they were trying to gut the cash.
To top off the list of negative events for ICL, we have a potential airstrike on neighboring Syria.
My guess would be Potash Corp would love to buy more ICL at these prices, due to CEO Bill Doyle's "damn the facts, the world needs our potash" mentality. The price tag for ILCO's 52% share ($4.68 billion USD) might be manageable. It would play into Doyle's air of showmanship and might distract analysts and investors from the higher cost and now often shuttered Saskatchewan assets.
The key question is, would the Netanyahu coalition government allow it? My feeling is - probably not. But you never know for sure.
Arab Potash Company
This little known potash producer evaporating and processing minerals from the other side of the Dead Sea has actually held its value relatively well.
Potash Corp's 28% ownership in APC was worth $1.12 billion USD three years ago, and is now quoted at $1.09 billion, although the shares are illiquid and trade infrequently, symbol APOT on the Amman Stock Exchange. The shares currently trade around 33 Jordanian dinars and the latter currency is worth 1.4114 USD each.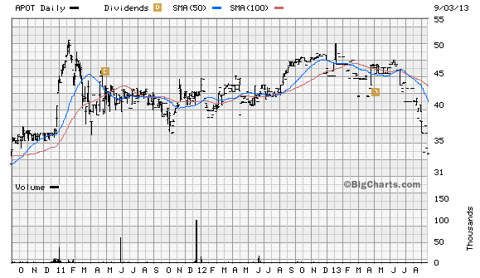 Click to enlarge
The company was set up 57 years ago with a concession from the Government of Jordan, which remains the largest 52% combined and controlling shareholder, through the Ministry of Finance (27%), the Arab Mining Company (20%) and Jordan Social Security (5%).
Potash Corp has three seats on the Board. Other shareholders, oddly enough, include the Iraqi Government, the Libyan Company for Foreign Investment and the Kuwait Investment Authority, all in all, a who's who for dictatorships.
Potash Corp has first dibs on any shares offered up for sale by the Jordanians. Potash Corp made its investment in APC 10 years ago, for $178 million. COO David Delaney is on the Board of APC.
Other than being an Islamic company dedicated to the will and vision of Jordanian King Hussein, I think APC has the same low cost of manufacture and access to market advantages that ICL has.
In addition, Albemarle is helping APC ramp up bromine production by 100,000 tons per year and this will be commissioned end of 2013.
It is doubtful APC would be the subject of further investment by Potash Corp if only because the current owners may not want to sell. It might actually be something Potash Corp might want to sell itself (if it could find one of the government shareholders to take it on), given the value has held up. I have no idea what dividends APC has paid out over the three years, but taxes would take a serious bite out of the over $900 million in capital gain.
Sinofert Holdings
This has been the worst investment that Potash Corp has made on paper. But it is probably the most interesting potential investment in my opinion. It recently closed near its lows.
PotashCorp paid $542.7 million USD over the past eight years for its 22.3% interest in China's largest fertilizer company, but the value has shrunk from $890 million three years ago to $242 million USD.
Sinofert is incorporated in China and Bermuda, trades on Hong Kong under symbol 297, and is controlled by the People's Republic of China through giant petrochemical company Sinochem.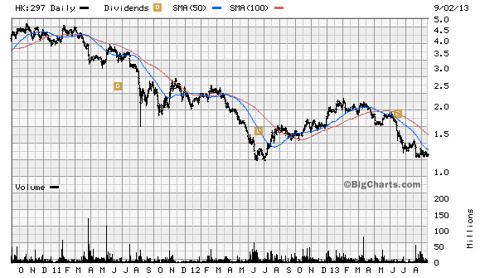 Click to enlarge
Sinofert is a diversified, integrated fertilizer distribution and production company which also imports potash to China, quite often from Canpotex, the marketing arm of which Potash Corp is a part of.
Sinofert deals in all three major nutrients - potash, phosphate and nitrogen, with meaningful production of the latter two, and was the third largest Chinese urea exporter recently.
The valuation of Sinofert at the recent closing price of 1.20 HKD equates to a little over $1 billion USD.
Potash Corp has one seat on the Sinofert Board, held by Stephen Dowdle, President of PCS Sales. Dr. Dowdle, a former soil scientist, spent quite a number of years in China, and therefore was the obvious choice.
Sinofert's 1H results ending June 30, 2013 were down 35.5% on a 9% drop in revenues, partly due to the slowdown in Chinese growth and the delay in fertilizer application due to a late planting season.
Sinofert paid about 4 cents HK in 2012 as dividends.
This is such a complex company, with a myriad of subsidiaries (valued at substantially below their value on the balance sheet), that the company really deserves a report on its own.
Totalling it all up (USD)
Soquimich $2.37 Billion
Israel Chemicals $1.23 billion
Arab Potash Company $1.09 billion
Sinofert Holdings $0.24 billion
Total pre-tax value: $4.93 billion
PotashCorp shares outstanding 866 million
Value per share: $5.70
Current price of POT: $29.61
Percentage represented by pre-tax equity investments: 19.3%
Disclosure: I have no positions in any stocks mentioned, and no plans to initiate any positions within the next 72 hours. I wrote this article myself, and it expresses my own opinions. I am not receiving compensation for it (other than from Seeking Alpha). I have no business relationship with any company whose stock is mentioned in this article.