In this article I intend to present a favorable reason to be invested in Rockwell Medical (NASDAQ:RMTI) stock.
Some RMTI History:
Rockwell Medical is biopharmaceutical company developing a pipeline of drug therapies targeting end-stage renal disease (ESRD) and chronic kidney disease (CKD) with innovative products and services for the treatment of iron deficiency, secondary hyperparathyroidism and hemodialysis. As one of the few major suppliers in the U.S., Rockwell's products are sold in the two largest dialysis centers, DaVita (NYSE:DVA) and Fresenius (FMS), and used to improve the quality of life by removing toxins and replacing critical nutrients in the dialysis patient's bloodstream. Currently, Rockwell has three manufacturing and distribution facilities located in the U.S. Its operating infrastructure allows for a ready-made sales and distribution channel that is able to provide seamless integration into the commercial market for its drug products, Calcitriol and SFP, upon FDA market approval. Rockwell's lead drug candidate is called Soluble Ferric Pyrophosphate (SFP) and is in late-stage clinical development for the treatment of iron deficiency in dialysis patients.
Soluble Ferric Pyrophosphate (SFP)
During regular dialysis treatments, SFP delivers iron to the bone marrow of a dialysis patient in a non-invasive, physiologic manner via dialysate. To date, in completed clinical trials, SFP has demonstrated that it can safely deliver sufficient iron to the bone marrow following treatment. Also, SFP is nearing results of its Phase 3 clinical studies (CRUISE-1 and CRUISE-2) and is expected to address an estimated $600M U.S. market.
Calcitriol Vitamin D Injection
Rockwell is also preparing to launch its FDA approved generic drug called Calcitriol, a treatment for secondary hyperparathyroidism (a parathyroid disorder) in dialysis patients. Shown to significantly reduce elevated parathyroid hormone levels, Calcitriol's active Vitamin D injection is indicated in the management of hypocalcemia in patients undergoing chronic renal dialysis. As soon as Rockwell receives FDA manufacturing approval, it will be able to supply an estimated $350M U.S. market.
Rockwell's Key Benefits
Rockwell's exclusive renal drug therapy pipeline supports disease management initiatives to:
1) Improve the quality of life and care of dialysis patients in a growing market
2) Deliver safe and effective therapy
3) Decreases drug administration costs
4) Improves patient convenience
News For July 2013:
Rob Chioini, Founder, Chairman and CEO of Rockwell Medical, stated, "We are thrilled with the successful results of this CRUISE-1 efficacy study. In addition to demonstrating statistical significance and meeting the primary efficacy endpoint, the data show that in place of IV iron, SFP is a safe and effective iron replacement therapy that consistently maintains hemoglobin levels without increasing iron stores. These successful results, coupled with the recent positive PRIME study data demonstrating SFP's ability to significantly reduce ESA use, support our belief that SFP will set a new paradigm in iron therapy treatment for hemodialysis patients. We believe SFP is positioned to become the new standard of care in iron therapy. We anticipate confirmatory and successful results from the CRUISE-2 trial, which is nearing completion."
Some Financials - Second Quarter Results
Sales increased 7.1% up to $13 million compared to $12.1 million in Q2 last year.
Multi-year contract with DaVita calls for increased business.
CitraPure sales climbed significantly - increasing 61% over the last quarter.
CitraPure is an innovative concentrate product that contains no acetate, the buffering agent used in a traditional concentrate product.
CitraPure completely removes acetate and replaces it with citrate.
CitraPure improves patient outcomes and actually makes patients feel better.
CitraPure lowers a provider's cost of treatment.
Gross profit for the quarter was $1.7 million consistent with last year.
Research and development costs were $10.2 million.
Net loss for the quarter was $11.9 million and consistent with last year, $2.5 million loss in Q1.
Net loss is a result of the clinical development work for SFP.
Company guidance: Sales and profits are expected to move higher looking forward, and investors should expect the R&D burn rate to continue to decrease upon completing its clinical development.
Cash on hand: Rockwell had $41 million in cash at the end of the quarter
Shares outstanding: Company has about 39.9 million shares outstanding.
Source: here
Clinical Data Review
Now let's review the clinical data. Rockwell has completed two phase III studies CRUISE -1 and CRUISE -2. On July 1, 2013, Rockwell released positive clinical data from the pivotal CRUISE -1 study of SFP its iron delivery drug for iron replacement in hemodialysis patients.
The CRUISE -1 study achieved primary endpoints and statistical significance with a p-value of 0.011. SFP also met key secondary endpoints including maintenance of hemoglobin, maintenance of reticulocyte hemoglobin and an increasing serum iron pre-to-post treatment without an increase in ferritin.
SFP data also demonstrated excellent safety endpoints. With respect to adverse events (AE's) or serious adverse events, there were no differences in frequency or severity between the SFP and placebo group. Overall, the AE's reported were successful and were reported as consistent with those that would be expected in the chronic hemodialysis population.
CRUISE -1 delivered extraordinary phase III efficacy and safety data. Given that the data was so successful the company feels confident that it will be able to obtain similar results from the CRUISE -2 study and gain FDA market approval for SFP too.
NOTE: CRUISE -2 has just finalized its patient dosing. The clinical team is now locking the data and the company anticipates reporting top-line results sometime in September.
The intent of Rockwell as I understand it is to package these two trials with other SFP clinical data and then submit the new drug application (NDA) to the FDA. This would take a few months to complete the process.
Cost Reduction Goals
The CRUISE -1 and expected CRUISE -2 results combined with the recent positive PRIME study data demonstrate that SFP can effectively deliver iron and maintain hemoglobin without increasing iron stores. Rockwell has suggested that its lead drug candidate Soluble Ferric Pyrophosphate (SFP) could reduce ESA use by a significant 35% which would be considerable.
ESA sales are costing taxpayers billions each year. Epogen, Procrit and Aranesp have ranked among the top selling drugs in the U.S., generating more than $8 billion a year for two companies, Amgen (NASDAQ:AMGN) and Johnson & Johnson (NYSE:JNJ). Amgen alone has one of the most lucrative monopolies of all time, yielding the biotechnology company over $40 billion in sales over the past 20 years.
SFP has demonstrated that it is able to deliver both significant clinical and economic benefit to patients. Beyond the clinical data the additional key component is the company's claim that it could reduce dialysis treatment costs by $700MM. This is a significant savings and one solution to Medicare's cost reduction agenda.
Institutional Holders
25.5% and increasing
Number of Holders: 75
New Positions: 21
Decreased Positions: 10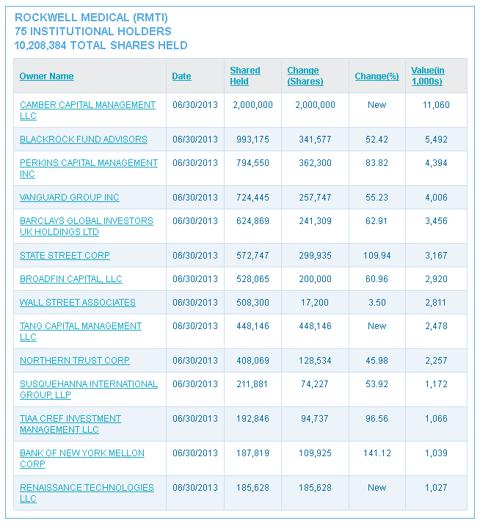 Source: here
In Summary
Within the next few months, Rockwell expects that the great majority of its customers will be purchasing CitraPure, where sales have climbed significantly by increasing 61% over the last quarter. I also expect Calcitriol to enable Rockwell to increase sales and profit margins considerably while strengthening its existing business. Rockwell's data also supports my strong belief that Soluble Ferric Pyrophosphate (SFP) will set a new standard and significantly raise the bar in the current IV iron therapy market for dialysis patients.
Additional growth and leverage will come online with its planned offering of SFP once it becomes FDA approved. Given the realization that the CRUISE -1 data was so successful I'm very confident that it will be able to obtain similar results from the CRUISE -2 study and gain FDA market approval for SFP too. The FDA may even accelerate the approval process under the FDA Fast Track Development Program due to its effectiveness and favorable cost savings benefits.
The PRIME study demonstrated that regular administration of SFP-iron via dialysate reduced the usage of erythropoietin stimulating agents (ESAs) during hemodialysis by 37.1% while maintaining iron balance and maximizing iron delivery. Also, remember that there was favorable data included in the DRIVE plus DRIVE-II studies, which shows that patients in the ferric gluconate group required significantly less epoetin usage.
So, in reviewing all of the pertinent data and research on the company, I along with the company's enthusiasm for success, believe that we could achieve a significant run-up into and subsequently following the release of favorable data. This is not usual either. With the anticipation of positive CRUISE -1 data that was released on July 11, 2013, RMTI stock moved from about $3.40 to over $5.90 following the announcement, or a 73.50% move.
It's quite possible that shareholders could see a move from the mid-$5s up to the mid-$6 level and then a pop to between $11 - $12 (70% - 100%) upon and shortly after approval just like we experienced with the CRUISE -1 data release. If the data are not successful you can expect a significant hair cut in the stock. It would be entirely up to your discretion to hold though, and/or following the data. Also, let's not discount that Rockwell's recent guidance suggested that sales and profits are expected to move higher looking forward.
Note: When trading in the biotech arena, holding into clinical data is Highly Speculative and I rarely like to hold through this type of circumstance, however in this particular case I'm very confident in my decision to hold up to 80% or more of my current long position moving into the September data. I'm that confident, just like I was going into a positive outcome with VIVUS (NASDAQ:VVUS) last year. You can read my comments here on February 21, 2012 and again on July 18, 2012.
Disclosure: I am long RMTI. I wrote this article myself, and it expresses my own opinions. I am not receiving compensation for it (other than from Seeking Alpha). I have no business relationship with any company whose stock is mentioned in this article.
Additional disclosure: I also trade VVUS stock and may add to my RMTI within the next 72 hours.