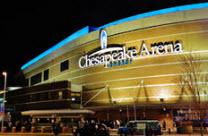 Executive Summary
Chesapeake Energy Corporation (NYSE:CHK) is up 57% year-to-date. In my article published in January of 2013, I suggested buying the stock. The stock was trading for $18.78 at the time. Since, the stock is up approximately 38%. In the article, I stated the stock was at an inflection point. The company was finally at a point where it could put the Aubrey McClendon fiasco behind it. The new team has provided the extra push to get the company back on track, fueling the appreciation in the stock. See chart below provided by Finviz.com.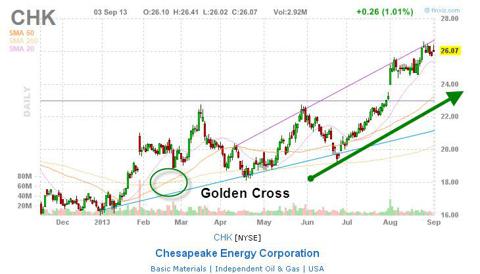 The fact of the matter is I don't think the run is over this is just the beginning. In the following sections I will perform an analysis of the stock and lay out my bull case for the company going forward.
Recent Earnings Results Quick Recap
On 8/1/2013, Chesapeake reported second quarter 2013 earnings of $0.51 per share. This result beat the $0.42 consensus of the 23 analysts covering the company and beat last year's second quarter results by $0.45.
Market Comparison

Chesapeake looks weak in comparison to the industry, sector and the S&P 500. The major issue is the company is not profitable. This puts Chesapeake in the speculative category. The one bright spot is Chesapeake's forward P/E ratio of 14.1. This is much lower than Chesapeake's peers and the S&P 500. Chesapeake is now on the cusp of achieving profitability and growth. This is why the stock is moving higher.
Fundamental Peer Comparison
Please review the following analysis of key fundamentals regarding Chesapeake vs. its peers and industry averages. The tables were provided by Scottrade.
Profitability

Chesapeake is underperforming the industry and its peers with regard to the net profit margin. With gross margins slightly less than its peers and on par with the industry average, Chesapeake needs to gain traction and improve profit margins by cutting costs and focusing on the most profitable endeavors. The new management team and board members appear focused on this goal.
Valuation

Chesapeake looks good when it comes to valuation. The price to tangible book comparisons have Chesapeake trading substantially lower than its peers and the industry average. The company is trading for 1.1 times tangible book value while its peers and the industry are trading for 3 and 6 times tangible book value respectively. This is primarily due to Chesapeake's past. Market participants had lost faith in previous management. New management seems to be doing a good job of turning the ship around, yet nothing is ever as easy as it seems. This pessimistic view of Chesapeake's chances of completing a turnaround is one of the reasons the stock remains unvalued.
Growth

Chesapeake's five-year sales growth outshines its peers, yet still lags the industry. EPS growth over the last two months has been abysmal. The company is one of the few in the oil and gas sector that pays a dividend with a current yield of 1.4%.
Financial Strength

The company's long-term debt to equity ratio is vastly higher than its peers or the industry average. This is an area of concern. Interest expense can eat into profits. Management is focused on reducing long-term debt costs.
Management Effectiveness

Management effectiveness has been sorely lacking and the negative ROI, ROE and ROA results prove that out. Luckily, one of the big changes is the addition of several new people on the Board of Directors and a change in top management.
Positive Catalysts
Eagle Ford Shale Play
Oil production in the Eagle Ford shale play rose 60% year over year in June. Growing production from the Eagle Ford is helping fuel a renaissance in the Texas crude oil market. I live in San Antonio, Texas, and can tell you the infusion of money and business brought in by the Eagle Ford shale play is life changing for many. Chesapeake is the second largest leaseholder in the play with 485,000 acres. This is a highly valuable asset that should be producing profits for some time to come.
Debt Reduction
The new management team at Chesapeake has taken steps to reduce debt by recalibrating the company's portfolio of assets. The company is focused on selling out of less profitable dry gas plays and realizing revenues from more profitable liquids plays.
Liquids Focus
The company is now looking to create value by focusing on liquids plays. This is something Aubrey talked about but never really seemed to make happen. New management has taken concrete steps to up the production of liquids going forward.
Capital Expenditure Management
Capital expenditures for drilling in 2013 is budgeted at approximately $6 billion. This is a 20 percent drop from the previous year. Chesapeake is doing a great job of focusing on drilling existing assets and applying financial discipline.
Downside Risk
High Debt Levels
One major concern is the high debt levels. An aggressive capital expenditure plan, current falling cash flow and weak natural gas pricing has put a liquidity squeeze on the company. It will be very important for Chesapeake to stay on top of this issue going forward.
Execution Risks
The company has a great plan and has laid out a solid path to profitability. The concern is whether or not it can stay on target. There are many unknowns in the oil and gas industry. Operating in a highly volatile and cyclical industry is treacherous. It is by no means a sure thing Chesapeake will be successful.
Conclusion
Chesapeake has not yet fully proven itself to the market. Consequently, it's still trading at a significant discount to its peers. Even so, new management has a good foundation in place and I can see light at the end of the tunnel. Nonetheless, execution risks still exist for the company. These risks include weaker economic conditions, a continued decline in natural gas prices, funding shortfalls and corporate governance issues. The replacement of reserves is a huge concern as well. Nonetheless, the greater the risk the greater the reward. Chesapeake can offset these risks by focusing on growth in liquids drilling prospects, selling off dry gas leaseholds and cutting costs. Chesapeake is focused on increasing growth and expanding profit margins. I believe it will continue to be successful. If the stock were valued on par with its peers, the stock would be trading at $50 a share right now. I don't see it getting there in 12 months' time, but it could hit $50 within the next couple of years if current management stays on the ball. If you chose to start a position, I would definitely layer in to reduce risk.
Disclosure: I have no positions in any stocks mentioned, and no plans to initiate any positions within the next 72 hours. I wrote this article myself, and it expresses my own opinions. I am not receiving compensation for it (other than from Seeking Alpha). I have no business relationship with any company whose stock is mentioned in this article.
Additional disclosure: This is not an endorsement to buy or sell securities. Investing in securities carries with it very high risks. The information contained within this article is for informational purposes only and is subject to change at any time. Do your own due diligence and consult with a licensed professional before making any investment.