The unofficial end of summer was just here as Labor Day weekend has passed. Schools are back in session, football is returning, and temperatures should start to drop soon. But while it may be cooling down outside, the stock market should start heating up as traders and investors return from their vacations. We have just four months, one-third, of the year remaining. What will happen in those months? Today, I'll discuss five key questions for the rest of 2013.
What else does Apple (NASDAQ:AAPL) have up its sleeve?
Whether you are a fan or not, Apple is still a very important name in today's market. In addition to its large market cap and weight in certain indices, what happens with Apple can affect dozens of other names. As we approach the final few months of the year, we are looking at Apple's next product launch cycle. The question is how much do they launch, and when do they do it?
Everyone expects a new iPhone along with a cheaper version to be launched on September 10th. I don't think that's a surprise to anyone, as rumors of a cheaper phone have been with us for several months. The important question will be at what price point does Apple start the phone, and what are the margins on that phone. We do expect the cheaper iPhone to be a bit less margin compared to the regular iPhone, kinda like how the iPad mini had a much lower margin compared to the regular iPad. The key difference here is that the iPad was below Apple's corporate gross margin level to begin with, so the mini was well below average. There are some out there who actually believe that the cheaper iPhone could raise margins, as it would be slightly higher margin than Apple's average.
During September, Apple is also expected to launch its iTunes Radio service, which could be a key competitor for Pandora (NYSE:P). Apple has some key ad partners lined up, and the service could launch at the same time Apple launches its new iPhone. Since Apple did not refresh the iPad yet in 2013, something that caused a few quarters of very low revenue growth, we expect new models soon. Whether or not Apple launches a new iPad or iPad mini at the iPhone launch is unclear, but I expect new models of each to come before Apple's earnings report in late October. That gives Apple enough time to capitalize off the holiday shopping season, and hopefully they won't run into too many supply issues this year.
But is that it for Apple? Do they have any other tricks up their sleeve? Well, analysts are very mixed on the subject, but overall have a fairly negative view. Current estimates actually call for a slight decline in fiscal Q4 (ending September) revenues, and just a small increase in fiscal Q1 (ending December) revenues. Again, part of that Q4 decline is due to the fact that Apple did not refresh the iPad in March this year. But for the key holiday quarter, analysts see just a $0.26 billion rise in revenues. Is that due to less unit sales of products, or are analysts forecasting that Apple's pricing power is not as strong as it used to be? Only time will tell, but Apple's Q1 guidance will be very interesting. Here are a few other key questions for Apple the rest of the way.
Do we see a rebound in gross margins?
Does Carl Icahn get his way in terms of a larger buyback?
Is there a larger than average acquisition made? Remember, Apple traditionally does not make large purchases.
Apple shares have rallied more than $100 off their 52-week low, even though they've pulled back a little recently. Investors are looking forward to new product launches, but analysts don't see a huge revenue impact. Apple may need to do something big this fall to keep shares rallying. Whether that may be a product, acquisition, or larger buyback is yet to be seen. One thing is certain. All eyes will be on Apple during the next few months.
What happens with interest rates / Fed tapering?
One of the biggest questions in the market now is what will the Federal Reserve do during the remainder of 2013? Those that expect the Fed to taper were originally looking for a $20 billion cut in monthly purchases to $65 billion per month. However, with some economic data not coming in strong, like a recent report on new home sales data that was very weak, the chances of Fed tapering have been reduced. Some are thinking the Fed could do a "taper light," meaning that instead of cutting purchases by $20 billion, they might only cut by $10 billion. That would still leave $75 billion in purchases a month, but any tapering will have an impact on both interest rates and the market. Some in the market believe that the market will start to price in the effect of a full taper, even if they only do a "taper light" to start. You can see how rates have risen in the past few months from the 30-year yield chart below.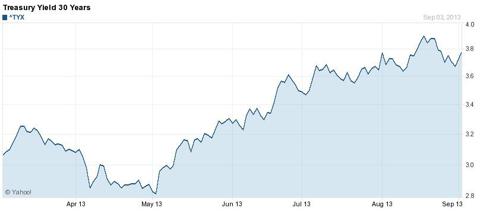 (Source: Yahoo! Finance)
The key Exchange Traded Fund to watch in this space is the iShares Barclays 20+ Year Treasury Bond ETF (NYSEARCA:TLT). This ETF has gone from $124 at the start of May to just $104 at Tuesday's close, and was recently as low as $102. Obviously, when rates go up, bond prices go down, so this is to be expected. However, a continued rise in rates will hurt the TLT. If 30-year rates pop above the 4.00% yield level, we will likely see the TLT drop below $100. If investors think rates are going higher, they do not want to be long the TLT. While you would receive some income, it would not be enough to offset your likely losses.
How does the holiday shopping season fare?
Now that we are in September, the holiday shopping season will be upon us shortly. How strong is the consumer? Well, we'll soon find out. One of the most interesting items to watch will be Syria. What does Syria have to do with shopping for Christmas and other holiday gifts? Well, it has to do with gas prices. Before I start my argument, here's a one-year chart of the average US retail gas price for regular.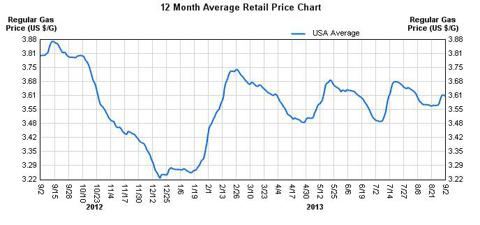 (Source: gasbuddy.com)
While gas prices are about 19 cents a gallon less than they were at this point last year, you can see the huge fall drop last year in the chart above. That is where Syria comes in. If some sort of conflict breaks out, you could see a huge spike in oil prices, and that will raise the prices of gasoline and heating oil. Every penny that gasoline and heating oil prices rise means less money that consumers have to spend on other items. Halfway through November in 2012, gas prices were at $3.45 on average. If we get to that point this year and gas is at $3.75, $4.00, or even higher, look for holiday spending to be weak. A few pennies here and there doesn't seem like much, but every $10 or $20 more per week a family has to spend on energy is an extra Christmas present or two that won't be bought this year.
How much are we talking about the weather?
This one could also tie in with the above section about the holiday shopping season. Think about all of the ways weather can have an impact. The past two years it was tropical systems such as Irene and Sandy. Sandy didn't just cause a ton of damage, it actually closed down US markets for a couple of days. A huge system that pounds the East Coast could have an impact on the market, or one that pounds the Gulf of Mexico could send energy prices higher, and that goes back to the section above as well. A couple of early season snowstorms could also have a huge impact on the holiday season. An early December blizzard could bring stores and malls to a standstill, and that would impact all retailers.
So how about an interesting name to watch here? I'll go with Amazon (NASDAQ:AMZN), for both this section and the one above. If gas prices shoot up, consumers are more likely to buy online rather than go out to the malls. If weather is bad, you can make the same argument. Currently, Amazon's 2013 estimates are at their lowest points, but a lot of that has to do with the company's poor 1st half. While Amazon's Q3 guidance was not great, Q4 could all depend on gas prices and weather. While Amazon's delivery schedule could be impacted by weather, you would think that their business would be helped more than hurt by consumers who are stuck home.
Does the momentum bubble burst?
You may believe that the Fed's QE program has pushed the market into bubble territory. It's fine if you do. There are two specific parts of the market that really have reached bubble territory lately. They are the momentum names, and the social media names. The one name that defines this the best is Tesla Motors (NASDAQ:TSLA). There are also plenty of other examples, such as Netflix (NASDAQ:NFLX), Green Mountain Coffee Roasters (NASDAQ:GMCR), Facebook (NASDAQ:FB), and Zillow (NASDAQ:Z).
Tesla shares have gone from $35 to $174 in a matter of months. The auto maker now boasts a valuation of more than $20 billion, for a company expected to produce maybe 40,000 cars next year. The rally could continue, as there still are a fair number of shares short in Tesla. One thing is certain. This rally will end soon, and when the bubble bursts, it will not be pretty. Many thought that would happen at $75 or $100. Now the question is will it be $175, $200, or higher?
The other momentum names are doing quite well also. Facebook is up 57% year-to-date, putting its market cap over $100 billion. Facebook's stock is just $1 off its 52-week high, which is also an all-time high if you exclude its first day of public trading. Netflix is close to reaching $300 and re-testing its all-time high, while Green Mountain has gone from $15 to $90 in 13 months. Real estate website Zillow is up 257% so far this year.
Investors must remember that many of these names are not very profitable, especially on a GAAP basis. Facebook trades at 59 times this year's expected non-GAAP earnings. But in the first half of 2013, the company's GAAP profit was just $0.22, about two-thirds of the non-GAAP $0.32. Other names trade at several hundred times their earnings estimates, and many are not even profitable on a GAAP basis. Investors are paying a high premium for these names, and they are definitely in bubble territory. When the momentum bubble crashed in 2011, investors saw huge losses in names like Netflix, Green Mountain, SodaStream (NASDAQ:SODA), and Deckers Outdoor (NASDAQ:DECK). The time is approaching where that could happen again.
Final thoughts:
With just four months left in 2013, there are many questions left to be answered. Today, I've covered the five most important questions I am asking right now, and how they could impact the market going forward. Apple could have a tremendous impact on the tech sector, the Fed could change the complexion of the entire market, and the weather and possible Syria conflict could impact the holiday shopping season. Investors will also be watching to see if the momentum bubble bursts again, and this time around, you have a new set of names in the social media space. These are five important questions to be answered during the rest of 2013. What do you see happening the rest of the way?
Disclosure: I have no positions in any stocks mentioned, and no plans to initiate any positions within the next 72 hours. I wrote this article myself, and it expresses my own opinions. I am not receiving compensation for it (other than from Seeking Alpha). I have no business relationship with any company whose stock is mentioned in this article.
Additional disclosure: Investors are always reminded that before making any investment, you should do your own proper due diligence on any name directly or indirectly mentioned in this article. Investors should also consider seeking advice from a broker or financial adviser before making any investment decisions. Any material in this article should be considered general information, and not relied on as a formal investment recommendation.