Kimberly-Clark (NYSE:KMB) is one of the more underrated stocks out there. The company is a manufacturer, with well-known brands and products used by nearly one-quarter of the world's population. About 77% of Kimberly-Clark's earnings come from consumer oriented products, such as diapers, paper towels, and other similar products. Kimberly-Clark is well known among income and dividend-growth investors, primarily for its outsized dividend yield and yearly dividend increases.
Kimberly-Clark's stock had surged for most of 2013, up at one point over 25% YTD. However, the stock has since fallen out of favor, declining well over 10% since April. This decline has put Kimberly-Clark at an attractive valuation and in my opinion may represent a buying opportunity. Kimberly-Clark currently offers a $0.81 per share quarterly dividend and yields about 3.50%.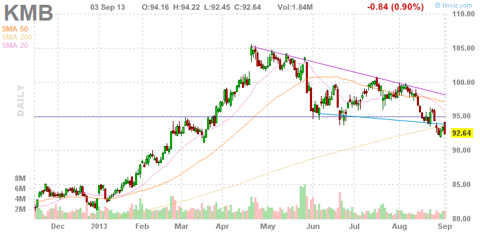 North America is Kimberly-Clark's cash cow
Kimberly-Clark is a global personal care products company. However, the vast majority of Kimberly-Clark's operating profits come from North America. Do note that revenue growth has typically come from overseas. During 2013, Europe has been a sore spot for the company, mostly due to the weak Euro and the need to lower prices to maintain market share.
Since 2004, Kimberly-Clark has been aggressively trying to take market share overseas, mostly in Latin America and Asia. This is shown by the weaker than normal margins.
Kimberly-Clark's current overall strategy is to grow its revenues from 3% to 5% per year, EPS in the mid-to-high single digits, and ROIC by around 20 to 40 basis points. The company plans to achieve these targets mostly through operational efficiencies in its North American business.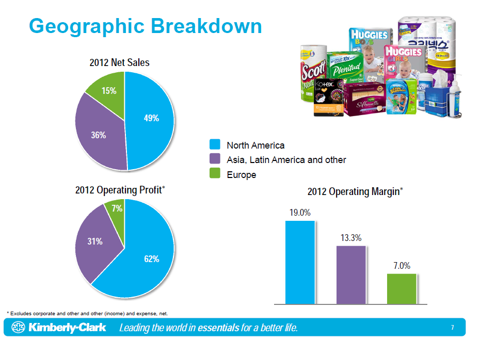 Kimberly-Clark's valuation has fallen in line with peers
In terms of its TTM PE ratio, Kimberly-Clark had been richly valued compared to many of its peers, such as Procter & Gamble (NYSE:PG) Clorox (NYSE:CLX) and Johnson & Johnson (NYSE:JNJ), for most of 2013. With the exception of Procter & Gamble, all of these consumer related names were trading at PE multiples of over 20X. However, these stocks have since cooled off and are now trading at much more reasonable levels. As shown, the current TTM PE ratio for these stocks is within a very tight range of 19X to 20X.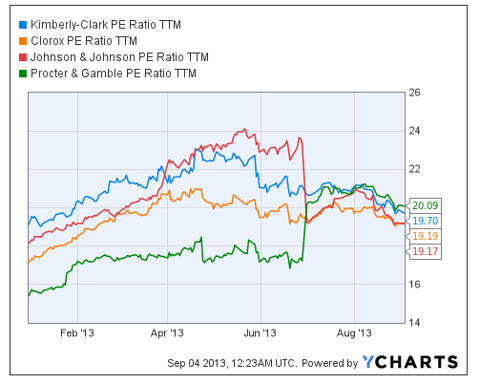 However, PE is often a flawed metric as it does not take into account debt or EPS related "gimmicks" which are used to smooth out results. I have found that a better measure of a stock's value is determined by its enterprise multiple. This is basically the enterprise value, market cap plus net debt, divided by EBITDA. While some may disagree, I consider this metric much more accurate than simply the PE ratio. However, both should be looked at when making investment decisions.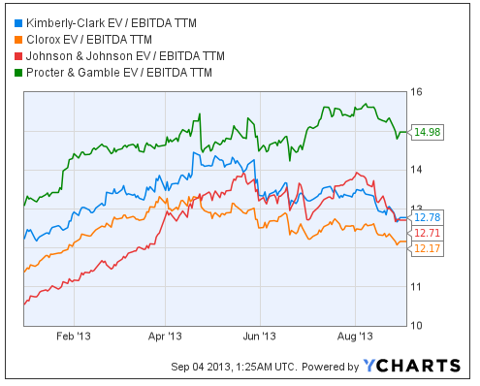 As shown, Kimberly-Clark's enterprise multiple is now essentially in line with peers Clorox and Johnson & Johnson, but well below Procter & Gamble. Note that Kimberly-Clark was trading at much higher (about 10%) multiples for most of the year. This may imply that Kimberly-Clark is currently undervalued.
Kimberly-Clark's dividend: A long history of growth
Kimberly-Clark's current yield of 3.50% is well above average. In addition, the company has paid out a dividend for 79 consecutive years. In terms of dividend growth, Kimberly-Clark has increased its dividend annually for 41 consecutive years. Kimberly-Clark's last yearly dividend increase was 9.50% on February 21.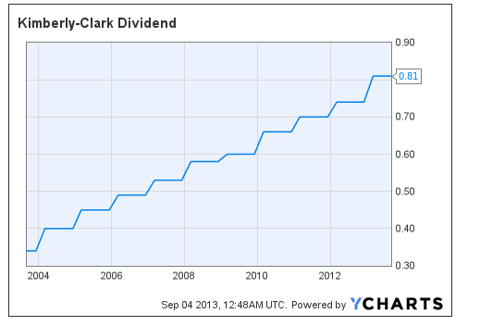 Kimberly-Clark's dividend is well covered by earnings and FCF
It should be noted that Kimberly-Clark typically increases its dividend in line with its adjusted EPS growth. In addition, the company aims to keep its payout ratio at about 50% to 60% of adjusted, currency-neutral, EPS. Kimberly-Clark's current payout ratio using non-adjusted TTM EPS is about 65% and 58% when using TTM FCF. However, when adjusting for items, the payout ratio drops to about 56%.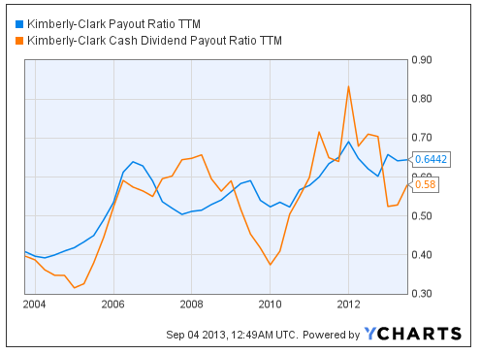 Kimberly-Clark's FCF is mostly used for share buybacks
In general, Kimberly-Clark typically does not have large amounts of capital spending requirements. As a result, the company has typically opted to use its excess cash flow to buy back stock. Since 2003, Kimberly-Clark has repurchased nearly $11B worth of stock and has lowered its share count by about 23%. For FY 2013, Kimberly-Clark has indicated that it will repurchase from $1.0B to $1.2B worth of stock.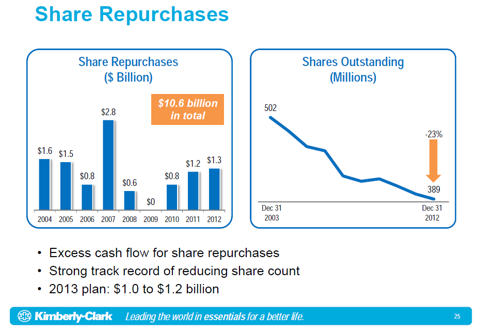 Conclusion
It is hard to imagine a world where demand for consumer goods such as paper towels, toilet paper or diapers would decline. As a market leader in these safe segments, Kimberly-Clark should be considered as a high-quality, blue-chip stock.
Some may wonder why proven dividend-growth stocks such as Kimberly-Clark trade at such lofty valuations. The answer is simple: total returns. As shown below, reinvesting dividends is nearly a sure-fire way to post market beating results.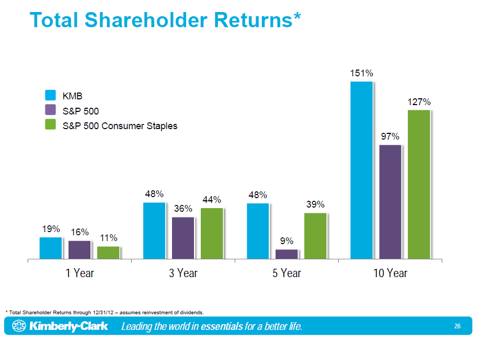 Managing to increase dividends yearly along with maintaining a healthy payout ratio is the mark of a keeper stock. While Kimberly-Clark is most certainly a boring stock, its results are anything but.
Disclaimer: The opinions in this article are for informational purposes only and should not be construed as a recommendation to buy or sell the stocks mentioned. Please do your own due diligence before making any investment decision.
Disclosure: I have no positions in any stocks mentioned, but may initiate a long position in KMB over the next 72 hours. I wrote this article myself, and it expresses my own opinions. I am not receiving compensation for it (other than from Seeking Alpha). I have no business relationship with any company whose stock is mentioned in this article.