As quickly as drug makers can come down, they can bounce back with even greater efficiency and vice-versa. After taking a beating earlier last week, Acorda Therapeutics (NASDAQ:
ACOR
) closed up over 40% on Thursday, October 15.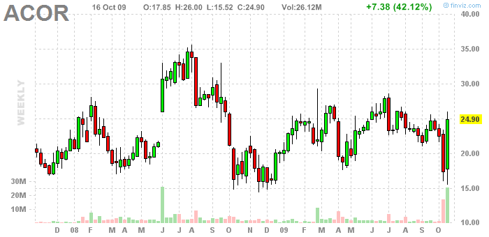 SPECTRUM PHARMACEUTICALS
Underappreciated small cap drug maker, Spectrum Pharmaceuticals (NASDAQ:
SPPI
), is financially sound and possesses two revenue generating, FDA approved cancer drugs. Sales of SPPI's drugs along with a milestone from a collaboration agreement are responsible for the $20 million+ in revenue generated by the company so far in 2009. Following four stock offerings over the past four months, SPPI is armed with plenty of cash, about $156 million. With 48.7 million shares outstanding, the company is currently valued at or near $214 million as of the October 15 close. Compared to all of its competitors, SPPI's common stock is very cheap right now, trading at 1.37 X cash and 1.223 X book.
Zevalin®
On September 4, 2009, SPPI obtained FDA approval for Zevalin as a first-line consolidation treatment for [all] patients with non-Hodgkin's lymphoma (NHL). Because Zevalin is a safe and very effective treatment for NHL and that it has been widely ignored for various reasons, the recent approval for first-line use should help SPPI to (1) generate more revenue with increased use as well as (2) significantly grow their earnings over the next 12 to 18 months.
In November, the Centers for Medicare and Medicade Services (CMS), a component of the US Department of Health and Human Services, will decide whether SPPI can sell Zevalin at the average sales price (ASP) like competitive chemotherapeutics. A favorable decision would allow SPPI to compete with other drug makers, who enjoy the privilege of being able to sell their drugs at ASP. Right now, Zevalin is being sold at (1) invoice or (2) the average wholesale price (AWP) and costs between $24,000 and $31,000 per treatment. Unlike most chemotherapy regimens that can last six months or longer, Zevalin is a one time treatment that takes about three to five hours to administer.
Fusilev®
On October 9, 2009, SPPI announced receipt of a complete response letter (CRL) from the FDA regarding the company's supplemental drug application for Fusliev which is indicated for colorectal cancer. The FDA indicated that the company failed to demonstrate that Fusilev (levoleucovorin) was non-inferior to racemic leucovorin, a generic version of the treatment. The company was, however, invited to meet with regulators to find a path forward.
The FDA's decision was not anticipated. Here's why:
In 2008, Fusilev was approved by the CMS as a reimbursable alternative to leucovorin during a shortage of that drug. Throughout the shortage period, Fusilev was prescribed for colorectal cancer and patients' needs were met.

Several Phase 3 trials comparing Fusilev and leucovorin have already been conducted.

Results from the most recent Phase 3 colorectal cancer study indicated that Fusilev was less toxic for colorectal cancer patients. Despite the benefit of less toxicity, overall survival for both drugs was the same.
Since trials comparing the two drugs have already been conducted, the FDA should be able to reach some sort of an agreement with SPPI and allow Fusilev (as well as the company) to compete in the market without requiring yet another expensive and unnecessary trial. Whether the FDA and SPPI will actually find some common ground is unknown at this time. Until there is more clarity, uncertainty and speculation will continue to loom.
Pipeline
For a small cap drug maker, SPPI has a deep pipeline that primarily consists of cancer drugs. SPPI's promising bladder cancer drug Eoquin® is currently being studied in a Phase 3 clinical trial. Results from this trial are expected to be available by early 2012. Notably, SPPI has partnered up with Allergan (NYSE:
AGN
) to develop Eoquin. For SPPI, the AGN collaboration could bring in a total $300 million. To date, SPPI has received $45 million from the company.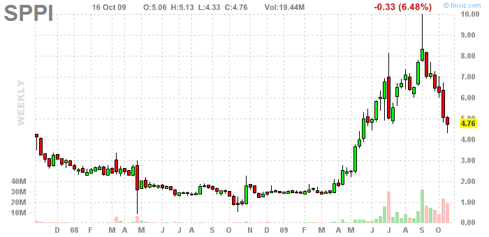 Under the current political conditions, risk taking isn't en vogue and institutional investors appear far less likely to assume it. This could give independent investors an edge where good opportunities exist.
Looking back in 12 months or so, I suspect that investors will realize that SPPI, while trading under five bucks, was one of those opportunities.
Disclosure: Long SPPI.