Synopsis
Nokia (NYSE:NOK) selling its cell phone business to Microsoft (NASDAQ:MSFT) is a lot like Intel (NASDAQ:INTC) selling its microprocessor business - the parts that will remain do not look that appetizing. Another bidder surfacing is highly unlikely given the existing business relationship between the two companies. While the valuation of NSN remains a controversial topic, I offer an admittedly biased, bearish long-term view. To me, Elop looks like an excellent bet to become Microsoft's next CEO. I think investors should take profits on NOK here.
My disclosure says I am still long Nokia. But that is only because I received the news of the Microsoft offer too late to sell my Nokia shares on the same day. I intend to sell all of my shares over the next two days.
Why Another Bidder Will Not Surface
In terms of a corporate takeover, Microsoft represents a monopsony to Nokia. Another bidder is unlikely to surface simply because that agreement to develop only for Windows Phone is still very much in place. Even if an unexpected, third-party bid from a company like Lenovo (OTCPK:LNVGF) should appear, Microsoft has all the leverage.
Clearly, I am not the only one frustrated with the purchase price. There is already an undercurrent in the media of unhappy shareholders who may try to block the deal in an attempt to extract a higher price from Microsoft at a minimum. Here is one such article. But for reasons I describe later in this article, I suspect such opposition to the deal to dissipate once the next earnings release comes out.
What is Nokia Sans Handsets Worth?
They key asset that will remain post the cell phone division sale is NSN. Other divisions included the Here mapping division, the intellectual portfolio (i.e. patents), and some odds-and-ends including a nascent Advanced Technology group. But the main issue facing investors, after the sale of the handset division is the valuation of the NSN unit as this asset will dwarf all others after the Microsoft deal gets done.
Other authors, most notably Genesis Housing, have done an excellent job discussing the merits of NSN. But I would like to offer a biased, alternative view. Having worked for Alcatel-Lucent for a decade (hence my bias), I do not believe that NSN can be profitable (cash-flow positive) in the long term. To be sure, it can be profitable for a few months or perhaps even a long string of quarters - if the company is in the right spot in the investment cycle for new equipment. But taken cumulatively, I do not believe that the wireless infrastructure business has any margin left in it post the invasion of Huawei and ZTE. Management has guided to long term operating margins in the mid single digit percentage range. Though this goal may not seem aggressive, based on current industry dynamics, I believe even this goal will prove elusive.
Ericsson (NASDAQ:ERIC) is an important exception because they have built an army of field engineers who can solve the carrier's logistical problems. They have thus managed to build a service business out of their infrastructure business. But Nokia's recent massive layoffs in NSN suggest that they are going in the opposite direction - attempting to downsize into a profit. For this reason, I believe that NSN's value will not be comparable to Ericsson and, instead, will likely be a small fraction of its sales. This belief is the key reason why I want to sell Nokia here.
The Wall Street Journal has suggested that post the sale of the handset unit, Nokia could move to consolidate the global wireless infrastructure business by buying Alcatel-Lucent (ALU). But when was the last time two difficult business models combined to produce a winner?
Nokia's next biggest asset, after NSN, is its patent portfolio.
Admittedly, I have little to offer here in terms of value add. My main
conclusion to sell Nokia rests on my conclusion regarding NSN. If the
company's patent portfolio ends up being worth much more than the
Street suspects, my decision to sell Nokia could end up being a mistake.
As an aside, it is extremely surprising that Mr. Softie chose not to include Here maps as part of the purchase. I continue to believe that mapping is strategic to the phone manufacturing business. Perhaps, Microsoft figured that their existing license was good enough for their purposes so that they did not need to buy this entity. Regardless, Here maps is too small an asset compared to Nokia's other divisions to move the needle on its overall valuation.
Why Did Nokia Sell Now?
Coincident with this big Microsoft announcement, the most recent marketshare data for cell phone OS's had just been released by Kantar. With the notable exception of China, the news was generally good about market share increases worldwide. No doubt, absent the Microsoft bid, the bears would have tried to paint the report with a negative hue citing the low-end Lumia 520 as a low-margin contributor to market share but not to profits.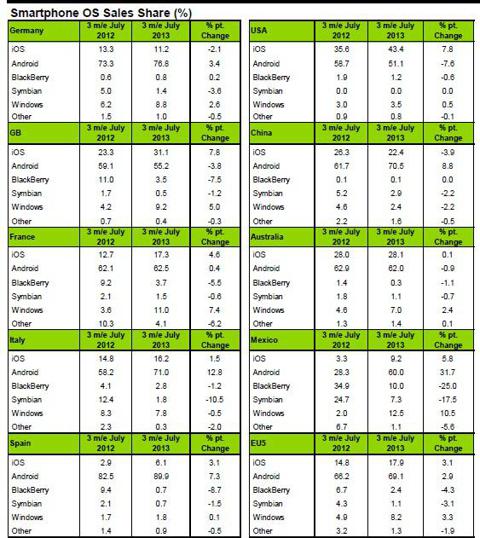 Source: Kantar World Panel
In fact, the margin on the Lumia 52X was, in my mind, the key to the likely near-term performance of the stock after the next earnings release. There is little doubt that Nokia will put up a big unit sale number for Lumia on the September report. The bigger issue is, however, at what margins and resulting cash flow.
Some sell-side analysts have previously argued that all Lumias carry approximately the same gross margin percentages. But given the heavy discounting that has been going on, I doubt this to be the case. In addition, coincident with the Microsoft announcement, Nokia said it needs to sell in excess of 50 million smart phones to break even. But other Seeking Alpha authors have done analysis to suggest that the breakeven should be closer to 44MM phones. Here is one such report from Mathias Holstrom. So what has changed? I believe that the company's margin profile has declined due to the massive shift to lower end product. This has, in turn, increased the company's smart phone breakeven rate to 50 MM devices, instead of 44 MM. No doubt the recent crash of the Indian Rupee has not helped their cause in the Lumia 520's most explosive growth market. I note that the Lumia 625 is failing to gain traction in India due to its high pricing. Nokia will likely have trouble producing profits in India given the currency issues over which it has little control. This is particularly problematic given the huge number of low end smart phones they are selling there. It is almost as if those sales do not count.
For all of these reasons, I believe that Nokia's 3Q13 report will show strong unit growth for Lumia accompanied by weak cash flow in the D&S division. This is another reason to take profits here.
Why Elop Will Be Microsoft's Next CEO
1. Microsoft knows that doing a deal of this size is full of risk. The biggest risk they face is scaring off all the talented handset engineers. The company needs to find a way to placate their fears so that they will stick around and keep designing great phones. Giving them a familiar leader should help ease their tensions as they join a different, and much larger company.
2. The media has been hounding Microsoft to get fresh blood into the top seat, to help introduce culture change as the company attempts a difficult transition to being a device maker. On the flip side, given the size of Microsoft, the company knows that getting someone who has no experience with the inner workings of the giant may be risky. If only they could get someone who has experience with both the gears of the giant machine and the key device experience that can help with the transition. There are no other candidates on the short list (see below) who fit both bills as well as Elop.
3. Would Elop agree to go back to Microsoft as a lieutenant, once having been the CEO of Nokia?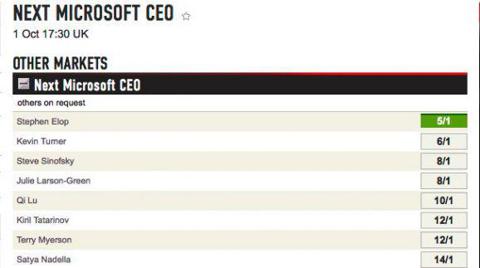 Source: Tech Radar
Conclusion
Never before have I been this unhappy about making this much money on a takeover. I had hoped for a double or triple to play out on this stock over the next few years. But after the frustration and anger of reading the headlines had passed, it was time for some cold, hard analysis. My analysis suggests that the reasons I owned Nokia are now no longer valid. So I am taking my football and going home. I suggest you do the same.
Disclosure: I am long NOK. I wrote this article myself, and it expresses my own opinions. I am not receiving compensation for it (other than from Seeking Alpha). I have no business relationship with any company whose stock is mentioned in this article.
Additional disclosure: I intend to sell my NOK shares in the next two days.