In some of my recent articles, I've discussed the idea of a bubble developing in certain areas of the market. Thanks to the Federal Reserve's QE program, markets have been pushed to new highs, and many stocks have as well. One of the primary beneficiaries of this rise has been the social media space, which has seen many names sport large rallies this year. A lot of the names thrown into the social media ring are at or close to 52-week or all-time highs, granted they've only been trading for a couple of years at most. However, a bubble is a bubble, and it is something investors need to tread carefully around. Today, I'm going to analyze the biggest name in the space, and that is obviously Facebook (NASDAQ:FB). My goal today will be to show how high the valuation has gotten, and why it is not totally realistic.
Some quick comparisons:
As of Tuesday's close, Facebook had a market cap of $101.97 billion. The company is currently expected to do $7.32 billion in revenues this year and $9.54 billion next year, along with a non-GAAP profit of $0.71 this year and $0.95 next year. Facebook is roughly expected to have a non-GAAP net income figure of $1.8 billion this year, but a GAAP figure that will be significantly lower than that. Here's a few quick comparisons of names with a similar market cap.
McDonald's (NYSE:MCD) has a market cap of $94.49 billion. The company is expected to do nearly $30 billion in revenues next year. In addition, over the past three years, the company has done almost $79 billion in revenues and produced net income of nearly $16 billion.
Home Depot (NYSE:HD) has a market cap of $105.9 billion. The home improvement giant is expected to see fiscal year revenues (ending Jan. 2014) of $78.54 billion, more than 10 times what Facebook is expected to do.
Intel (NASDAQ:INTC) has a market cap of $109.9 billion. This year, the chip giant is expected to have revenues of roughly $53 billion, and a profit of $9 billion or so. Intel also has a dividend yield over 4%, and is currently buying back billions in stock per year.
So Facebook has a larger market cap than McDonald's, and one just below that of Intel and Home Depot. At Facebook's recent high, its market cap was just under $103 billion, so it may have been even closer to those names then. Obviously, Facebook is growing much faster than those other names, but does it deserve a similar market cap to companies that are doing 4, 7, or even 10 times the amount of sales? I'll look at some other comparisons in the next few sections.
2013 estimates over time:
The first item I'd like to discuss is the company's 2013 estimates. The following table shows the average revenue and earnings estimate for Facebook this year, going back to shortly after the IPO.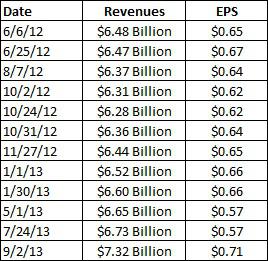 You'll notice that there was a huge jump after Facebook's large Q2 beat. The company beat analyst estimates by almost $200 million in revenues, and a nickel on the bottom line. Since that beat, analysts have raised their 2013 revenue estimate by roughly $600 million. That means that they've increased their Q3 and Q4 numbers by about $200 million each, roughly the size of the Q2 beat. The average earnings estimate has come up by 14 cents. You can see in the table above that the current estimates are both at their highest points. However, it is interesting to note that the earnings number is just 4 cents above its prior peak. That's because Facebook's 2013 expenses are running a little higher than many originally expected.
So does one great quarter change everything? Apparently for Facebook, it has. The stock is up nearly 58% since reporting those Q2 numbers, as you can see in the chart below.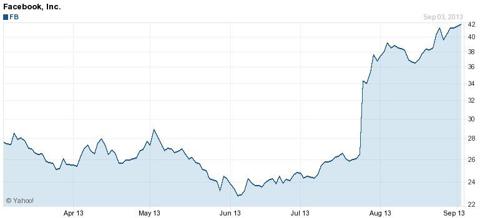 (Source: Yahoo! Finance)
Again, this is just one quarter's report. Facebook's Q1 report was not exactly spectacular. The stock jumped more than $1.50 on that news to more than $29, but then fell below $23 a month or so later. In fact, since the June 6th low, Facebook shares are up almost 85%. Interestingly enough, Facebook is now trading more than 6% above the current average price target of $39.44. So while the average rating on the stock is a buy, and 27 analysts have buy or strong buy ratings (11 holds and 1 sell as well), the stock is above where the average analyst values the name. To some, that fact speaks volumes.
Other major comparisons:
When it comes to comparing Facebook to similar names, I didn't quite give you similar names above, and that was the point. I wanted to show companies with comparable market caps, regardless of the industry. In this section, I'll look at Facebook against other large cap tech names. Obviously, I have to compare Facebook to LinkedIn (NYSE:LNKD), but I also want to compare it to Apple (NASDAQ:AAPL) and Google (NASDAQ:GOOG). The following table shows current valuation metrics for the four names based on Tuesday's closing market cap and current estimates for 2013 and 2014 revenues and earnings.

*Based on Apple's fiscal year estimates, which ends in September.
**Non-GAAP numbers for P/E values.
What are the key takeaways here? Well, Facebook trades at roughly 2.5 to 3.0 times that of Google on all metrics. However, Facebook is only growing about twice as fast as Google currently when it comes to revenues. Facebook is expected to grow revenues by just over 30% in 2014, less than twice the roughly 17% growth rate Google is expected to see. Yet, Facebook trades at more than 2.6 times the valuation of Google for 2014, on both revenues and earnings. To me, there is a bit of a disconnect there. Why do I say that? Well, I already think Google is a bit overvalued at the moment, especially when it comes to Apple. Even though Apple's growth right now is not tremendous, it has a solid dividend and the largest buyback in corporate history. So if I think Google is overvalued to begin with, and Facebook trades at an even more ridiculous comparable valuation, what does that tell you about Facebook? Yes, LinkedIn trades at an even higher valuation, but LinkedIn is expected to show a bit more growth than Facebook. Also, I'm not trying to argue for LinkedIn's valuation here, just stating that LinkedIn is expected to show more growth.
So what is Facebook really worth? That's the million dollar question. Since Facebook's growth profile is not that tremendous, on paper I could argue that it shouldn't get a price to sales valuation more than double that of Google. For 2014, that would be about 8.1 times expected revenues. But since Facebook's growth is still a mystery to some, and the name could end up growing much faster than current estimates, I'd be willing to go up to around 9 times 2014 revenues. At current, that means about $86 billion, or about $35.25 per share. That's a 2.65% premium to the closing price the day after Facebook reported Q2, or a 33% premium to the closing price right before Facebook announced Q2. Facebook had a great quarter, and I'm giving them a 33% increase based on that. I think that's rather fair currently, as Facebook still has a lot to prove. Again, this valuation is based on current expectations. I don't want readers coming back and criticizing me three months from now if Facebook is above that level, unless expectations are exactly the same then. I doubt they will be.
There will be no short squeeze:
When it comes to the social media space, a lot of bullish calls are based on the potential for short squeezes. Some of these names have 10%, 20%, or more of their float short, meaning a short squeeze is definitely possible. But at the latest update from NASDAQ, just over 36 million shares were short in Facebook. Facebook's float is nearly 1.5 billion shares according to Yahoo, so that means that a little over 2% of the float is short. That is not much. Additionally, Facebook's volume over the past 3 months averaged more than 55 million shares per day. That means it would take less than one full day for all shorts to cover, and that is not a lot. A days to cover ratio of 5, 10, or higher would be significant, as opposed to being under 1. The chart below shows Facebook's short interest since its IPO.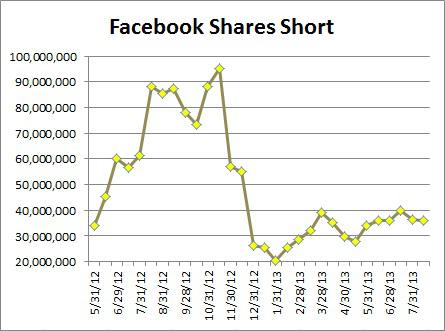 Facebook is not a heavily shorted stock, so those looking for a short squeeze will be waiting for quite a while. Less than 2.5% of the float is short, and less than 1.5% of the outstanding share count is short. The days to cover ratio is under 1.00. Short interest is down 62% from the peak 9 months ago. I don't know how many other numbers I can throw out there, but by now you should realize that Facebook is not a buy based on the possibility of a short squeeze.
Final thoughts:
While Facebook did report a strong Q2, the company's valuation appears to have stretched too much. The company now boasts a valuation above McDonald's, and close to Intel and Home Depot. On a price to sales basis, Facebook trades for roughly 3 times what Google does, while growing only about twice as fast as Google. Compare Facebook to Apple, and the figures are even more astronomical, even though Apple's growth has slowed recently. I'm not one of those saying Facebook is worth just $10 or so right now, but I don't think it is worth more than $40 either. Facebook's estimates have risen greatly since the Q2 report, so the company must deliver going forward. Even if they do, one must wonder if the stock will keep this ultra premium valuation. For that reason, Facebook can be considered a short candidate. I wouldn't go out and short it with all of my money today, but if the momentum carries it a bit higher, it might be something to seriously consider.
Disclosure: I have no positions in any stocks mentioned, and no plans to initiate any positions within the next 72 hours. I wrote this article myself, and it expresses my own opinions. I am not receiving compensation for it (other than from Seeking Alpha). I have no business relationship with any company whose stock is mentioned in this article.
Additional disclosure: Investors are always reminded that before making any investment, you should do your own proper due diligence on any name directly or indirectly mentioned in this article. Investors should also consider seeking advice from a broker or financial adviser before making any investment decisions. Any material in this article should be considered general information, and not relied on as a formal investment recommendation.