After a strong August which ended just shy of the highs on Friday as fears over a U.S. attack on Syria were calmed by double-speak out of Washington, gold (NYSEARCA:GLD) and silver (NYSEARCA:SLV) looked set to continue consolidating those August gains after opening flat in Asia on Sunday evening. That weakness ended Monday morning when Speaker of the House John Boehner (R-OH) backed President Obama in his call to attack Syria's government forces over the alleged use of chemical weapons last month. Gold re-captured the $1400 mark and silver rocketed back to challenge $24.50 as war fears gripped the markets.
But, I don't think the war trade is what is driving gold and oil prices right now. It may be part of the speculative froth but what is driving them is a new fear trade, like the one we had in 2012 over the potential breakup of the Euro-zone. There is a strong run on cash currently as liquidity is drying up due to the rapid rise in U.S. interest rates. Before Speaker Boehner opened his mouth this morning the benchmark 10 year Treasury note was threatening to break above 2.92% and quickly afterwards bonds were bought across the board and yields subsided, but they were still up sharply on the day.
U.S. Bond Yield Curve

Maturity

9/3/2013 Yield

Change

Correlation to Gold

Since 7/1/2013

2 year

0.43%

0.04%

0.431

3 year

0.83%

0.04%

0.543

5 year

1.68%

0.06%

0.571

7 year

2.32%

0.07%

0.627

10 year

2.86%

0.08%

0.652

20 year

3.54%

0.08%

0.667

30 year

3.79%

0.09%

0.627
As emerging markets have attempted, vainly, to stem the flow of capital out of their countries they have sold U.S. Treasuries from their reserves. Some of them - Russia, China, Turkey - have replaced those bonds with gold others have sold small amounts of gold and bought bonds to raise dollar (NYSEARCA:UUP) reserves, namely Mexico.
I've argued in my previous articles that I believe we are at an inflection point in our markets whereby flagging confidence in the U.S. government's ability to manage its domestic and foreign policies will create a real flight from its assets (bonds) and towards gold and other less risky assets, but mainly gold. For example, people in emerging markets like India are not waiting for the government to solve the rupee's problems, but are rather rejecting it outright in favor of gold.
With a budget deficit that has not been materially affected by the sequester, contrary to the headlines, and the prospect of another war in the Middle East the current flight to the U.S. dollar is likely short-lived simply to alleviate short-term liquidity issues. But, if the overseas selling continues alongside greater acceptance of other currencies for trade settlement, i.e. the Yuan (NYSEARCA:CYB), then there exists the real possibility of a sharp reversal in the USDX once the majority of the carry trades are unwound.
The Current Situation
The massive outflow from GLD during 2013 has been the front-page story for most of 2013 with gold bears constantly telling us that this is a sure sign that the bull market which began in 2001 is now over. But, in recent weeks the outflows from GLD have slowed to a crawl and at times reversed sharply as investors have aggressively bought into this rally off of the June low. Since August 9th $526.24 million has flowed into GLD.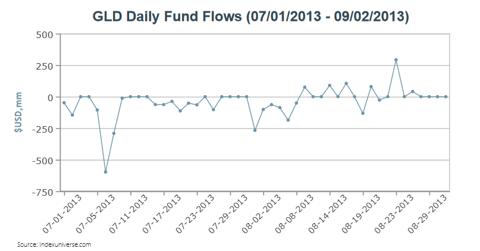 Click to enlarge
I find that the correlation between negative GOFO rates and GLD inflows interesting. I'm not sure that it's a strong one but Monday saw the 1 month GOFO rate in positive territory for the first time in over a month and there was a 1.8 ton outflow on the GLD. Again, this may just be coincidence, but given that there has been a strong argument made for the carry trade between GLD and the Asian markets where gold is redeemed off the GLD at New York prices (lower) and sold into the Asian cash markets at a premium Monday's action seems consistent with that trade returning especially with positive GOFO rates.
If that's the case then the acute shortage of physical gold is subsiding in the short-term and it's likely the current rally will be capped near last week's high. But, that said, September is a minefield of a number of major events which can have an effect on the gold price. Given that GLD did not best the June high of $137.62 in August we did not get a two-bar reversal signal on the monthly chart, though the bounce off the bottom has been impressive. For September, looking at GLD's past trading history at the monthly level (n=44 months), there is better than a 75% probability of GLD besting that June high in September based on an opening price of $135.46.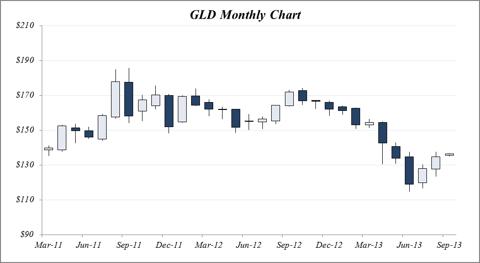 Click to enlarge
The June high currently stands as the important resistance point on the chart and until it is bested first on a weekly basis and then on a monthly basis, gold is still just bottom bouncing. For those looking to accumulate here, a failure this week to push through $137.55 either this week or next will likely set up a re-test of the August low, especially if war fears subside.
Disclosure: I have no positions in any stocks mentioned, and no plans to initiate any positions within the next 72 hours. I wrote this article myself, and it expresses my own opinions. I am not receiving compensation for it (other than from Seeking Alpha). I have no business relationship with any company whose stock is mentioned in this article.
Additional disclosure: I own physical gold, silver, a few dairy goats and an unshakeable faith in voluntary commerce.