Microsoft (NASDAQ:MSFT) has announced the resignation of CEO Steve Ballmer. Ballmer, of course, had big shoes to fill; however, by some accounts he has smaller feet. While questions about his performance surely can make for a lively, or heated, discussion, the story repeatedly being told in the media is that yesterday's personal computer juggernauts are today's grounds for activist investors. Yet, with a market cap of nearly $265B, no one can acquire Microsoft, and even those who tend to have clout might have a reduced impact. As an example, consider David Einhorn, who is reported to have sold his stock last month, and who had intensely lobbied for Ballmer's firing. However, there may be a realistic possibility of pressuring for increased capital returns in the works from 0.8% shareholder ValueAct Capital Management.
ValueAct, which manages over $12 billion, acquires stakes in companies it believes to be undervalued. Its objective is to
Work constructively with management and/or the company's board to implement a strategy or strategies that maximize returns for shareholders.
Microsoft has awarded the company's President, G. Mason Morfit, a seat on its Board of Directors. There are two main ways for the fund to seek returns: through dividends and capital appreciation.
Microsoft has a history of rewarding its shareholders. It has bought back a lot of stock and now pays $0.92 yearly in dividends. Windows 8 has been out for nearly a year with underwhelming results. Given that a successful buyback tends to coincide with a stagnant stock price, it just would not have been so fitting for Ballmer to have announced one concurrent with the product's launching. However, particularly if interest rates remain low, Microsoft's new CEO might be inclined to follow the lead of Apple (NASDAQ:AAPL), Oracle (NASDAQ:ORCL), and others in announcing repurchase plans.
It could make sense for several reasons, including the dividend. The current yield is 2.8%, and if it goes up as much as 13%, the company might be able to borrow at lower rates than the 3.1% that would be paid out annually.
Figures prior to the announcement of the acquisition of Nokia's (NYSE:NOK) handset division show Microsoft having $77 billion in cash and investments. A significant amount of it is overseas, consistent with other tech companies, and taxation would be incurred if returned to shareholders in any conventional way. Management deserves some credit for using its offshore funds to purchase Nokia's assets. Yet, pursuant to obtaining a "Tiny, tiny portion of the world's smart phone market" for new leadership to integrate, there should be approximately [$69.6 - $7.2 = ] $62.4 billion remaining outside the country.
The company's balance sheet is enviable. Its credit rating with Standard & Poor's is AAA. If anyone can borrow cheaply, it should be the Redmond software giant.
A consideration stems from the fact that when a company borrows, its Enterprise Value ("EV") increases. Also, some of a buyback can be funded through Free Cash Flow ("FCF"), which has trended up through recent years (third graphic below). Therefore Microsoft's EV / FCF ratio would probably go up through a new buyback plan.
However, the stock trades near its year to date high at 8.8x, but substantially lower than in the past. Further, the ratio can still increase considerably and be lower than the company's price to earnings multiple as shown in the following chart: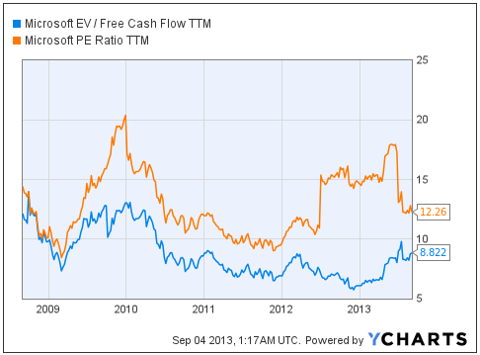 Also, new debt might be a favored method because some aspects of the company's operations would not typically bode well for capital returns to shareholders. Operating income is lethargic, and there has only been a somewhat better trend in operating cash flows.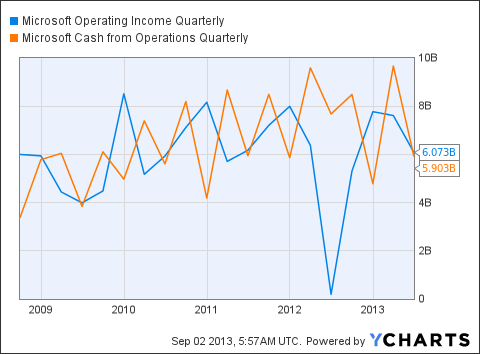 Other metrics are auspicious. According to YCharts, FCF has trended up in recent years. The share count has in fact decreased considerably since 2005, although buyback activity has been decreasing. Here is a chart: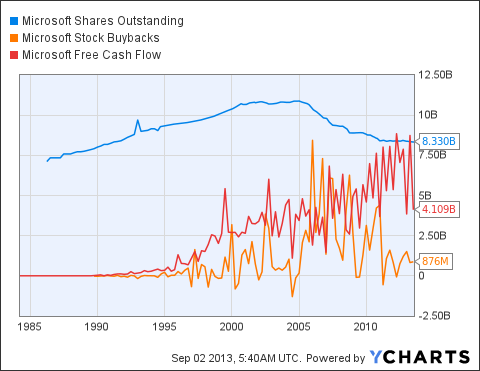 The share price has risen 26% over a decade, lagging the S&P 500 which is up 55%. If the amount of stock outstanding decreases further, per share figures, i.e. earnings and FCF, increase. Provided multiples remain the same, the price should rise. If this is not something ValueAct specifically has in mind, it must be something the fund's leadership has considered at length.
Steve Ballmer is moving on. A fund intent on maximizing shareholder returns is taking a seat on Microsoft's Board of Directors. Any news of increased stock buybacks in the not-so-distant future would not be surprising as they may lead to capital appreciation.
Disclosure: I have no positions in any stocks mentioned, but may initiate a long position in AAPL over the next 72 hours. I wrote this article myself, and it expresses my own opinions. I am not receiving compensation for it (other than from Seeking Alpha). I have no business relationship with any company whose stock is mentioned in this article.