'Opportunity is missed by most people because it is dressed in overalls and looks like work.' - Thomas Edison
The same can be said of investors who miss the opportunity to invest in small cap stocks. Investors who filter companies based on revenue can miss a company like Conns (NASDAQ:CONN), which is below the $1 billion mark. However, they should bear in mind that revenue growth is as important metric as revenue itself when considering good investments.
Conns' diversified portfolio of products includes home electronics, furniture, home appliances, and home office products, all of which are sold through its retail stores. Conns posted annual revenue of $251.06 million in the first quarter of fiscal year 2014, showing a robust year over year growth of 25%.
It is interesting to look at Conn's stock price, which has grown by 116.1% this year. Some investors may be skeptical of the future growth potential of a stock that has grown more than 100% growth in such a short time.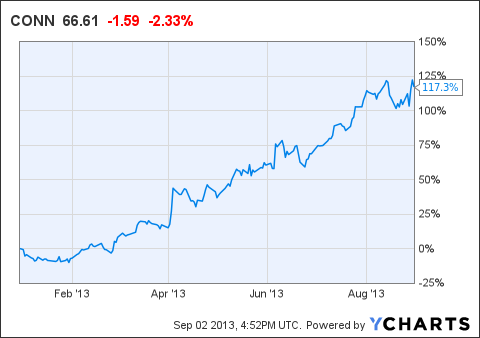 However, we at Fusion Research believe that there is still an upside potential for this stock, even at the current levels. Over the last twelve months, Conns has been surprising its investors by providing a low earnings guidance and beating its own guidance every time it comes out with its quarterly results. When it reported its latest quarterly results, Conns provided EPS guidance of $2.50 to $2.65 for the fiscal year 2014.
Based on the company's trend of regularly posting earnings higher than its own guidance, we can make a safe estimate about the stock's target price; the current P/E and the forward P/E for the stock is around 37.29 and 19.37 respectively. We apply a modest price to earnings ratio of 28 (midpoint of current P/E and forward P/E) to the company's forward earnings guidance. That gives us a target of $70 to $74.2. Conns beat its earnings guidance by an average of 17% over the last four quarters. Factoring in the average earnings surprise of 17% into the forward earnings guidance, we get a new target price of $81.9 to $86.8 for the 2014 fiscal year-end. Considering, that the stock is currently trading around the mid-sixties mark, there is still a significant upside potential of about 25%.
To beat its own earnings guidance though, Conns needs to have factors that will drive its future earnings.
It will be interesting to look at the tailwind opportunities that will drive the future earnings, and corresponding stock price growth, for Conns.
Riding on growing demand
· Promising furniture segment
The highest margin products for Conns are in both the furniture and mattress, and home appliances, segments at 48.3% and 33.6% respectively. The company derives strength from the sales of items such as sofas, beds, and large appliances. Furniture and appliances are tangible goods and people prefer to look, touch, and feel the product at the retail stores. According to an IBISWorld forecast for the year 2013, U.S furniture stores will derive only $9 billion revenue from online sales out of the total $65 billion annual revenue. This shows that people are much more likely to buy furniture at retail stores, compared to buying it over the internet. Customers coming to retail stores to buy furniture are also likely to buy consumer electronic products needed for domestic use.
The furniture and mattress segment is particularly important because it contributes 26% of Conns' revenue. This segment's revenue increased 70% year over year in the first quarter of fiscal year 2014, which is a reflection of strength across the industry. The company further expects that its furniture and mattress segment will contribute around 35% of its revenue in the near-to-medium term. This will also drive higher earnings for Conns, as this segment's gross margin of 48.3% is the highest across all its segments.
· Same stores sales improving
Another indicator of the company's growth is its same stores sales growth. Conns reported an annual same stores sales growth of 16.5% in the first quarter of fiscal year 2014. In the previous fifteen months, ending in April this year, Conns opened seven new stores, closed down two non-profitable stores, and remodeled and expanded 22 existing stores in the U.S. The new stores have 35,000 square feet of floor space, which is an expansion over the earlier 25,000 square foot stores. Conns plans to open 10-12 new stores in fiscal year 2014 and stays on track to meet its guidance of 8%-13% same stores sales growth this year.
We think that the company is on track to achieve its guidance because of the rise in US housing starts. Housing starts is an economic indicator of the number of new homes being constructed. A rise in housing starts causes a corresponding rise in furniture and home appliance demand. US housing starts were 782,000 units in 2012. According to the UCLA Anderson forecast, this number is expected to rise sharply to 1.03 million in 2013, 1.35 million in 2014, and 1.56 million by 2015. This increase will trigger a corresponding rise in demand for home furnishing solutions, which is beneficial for Conns' growth prospects.
However, there is some concern about the bullish outlook on the US Housing starts. According to a Bloomberg report last month, US Housing starts saw a steep monthly decline of 13.4% in July this year. This is the sharpest decline in the monthly rates in more than three years. The decrease in new home purchases is attributed to the rise in borrowing and mortgage costs. However, the fundamentals for housing are still favorable. In July this year, permits for future home construction grew by 2.7%. Since permits are more than housing starts, economists expect housing construction activity to continue increasing. An economist at RBS believes that builders may be holding back on new construction to benefit from higher prices in the future. The National Association of Home Builders, which gauges builder perceptions of US Housing Starts, also has a bullish outlook on the US housing starts over the next six months.
Conns expects to bank on the strength of housing starts, which will trigger demand for its products. The increasing demand will fuel same store sales growth.
Conns derives over 75% of its revenue from its product sales out of its retail stores. We have observed that the company has posted incremental revenue from product sales by reducing costs, which has resulted in gross margin expansion. Conns posted a net income of $22.2 million, on $190.86 million revenue from product sales, in the first quarter of fiscal year 2014. Net income was 11.62% of the product sales, which it achieved with a gross margin of 35.3%. We make a conservative estimate and assume that the company achieves a gross margin of 38% and same store sales growth of 11% this fiscal year (at the midpoint of the company's guidance).
This will increase the net income to 12.5% of the product sales. Conns had 68 stores at the beginning of this fiscal year. Factoring in the revenue from the additional 10-12 stores that the company plans to open this fiscal year, and the same store sales growth of the earlier stores, the company can post product sales revenue of $785 million in fiscal year 2014. We have arrived at this revenue figure considering that the company will derive only 50% of average revenue per store from the new stores over the full fiscal year. Net income, at 12.5% of product sales, will be $98.1 million. This will result in an EPS of $2.80, which is well above the company's guidance. Given the company's ability to beat its own guidance in the past, we believe that this EPS target is achievable. This supports our thesis of a significant upside in the stock price.
Peer Outlook
Best Buy (NYSE:BBY) and RadioShack (NYSE:RSH), both of which sell electronic appliances, do not pose a strong investing opportunity as Conns.
Best Buy is currently going through a turnaround phase. It reported an annual decline of 58% in net earnings, which dropped to $0.32 per share in the first quarter of fiscal year 2014. Its revenue also dropped by about 10% annually, to $9.38 billion. Though, Best Buy has taken corrective steps to counter this situation by adding 'Samsung Experience Shops' to its stores, and reducing its international exposure by divesting 50% stake in Best Buy Europe to its joint venture partner. However, we think that the turnaround efforts will not be earnings accretive before fiscal year 2015.
On the other hand, RadioShack seems to be going through a terminal decline. Its stock price has already declined by more than 85% in the last three years. RadioShack has posted a net loss for six consecutive quarters. Though, it instituted a 100-day turnaround plan in February, with new concept stores added to its smaller format retail stores; but the consumers haven't responded positively to this move.
Banking on subprime customers
Subprime lending refers to giving loans to people who face difficulty in maintaining their repayment schedule because of unemployment, medical emergencies, or other such difficult situations. These loans are characterized by higher interest rates and poor quality collateral, which allows the lender to compensate for the higher credit risk these subprime consumers pose. The companies that operate in a highly competitive environment need to differentiate themselves in order to stay ahead of the competition. Conns' point of differentiation is its proprietary in-store financing, which serves a subprime customer.
In-store finance tempts the subprime customer to purchase goods on loan. The customers availing in-store finance are allowed an interest-free repayment period. However, the lender benefits the most from the defaulting customers, who fail to pay the loan on time, as these customers are then required to pay heavy interest. Since subprime customers have a higher probability of defaulting on their loan repayment compared to other customers, the companies offering in-store financing use this strategy to their advantage. Conns has the first-mover advantage compared to its peers regarding in-store financing.
Conns has discovered that subprime customers find the in-store financing options more attractive than the discounts that are offered on products. This allows the company to reduce the discounts on their product offerings, which helps drive higher profit margins. Conns' advertising campaigns target subprime customers, and it strategically located the new stores with the convenience of this customer base in mind. This credit program is helping to increase sales on merchandise like furniture and home appliances, which have the higher profit margins.
Conns offers credit to those customers who have low FICO scores. These scores range from 350 to 850, and any score above 750 is considered excellent. Conns has more than 60 million customers who have FICO scores around the 550 mark. The credit service segment's revenue showed annual growth of $12 million in fiscal year 2013, and it posted an additional 22% yearly growth in its latest quarter, reporting revenue of $41.3 million.
As the company entices more customers into the credit market, same store sales grow and the profit margin rises. The overall gross margin for Conns increased from 28.7% in the first quarter of fiscal year 2013 to 35.3% in the first quarter of fiscal year 2014. This implies that the company is able to exploit this niche market. Additionally, the U.S. is a credit-based economy, and Conns' ability to address this specific need makes it very popular among customers. Conns' first-mover advantage in the credit-based market makes it uniquely positioned amongst its competitors for attracting footfalls. With this strategy, Conns remains on course to achieve its gross margin target of 38% in this fiscal year.
Conclusion
Some investors can have a myopic view when looking for good investments. For these investors, decisions are usually plagued by the adage - 'the bigger, the better.' However, investors should consider that while big cap companies may provide stable growth, the growth is usually stunted because of the size of the companies and saturation of the markets in which they operate. Small cap companies may not have the economies of scale for their growth, but they usually aren't crippled by saturation in the markets in which they operate. Hence, if you love investing in great businesses, and find high growth companies appealing, Conns should be your calling.
Disclosure: I have no positions in any stocks mentioned, and no plans to initiate any positions within the next 72 hours. I wrote this article myself, and it expresses my own opinions. I am not receiving compensation for it (other than from Seeking Alpha). I have no business relationship with any company whose stock is mentioned in this article.