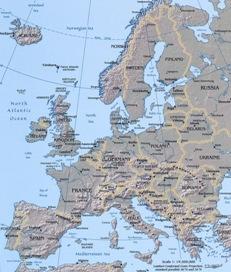 Want to get live news alerts from UK companies in your email inbox? Looking for latest financials on German stocks? Confused about the share ownership of an Italian firm? No problem! After reading this article you should be equipped with some basic tools to help you navigate through various European countries in your quest for good investments. And the best part about it: Most of the resources we present here are absolutely free.
To start off, a user-friendly stock screening tool is available at Digital Look. Although sign-up is required, the screens are free to use. The site allows screening for stocks in eleven European countries, including the major markets of the U.K., Germany and France. Once a few companies are identified from the screen as potential targets, which country each company is domiciled in largely determines what resources are available for further research.
Unlike in the U.S. where investors can turn to the SEC's website for company filings, there is no central filing database for all European companies. Filings are typically made with each country's stock market regulator via publication on the relevant stock exchange. Of course, individual company websites provide comprehensive information and are a good way to find out about latest announcements and download financial reports and presentations. Sometimes, however, share ownership information will not be displayed on the website and may be easier to find elsewhere. In the case of Italy, for example, ownership information is available at the central depository of the Italian securities market regulator CONSOB.
In terms of filings, European companies typically report on a semi-annual basis rather the quarterly basis that is commonplace in the U.S. There are exceptions, however, especially at the big-cap companies that also have listings in the U.S. Such companies may report on a quarterly basis. Also, many U.K.-based companies have started publishing so called "Interim Management Statements," which are a fancy word for earnings updates released between the semi-annual reports.
Lastly, it's worth pointing out that most companies publish annual reports in English as well as in their local language. Based on our research team's history of interaction with the investor relations departments of European companies, we have observed that European companies no longer regard the IR function as purely administrative. European IR representatives are in most cases knowledgeable about their companies' businesses, they are accessible to private investors and speak fluent English. As a result, you should not hesitate to use IR as a point of contact when doing fundamental research on a European company. If you do so, come equipped with some probing questions so that you are not simply listening to a company's "pitch."

The following list includes websites you may find helpful when researching European investment opportunities.

UK/Ireland
Investegate: Live provider of all announcements from UK quoted companies. Includes a free sign-up service to receive email alerts when new announcements are published.
London Stock Exchange: Provides downloadable reports with basic information on listed companies.
Hemscott: Provides basic information on 2,350 UK and Irish listed companies. Also has premium services available on a subscription basis.
Trustnet: Provides information on closed–end and open-end funds.
Takeover Panel: Official information on UK takeover bids and related regulations.
Companies House: Provides information on private UK companies. (nominal fees apply)
Germany
Frankfurt Stock Exchange: Provides basic information on listed companies.
Onvista: Provides basic information on German companies and related premium services. (in German)
Insiderdaten: Provides information on insider transactions for Germany companies. (in German)
Switzerland
Swiss Stock Exchange: Provides basic information on listed companies.
France/Holland/Belgium/Portugal
NYSE Euronext: Provides basic information on listed companies. Participating exchanges include Paris, Amsterdam, Brussels and Lisbon.
Sweden/Finland/Norway/Denmark/Iceland
Nasdaq OMX Nordic: Provides basic information on listed companies. Participating exchanges include Stockholm, Helsinki, Copenhagen and Iceland. Information on Norwegian companies listed on OMX is also available.
Italy
Italian Stock Exchange: Provides basic information on listed companies.
Consob: Provides information on share capital and major shareholders of Italian companies.
Spain
Madrid Stock Exchange: Provides basic information on listed companies.
CNMV: Provides information on Spanish companies including major shareholders.
Eastern Europe and Other Markets
Site-by-site: Provides links to official stock exchange and national bank websites in individual countries.
Nasdaq OMX Baltic: Provides basic information on listed companies in Estonia, Latvia and Lithuania including financial reports.
Other
Digital Look: Provides a stock screening tool for selected European countries. (free sign-up required)
Renaissance Capital: Provides information on foreign IPOs listed on U.S. markets. Service allows search by foreign country.
European Value Report: Idea-oriented research publication of The Manual of Ideas, featuring two European stock picks per month