IBM (NYSE:IBM) investors, I've got great news for you: your IBM shares dropped from an all-time-high of over $215 per share in March to less than $185 a share currently!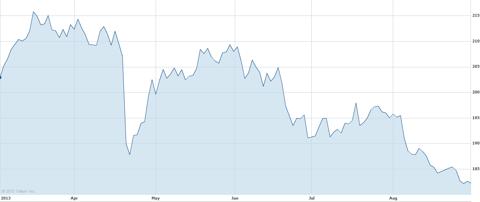 (Source: Yahoo! Finance)
OK, I sense that you are unhappy about the drop, but you shouldn't be. How can a drop in share price be great news for investors? Let me explain.
A History of Shareholder Friendly Policies
IBM is one of the most shareholder friendly companies on earth with a strong history of share buybacks and dividends. Since 2000, IBM has returned almost $150 billion to shareholders-paying $26 billion in dividends and reducing the outstanding share count by over 35%.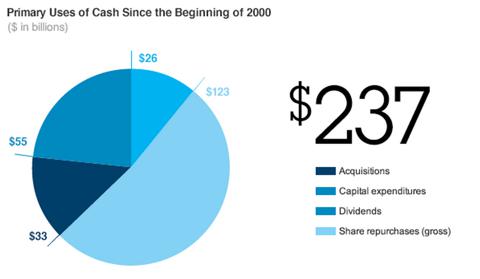 (Source: IBM 2012 Annual Report)
Every 5 years, IBM comes up with a "Roadmap", which is essentially a 5-year plan that guides the company's strategic priorities. In the 2015 Roadmap, IBM is not showing signs of slowing down: the company is currently on track to repurchase $50 billion of shares and pay out $20 billion in dividends by 2015.
How Shareholders Benefit From Depressed Price Levels
The beauty of owning a steady-growth company that is very aggressive about buying back shares is that you will benefit under all market conditions (financial market conditions that is). If shares are expensive, you may realize gains by selling your shares. If shares are depressed, you can just sit back and enjoy the magic of share repurchases. Let's look at the numbers:
(Source: CJMoney.com estimate based on $50 billion in share repurchases and 1.1 billion shares outstanding.)
If IBM repurchases $50 billion of its own shares at an average price of $210 per share, then the company will be able to repurchase 238 million shares, reducing outstanding shares to 862 million - this is our base scenario. Since April, the drop to the $180's level should enable IBM to repurchase an additional 40 million shares, or 17% more shares than the base scenario, with the same $50 billion if an average repurchase price of $180 can be achieved. As a result of this drop, earnings and dividend per share should be boosted by approximately 5%, all else equal.
How Long Will It Take For Shareholders to See the Benefits?
Now, the question is how long will it take investors to see the additional 5% boost in earnings and dividends per share.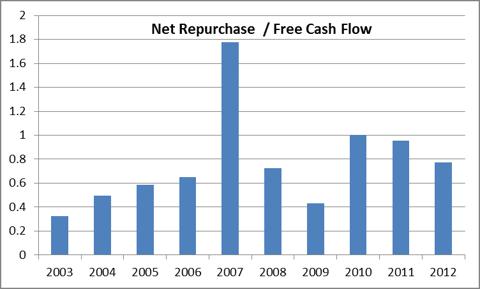 Since 2003, IBM has diverted an average of 77% of free cash flow towards share repurchases. Modeling a 5% increase in free cash flow per year (which is the average increase in FCF since 2003) and 77% of free cash flow used towards share repurchases, IBM should able to retire $50 billion worth of shares in a little less than 4 years.
Conclusion
Given a $30 price drop (from $210 to $180) in IBM shares and assuming historical growth of 5% in free cash flow, investors can expect to see a not-insignificant 5% boost in earnings and dividends per share in a little less than 4 years. If share price drops more, the benefits will be greater. The converse is also true: advancing IBM shares will negatively impact the benefits of IBM's share repurchases.
So, IBM investors, cheer up, the drop in IBM share price should be great news to you. Remember the wise words of Benjamin Graham: the Market is there to serve you, not instruct you.
Disclosure: I am long IBM. I wrote this article myself, and it expresses my own opinions. I am not receiving compensation for it (other than from Seeking Alpha). I have no business relationship with any company whose stock is mentioned in this article.