Hewlett Packard (NYSE:HPQ) lost nearly half of its gains for the year after the company reported weak revenue from the enterprise market, reshuffled its management team, and did not expect revenue to grow for the fiscal year.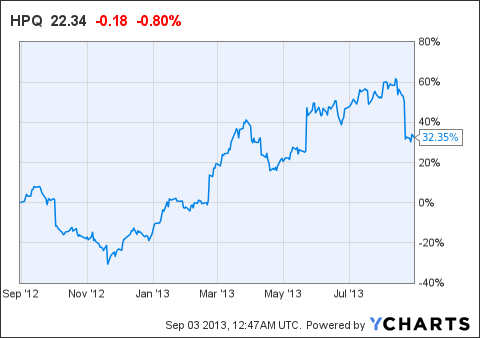 Investors hoped the company would turn around its operations more quickly, but HP reiterated that restructuring its business for growth will take five years. With earnings per share (non-GAAP) expected to be as high as $3.57, HP is valued at just 6.3 times its forward P/E. Even though PC demand is still dropping, there are six reasons why HP is on a slow but steady comeback.
1) Lower Debt
HP reduced its cash conversion cycle to 18 days, down from last year when the cycle was 27 days. On its conference call, HP said that operating cash flow was $2.7 billion and free cash flow was $2 billion, while net debt was reduced by $1.7 billion. HP now has $1.2 billion in debt. The debt reduction is an improvement from the first quarter of fiscal 2012, when HP had $10.6 billion in debt.
HP's long term debt also improved. Debt was $17.1 billion in the third quarter ended July 31, 2013, compared to $21.8 billion as at October 31, 2012.
| | | |
| --- | --- | --- |
| Current liabilities: | Jul 31 2013 | Oct 31 2012 |
| Notes payable and short-term borrowings | 7,624 | 6,647 |
| Accounts payable | 13,293 | 13,350 |
| Deferred revenue | 6,571 | 7,494 |
| Other accrued liabilities | 13,470 | 14,271 |
| Total current liabilities | 46,012 | 46,666 |
| Long-term debt | 17,124 | 21,789 |
| | (millions $) | |
Source: HP
2) Focus on Enterprise
In the third quarter, revenue in Enterprise Services declined 8.7%. To reverse the decline, HP appointed Bill Veghte as EVP and GM of the Enterprise Group. Veghte was previously HP's COO. In his new role, he will be leading building the converged infrastructure and software-defined data center businesses.
Additional major wins could support better enterprise results in future quarters. HP managed to win a $3.4 billion contract over five years with the United States Department of the Navy for its Next Generation Enterprise Network.
3) Share Buyback
HP bought back only $3 million last quarter. The company plans to resume the previous pace of a share buybacks. This should help limit the downside in its share price.
4) Improving Printing Margins
HP reported better hardware printer sales last quarter. The company plans to drive sales of HP-branded ink. The strategy includes such initiatives as Ink in the Office, Ink Advantage, Ink Subscription, multifunction printers, and managed print services. Over the next several quarters, investors should expect print profit margins to rise.
5) M&A Activity
HP could resume merger and acquisition (M&A) activities at some point in the future. The company remains cautious, because the poorly thought out acquisition of Autonomy is still fresh in the minds of management. HP could identify the need to have a mobile solution in the enterprise space. A board member at BlackBerry (NASDAQ:BBRY) recently resigned his position because he did not want be in a conflict of interest situation as the smartphone maker sought privatization. BlackBerry is a strong player in secure mobile messaging, and is in the early phases of encouraging corporations to upgrade to servers running Blackberry 10. HP might find BlackBerry to be a strategic fit.
HP may choose instead to return excess cash to shareholders in the form of a share buyback and dividends.
Risks
Enterprise spending was weak, and the management reshuffle may not improve sales in the near term.
The spending environment for Europe and China were both weak for HP. This could continue to weigh on results.
Sales in the PC segment declined again last quarter. Revenue from the Personal Systems segment was $7.7 billion, down 11% over the prior year, led by a 22% drop in consumer sales. Growth in the Asia-Pacific region and in India helped offset the magnitude of decline. This, along with moderate back to school sales in the current quarter, should help support sales in the current quarter.
Bottom Line
The turnaround plan for HP is going to be slow. Investors overbid its shares prior to the quarterly results announcement, expecting things to improve sooner. HP still faces multiple headwinds in the enterprise and consumer space, but could see some short-term benefits that could limit its revenue decline. Microsoft (NASDAQ:MSFT) is releasing Windows 8.1, which could drive computer sales in October. Autonomy and 3PAR reported strong revenue growth, and this momentum could continue for the rest of the year. Sales in China were weak, but demand for networking in the region was strong last quarter. HP also reduced its workforce drastically by 22,500, and is getting close to completing the cuts. The company plans to reduce headcount by 26,000 by the end of fiscal 2013.
Disclosure: I am long BBRY. I wrote this article myself, and it expresses my own opinions. I am not receiving compensation for it (other than from Seeking Alpha). I have no business relationship with any company whose stock is mentioned in this article.