Encouraged by an article written by Equity Watch on Dr. Pepper Snapple Group (NYSE:DPS), I have decided to expand on the valuation part with a DCF/SOTP (sum of the parts) input. What caught my eye is DPS' ability to generate free cash flows (almost $3B since its spin-off in 2008), pay sharply increasing dividends, and buy back shares at a high rate.
Dr. Pepper Snapple Group is a Texas-based soft drink company that operates in three segments (Beverage Concentrates, Packaged Beverages, and Latin America Beverages) and owns 58 brands. The company generated over $6B in revenues in the past twelve months, earned an EBITDA of $1.2B, and posted a Net Income figure of $659M. Revenues have grown at a CAGR of ~4% since 2006, having slowed down to a growth rate of about 2% (in fact, this is the figure for 2013 full year guidance). Dr. Pepper has consistently maintained an EBITDA margin of ~20% and has held a Net Income margin of a little of 10%. Let us see where these metrics place Dr. Pepper among the competition: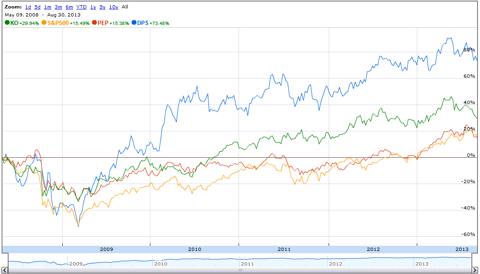 Click to enlarge
(Click to enlarge)
As we can see, despite the superior return in terms of capital appreciation Dr. Pepper's stock is still trading at the lowest P/E in the peer group. It also is the only stock that has a dividend yield above 3% in the group; the dividend surpasses the ones of PepsiCo Inc. (NYSE:PEP) and Coca-Cola (NYSE:KO) by an average of 50 basis points. Dr. Pepper's return-on-equity (ROE) is comparable to Coca-Cola's and PepsiCo's, while its absolute EBITDA is on the lower end of the spectrum.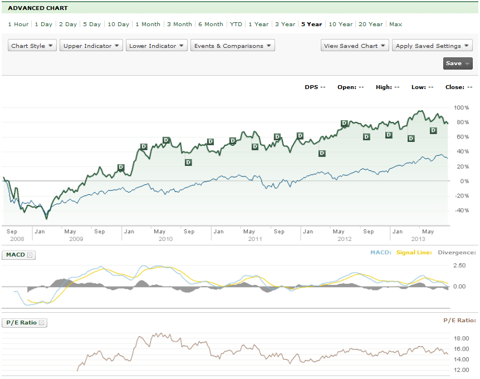 Click to enlarge
(Click to enlarge)
The company has been paying dividends steadily since the beginning of 2010: $194M (2010), $251M (2011), and $284M (2012), yielding a CAGR of 13.5%. This figure is even higher per share because of the buyback effect.
From the chart we can also see that the stock has consistently outperformed the broader S&P 500 index and has stabilized its P/E range between about 15X and 17X.Currently, Dr. Pepper's equity is trading on a lower part of the range at ~15.3X LTM earnings.
Historicals
After the spin-off from Cadbury in 2008 Dr. Pepper Snapple Group has been reporting modest revenue growth and steady EBITDA and Net Income margins: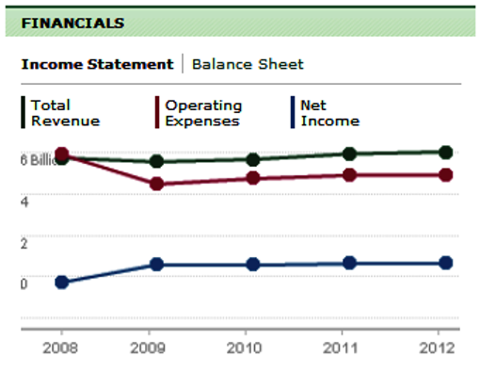 Click to enlarge
(Click to enlarge)
Free cash flow generation has been superb: even after paying dividends the company had a sufficient cash cushion and enable it to start the stock repurchasing program. Largest buy-backs to-date occurred in 2010 ($1B), although the company is planning to spend between $375M and $400M in 2013 (and possibly similar amounts in years to come). A graphical illustration of the buy-back program is as follows:
In terms of numbers, the CAGR in reduction of the total shares outstanding has been around 3.3%, while the overall amount of shares has fallen by ~20% since inception, thus partially fueling EPS growth. This has not gone unnoticed before the market in terms of trading multiples: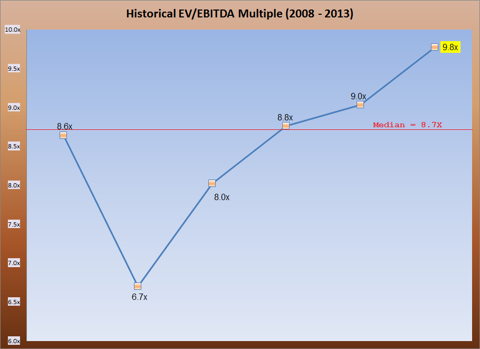 Click to enlarge
(Click to enlarge)
Thus, the current Enterprise Value mix is as follows: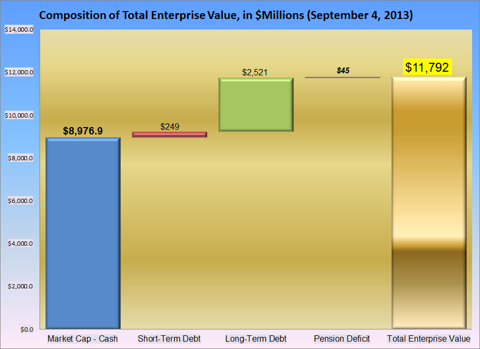 Click to enlarge
(Click to enlarge)
Second Quarter of 2013 Review
Equity Watch pretty much covered the presentation in the article. In essence, volumes were down as soft-drinks have been in a declining trend for a number of years due to health awareness and sales were slightly down on year-on-year (YoY) basis, although LTM numbers are flat. I read the transcript and would like to show readers a couple of interesting excerpts:
------------------------------------------------------------------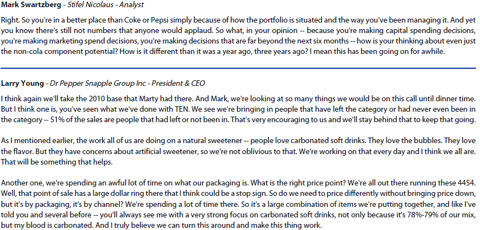 Click to enlarge
(Click to enlarge)
Valuation
It has almost become a tradition for me to conduct a fundamental analysis (typically, DCF and SOTP) of my own, while posting a technical review from a third-party agency. My DCF typically has lower-than-agreed-upon growth rates and holds margins on the lower end of the historical ranges. I also use analysts' estimates to build a P/E sensitivity matrix, which I discount to present value appropriately.
P/E Sensitivity Table
The following data has been obtained from the TD Waterhouse's trading platform and modified to reflect share price estimates: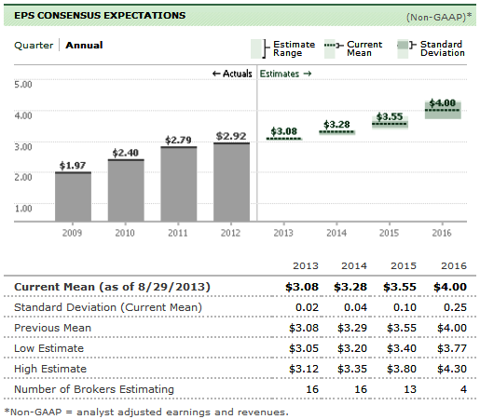 Click to enlarge
(Click to enlarge)

The readers may see that the current market price has been quite below the reasonable targets set by analysts, even considering the pessimistic expectations. Modest growth in EPS is expected in the next three years, while the 2016 estimate has quite a lot of dispersion around it and cannot be used as a solid ground for target stock price calculation.
DCF and SOTP
All the work has been, as always, performed in an Excel spreadsheet available for downloading. The sum-of-the-parts section is mostly performed on revenue growth, while margins are almost always kept on a corporate level. The output of the model is given below: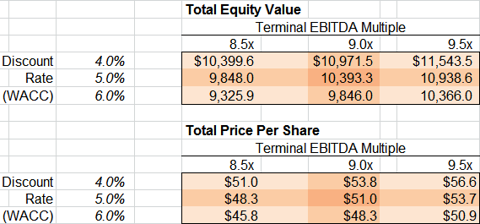 Click to enlarge
(Click to enlarge)
The breakdown of the value drivers is as follows: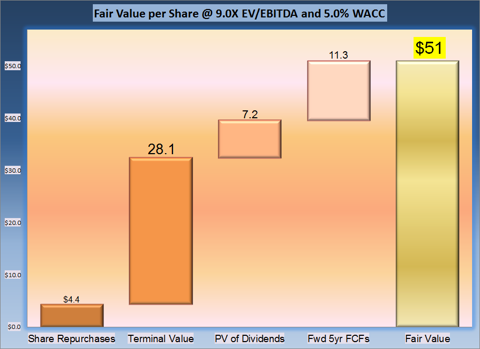 Click to enlarge
(Click to enlarge)
The following pie chart shows the distribution of the value drivers: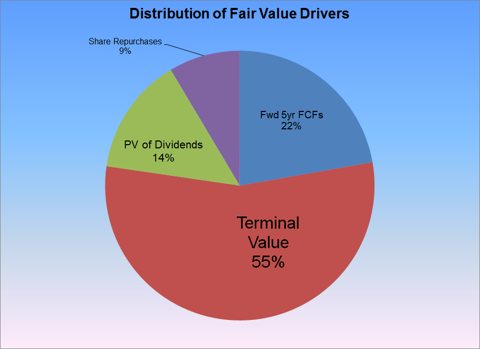 Click to enlarge
(Click to enlarge)
Analysis
Terminal Value represents over half of the total value of the stock, meaning that the market is more or less optimistic about the future of the company. Dr. Pepper is well diversified in terms of value drivers: share repurchasing program goes hand-in-hand with dividends and represent comparable shares of the total pie. Next five year's free cash flows make up almost a quarter of the fair value, which is a sign of robustness of the company's profitability.
Technical Analysis
The following analysis has been performed by Recognia Inc. and accessed through the mentioned trading platform: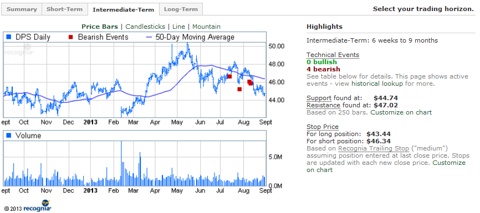 Click to enlarge
(Click to enlarge)
The price is below the 50-day moving average and has recently formed a double-bottom at around $44.50. In the intermediate term, buying opportunities are found around the support level of $44.70, while the next psychological level is at around $47 per share. Recognia suggests that buyers may want to consolidate their positions at levels below $43.50, while short-sellers should not wait after the stock reached $46.30 or so.
Summary
Dr. Pepper is stagnating right now trying to refocus its drinks portfolio according to consumer trends and strongly believes it can succeed in the turn-around. The company has strong free-cash-flow generating abilities and a decent balance sheet (a lot of its liabilities are non-financial). The stock remains the cheapest on the list and offers an above-average dividend yield. In 2013, the stock has traded in the range of $40-$50 per share and now remains just below the average price. Share repurchasing program is expected to continue in the years to come.
Conclusion
I issued a "BUY" recommendation on Dr. Pepper Snapple Group's shares as I see the fair value of the company's equity to be around $49-$53 per share. Besides capital appreciation investors will enjoy steady dividend, which was increased in 2013Q1 by 11.8%.
Analyst Recommendations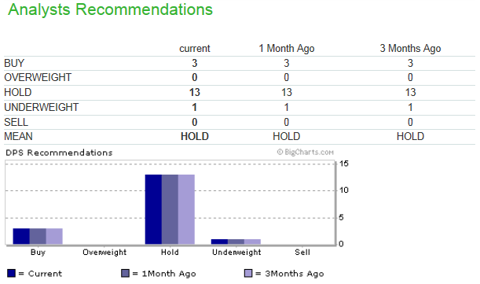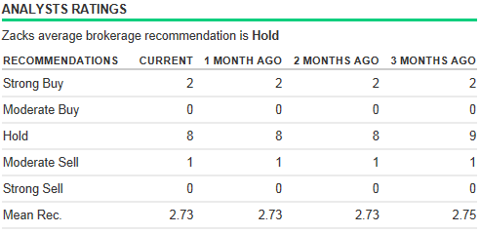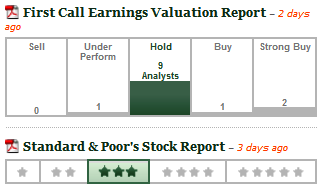 Disclosure: I have no positions in any stocks mentioned, and no plans to initiate any positions within the next 72 hours. I wrote this article myself, and it expresses my own opinions. I am not receiving compensation for it (other than from Seeking Alpha). I have no business relationship with any company whose stock is mentioned in this article.