Broad-based activity in equity markets exhibited a lot of the common characteristics that are typically seen during the summer months. As liquidity and trading volumes slowed, so did generalized price volatility even with passing of some key event risks for investors to assess. The SPDR S&P 500 Trust ETF (NYSEARCA:SPY) also traded in tighter ranges but still managed to lose more than 4% during the month of August. But what is most important to remember at this stage is these trends are unlikely to continue much longer. As markets start to return to full liquidity after Labor Day, we will be faced with an important series of event risks that will give investors a better indication of how central bank policy (on a global scale) is likely to unfold, the level of strength in the US labor market, and in the progress seen in manufacturing productivity in emerging markets.
This week, we have interest rate decisions from five different central banks (in Canada, Australia, the eurozone, the UK, and Japan). Changes in rates are unlikely but the accompanying policy statements will be important for gauging the level of stimulus these regions are likely to inject (or not) going forward. In macro data, we will also see GDP releases from several countries and this will be followed up on Friday with the US Non Farm Payrolls report. The consensus estimates are looking for a monthly increase of 180,000 new jobs for August, along with an unchanged unemployment rate at 7.4%. How the data will likely influence valuations in the SPDR S&P 500 Trust ETF is another story, however, as there is a clear case to be made that stronger numbers will fail to generate sustainable rallies and actually weigh on investor sentiment.
Event Risks Signal End to Summer Doldrums
A better than expected result in the jobs number would mean that the Federal Reserve will almost certainly initiate its 'Septaper,' and begin phasing out its historic quantitative easing program at its meeting later this month. But in any case, a data calendar this significant is simply too much to ignore and the enhanced possibility for near term increases in volatility is likely to catch some traders off guard. Already this week, we have seen manufacturing data out of China that came in at its highest levels in 16 months. Recent weakness in emerging markets has been well documented, as near-crisis levels are seen in Indian and Indonesian currencies, and GDP figures out of China have met skepticism at already disappointing levels.
Taken these factors, it is now clear that the month of September will likely set the tone for the rest of the year. From a central bank perspective, the Federal Reserve is now showing a significant policy divergence when we compare likely changes in policy with what is happening in the rest of the world. It will be important for stock traders that are holding positions in the broader indices to monitor the outcomes of these meetings, as any suggestion of prolonged stimulus or lower interest rates could easily lead to relative underperformance in the S&P 500.
SPY Chart Perspective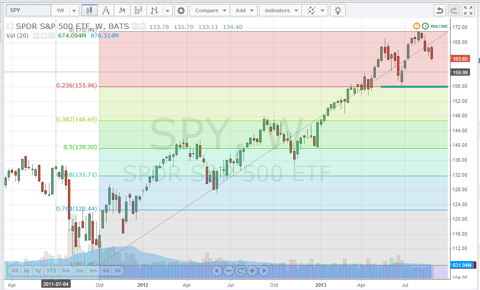 From a long-term perspective, SPY is still holding at elevated levels even with the negative performance seen in August. This suggests that valuations are still vulnerable to potential downside corrections, and strong support is not seen until the 155.90 region. This area is an area of historical demand, as well as the 23.65 Fib retracement of the rally from last October. Price drops into this region should be viewed as a strong buying opportunity, given the strength of the underlying trend.
Disclosure: I have no positions in any stocks mentioned, and no plans to initiate any positions within the next 72 hours. I wrote this article myself, and it expresses my own opinions. I am not receiving compensation for it (other than from Seeking Alpha). I have no business relationship with any company whose stock is mentioned in this article.