NF Energy Saving Corp. (OTC: NFEC.OB) provides emission reduction and energy saving equipment / services for China's rapidly growing cogeneration sector. The Company also manufactures wind power equipment and flow control systems for coal, hydro, and nuclear cogeneration facilities with an additional wind energy infrastructure manufacturing plant in the final stages of construction.
NF Energy is benefitting from a long-term growth trend in China to promote energy efficiency and renewable energy initiatives, in addition to strong growth in the power industry. Growth opportunities for the Company include expanding and diversifying their product, service and consulting offerings within the clean energy infrastructure space in China and other markets such as the recently announced deal in Russia.

The Company also provides energy-saving technology consulting, optimization design services, energy saving reconstruction/ retrofitting of pipeline networks and contractual energy management services for China's electric power, petrochemical, coal, metallurgy and construction industries as well as institutions and municipalities. NF Energy's flow control system equipment regulates the transportation of water, oil, heat, and gas and is the key factor in determining the efficiency in all pipeline systems and can reduce energy usage by 20%.

NF Energy categorizes its business into two reportable segments, including heavy manufacturing and energy saving. Heavy manufacturing includes the production of valves / components and the provision of valve improvement / engineering services. The energy saving segment includes the production of wind energy equipment, the provision of energy saving related reengineering services, and long-term construction projects.
In late September, NF Energy provided full-year revenue guidance for 2009 of $24 million, representing an increase of 52% from the prior year ($15.8 million) and including an expected breakdown of $7.4 million and $9.6 million during 3Q / 4Q09, respectively, with 3Q09 results expected on or about 16-November. The Company attributes the robust top-line growth to several of its clean energy infrastructure business segments, including energy conservation / cogeneration, emissions reduction, and water supply.

Since providing the updated 2009 revenue guidance, NF Energy announced that the Company won bidding on Phase I of the Dahuofang Water Supply Project. NF Energy will supply more than 70 sets of butterfly valves to the project that will be delivered by April 2010 and represent revenue of $480,000 which is set to be recognized. The Company plans to follow up on bidding for the next phase of the water supply project, which represents $132 million of total investment and 2.1 million cubic meters of water supply to Shenyang City.
In early October, NF Energy announced a $700,000 order for an energy-efficient flow control system for a Russian Hydro Power Plant. Once the project is completed, NF Energy expects to sign another contract for additional systems worth $2.9 million. At the end of September, the Company announced that it delivered an energy-efficient flow control system valued at $900,000 to the Yunnan Amojiang Hydro Power Plant, which represented a follow-on order from a previously announced deal in July.

In late August, NF Energy announced a new ticker symbol (previously NFES.OB) in conjunction with a 1-for-3 reverse stock split of its common stock. The Company chose to conduct a reverse split even though it was trading at $1.75 on a pre-split basis at the time as part of an overall strategy to obtain an upgraded stock listing on either the AMEX or NASDAQ.
In addition, as NF Energy continues its robust growth and begins trading consistently above the $5 per share level; it is expected to attract the attention and investment dollars of institutional investors and fund managers as a play on both clean energy infrastructure and the growth in China. The higher stock price will also aid efforts to raise additional capital to fund the Company's capital intensive growth strategy in China which requires additional manufacturing capacity such as the wind power facility that is being constructed.

During 2008, 69% of the company's revenue was generated from the production and sales of energy-saving valves, intelligent valves, and flow control equipment while 31% was generated from energy efficiency consulting and retrofitting services. In 2009, NFES expects product revenue to account for 89% of total sales. Conservative estimates call for 8.5-9.4% annual power consumption growth in China from 2010-2015 as rapid GDP growth in the country fuels consistent growth in power usage.

China currently has 800GW of generation capacity, which ranks as the second largest installed capacity in the world behind only the U.S. In addition, China is expected to add 140GW of new power generation through 2010. Per capital electrical consumption has experienced 11% annual growth over the past decade in China due to rapid urbanization and growing consumer income levels.
Currently, China depends on inefficient coal power for more than 75% of its power generation capacity. At the end of 2007, coal power generation contributed to 77.7% of China's installed capacity compared to 20.4% for hydropower, 1.2% for nuclear, and 0.7% for wind + others. Hydropower, nuclear, and wind power are expected to gain more than 2% of the total power generation distribution mix with nuclear power capacity share increasing by over 1.5X.
Emissions reduction is an important criterion in evaluating the performance of the leaders of local governments and large state owned enterprises in China. NF Energy has teamed up with leading multinational companies in this field such as General Electric (NYSE: GE), Schneider Electric (OTC: SBGSY.PK), and Honeywell (NYSE: HON) to provide innovative energy saving solutions to its clients.

NF Energy has 13.3 million shares of common stock outstanding with a trailing 12-month EPS of $0.27 and P/E of 15.8X based on the last closing price of $4.20 per share and market cap of approximately $56 million. The Company ended 2Q09 with $1.5 million in cash / equivalents, $0.5 million in capital lease obligations, and no short or long-term debt. Based on 2009 top-line guidance, NF Energy is trading at 2.3X forward revenue and a price / earnings to growth (PEG) ratio of less than 0.5X with favorable long-term growth trends that bode well for continued success in the future.
NF Energy ended 2Q09 with $11 million in cash receivables, $2.7 million in accounts payable, and reported revenue for the quarter that exceeded guidance by 137%. At the time, NF Energy noted that its business continues to accelerate in 2H09 (aided by the China economic stimulus plan), including widespread utilization of the company's energy-saving products and strong demand for wind power infrastructure components.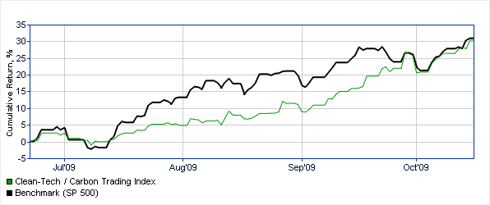 Disclosure: Long NFEC.OB
See my full disclaimer at MikeHavRx.com (bottom of any page).