Deciding on what metric(s) to use to weight portfolio holdings is often a challenge to the individual investor. For an ETF it is the overriding principle driving the investing strategy.
The gold standard has long been cap weighting: a fund holds stocks according to their market capitalization. A cap-weighted, large-cap fund will have the likes of Exxon, Apple and General Electric in its top holdings year after year. Cap weighting dominates among ETFs but other strategies are gaining ground. Equal weighting has been much discussed here and elsewhere, and seems to be on an ascendant path. Equal-weighted funds, as the name implies, hold equal dollar values for each stock in their portfolios. An equal-weighted fund with 100 holdings will have each making up about 1% of its total portfolio. Two other, less common, methodologies are dividend weighting and revenue weighting. I will discuss this last one in some detail in this article.
But first a brief word on the other two options to cap weighting. Equal weighting has a lot to recommend it. It tends to lead to a more broadly diversified portfolio. Possibly more important is that it demands regular rebalancing resulting in regular profit taking and allocating capital gains to the cheaper stocks in the mix. This institutionalizes a buy-low-sell-high discipline, something many individual investors find among the most difficult aspects of portfolio management.
A dividend-weighted portfolio allocates holdings on the basis of dividend payouts. Holdings are weighted according to the amount of cash paid to investors. Obviously, such a portfolio will emphasize the dividend-paying sectors such as healthcare, consumer goods, energy, and financials. Many of these tend to be sector funds or focused-international (regional or single-country) funds. I considered dividend-weighted PowerShares REIT Portfolio (NASDAQ:KBWY) as my top choice among real estate sector funds in a recent look at that sector. I plan to do a more thorough review of dividend and dividend-yield weighted US equity funds in the near future.
Today, I want to focus on revenue-weighted ETFs. This is a small space, pretty much the province of a single firm, Louis Navellier's RevenueShares. Revenue-enhanced funds rank companies by top-line revenues: companies that do the most sales are the most heavily weighted. There are funds targeting large-cap, mid-cap and small-cap stocks, which I will focus on here. The company also has three additional funds: financial sector, international, and one that follows an index tailored more directly to Navellier's investment philosophy. I want to take a close look at the large-, mid- and small-cap funds. They hold the stocks that comprise the S&P 500 large cap index, S&P Mid Cap 400, and the S&P Small Cap 600, respectively. The difference between these funds and others that hold the same index components is that the stocks are revenue-weighted in the RevenueShares funds. This last fact sets up a real-world experiment testing the concept of revenue- vs. cap-weighting. We can look at the revenue-weighted funds and compare them to their cap-weighted counterparts SPY, MDY and SLY.
The Funds
| | | | |
| --- | --- | --- | --- |
| Fund | RevenueShares Large Cap Fund | RevenueShares Mid Cap Fund | RevenueShares Small Cap Fund |
| Ticker | | | |
| Inception Date | 22 Feb 2008 | 22 Feb 2008 | 22 Feb 2008 |
| AUM | | | |
| Net Expense Ratio | 0.49% | 0.54% | 0.54% |
| Number of Securities | 500 | 400 | 600 |
| AUM | $170.6 M | $136.5 M | $174.0 M |
| Average Daily Volume | 38,124 | 16,104 | 23,138 |
Each of the funds began on the same date, so each has five and a half years of performance data. For each, the fund waives gross expenses in excess of net expense ratio through 28 Oct 2013. Liquidity is a potential concern with the low average volumes for each.
How Does Revenue-Weighting Change The Portfolio?
Revenue weighting does make some intuitive sense; firms that do the most sales receive the biggest weight. Every company has revenues, unlike, say, dividends, but the value of those revenues can vary widely. Businesses in high-margin sectors will derive higher market caps from the same revenues than will those in low-margin sectors. This means revenue weighting will tend to emphasize those low-margin sectors.
Let's compare, for example, the top 10 holdings of RWL and SPY, both holding the same 500 stocks, remember, but on a revenue-weighted vs. cap-weighted basis. I'm choosing this set for a detailed look because the companies are familiar to nearly everyone.
Top Ten Holdings

RWL

SPY

1

Wal-Mart Stores Inc. (WMT): 4.23%

Exxon Mobil Corporation (NYSE:XOM): 2.79%

2

Exxon Mobil Corporation (XOM): 3.97%

Apple Inc. (NASDAQ:AAPL): 2.58%

3

Chevron Corp. (CVX): 2.10%

Microsoft Corporation (MSFT): 1.80%

4

Phillips 66 (PSX): 1.68%

Johnson & Johnson (JNJ): 1.68%

5

Berkshire Hathaway Inc. Class B (BRK.B): 1.66%

General Electric Co. (NYSE:GE): 1.67%

6

Ford Motor Co. (F): 71.45%

Google, Inc. Class A (GOOG): 1.64%

7

Apple Inc. (AAPL): 1.491%

Chevron Corp. (NYSE:CVX): 1.60%

8

General Electric Co. (GE): 1.33%

Procter & Gamble Co. (PG): 1.47%

9

Valero Energy Corporation (VLO): 1.26%

Berkshire Hathaway Inc. Class B (NYSE:BRK.B): 1.42%

10

CVS Caremark Corp. (CVS): 1.20%

Wells Fargo & Co. (WFC): 1.41%
Wal-Mart, a low-margin business, is the top holding in RWL at 4.23% of the portfolio, but is missing from SPY's top ten. The number 3 holding in SPY is MSFT; this high-margin company fails to penetrate the top 10 of RWL. This situation is much more evident moving down the cap-size spectrum. In the mid-cap arena, the comparable funds have only a single common entry in their top 10 (HollyFrontier Corp. (NYSE:HFC)). The two small-cap funds have none in common.
Note that RWL has 20.28% of its holdings in the top 10; for SPY it's 18.06%. This discrepancy becomes much greater for the smaller cap funds: Mid-cap RWK has 20.18% vs. 7.37% for MDY, and for small cap RWJ it's 12.82% vs. 5.29% in SLY.
How Does Revenue Weighting Affect Performance?
Interpreting performance comparisons is unusually straightforward for this analysis. The revenue-weighted funds hold exactly the same stocks as other popular ETFs that follow the same indexes. This provides an unequivocal opportunity to answer the question on how well does the revenue-weighting model compare. At first look, the answer is "Very well, indeed" as the following charts comparing each to its counterpart SPDR fund over the last year demonstrate.
1yr charts
Large Cap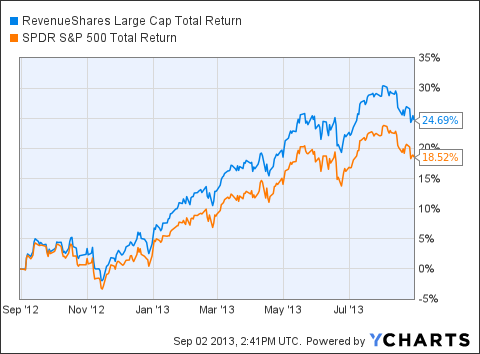 RWL Total Return Price data by YCharts
Mid Cap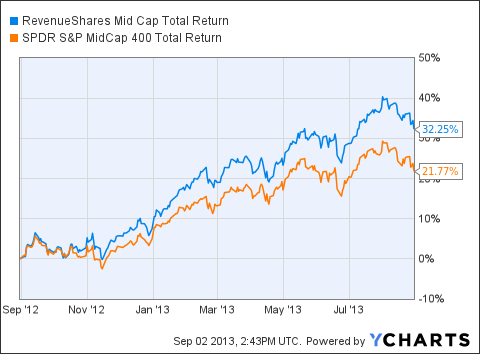 RWK Total Return Price data by YCharts
Small Cap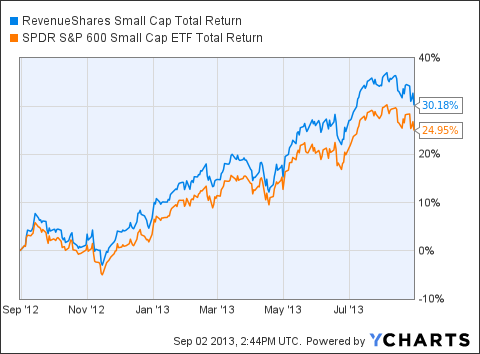 RWJ Total Return Price data by YCharts
Looking in more detail presents a somewhat cloudier picture, however.
Large Cap: S&P 500
| | | |
| --- | --- | --- |
| Large Cap | RWL | SPY |
| 1 Week Return | -0.59% | -0.39% |
| 4 Week Return | -3.09% | -2.85% |
| 13 Week Return | -0.09% | -0.27% |
| YTD Return | 19.76% | 16.22% |
| 1 Year Return | 25.47% | 18.51% |
| 3 Year Return | 69.81% | 63.36% |
| 5 Year Return | 51.24% | 42.04% |
| Beta | 1.08 | 1.00 |
| P/E Ratio | 13.09 | 15.37 |
| Annual Dividend Yield % | 1.72% | 2.04% |
| Standard Deviation | 17.74% | 16.21% |
MidCap: S&P400
| | | |
| --- | --- | --- |
| Mid Cap | RWK | MDY |
| 1 Week Return | -1.10% | -0.50% |
| 4 Week Return | -2.84% | -2.77% |
| 13 Week Return | 2.22% | 1.22% |
| YTD Return | 24.39% | 18.03% |
| 1 Year Return | 34.16% | 24.38% |
| 3 Year Return | 75.72% | 68.71% |
| 5 Year Return | 69.63% | 55.91% |
| Beta | 1.00 | 1.11 |
| P/E Ratio | 14.37 | 18.01 |
| Annual Dividend Yield % | 1.65% | 1.79% |
| Standard Deviation | 21.87% | 19.44% |
Small Cap: S&P 600
| | | |
| --- | --- | --- |
| Small Cap | RWJ | SLY |
| 1 Week Return | -0.76% | -0.53% |
| 4 Week Return | -1.98% | -1.81% |
| 13 Week Return | 4.15% | 4.30% |
| YTD Return | 23.24% | 21.95% |
| 1 Year Return | 32.79% | 27.04% |
| 3 Year Return | 84.94% | 81.64% |
| 5 Year Return | 91.70% | 70.16% |
| Beta | -1.37 | -1.37 |
| P/E Ratio | 16.57 | 20.68 |
| Annual Dividend Yield % | 1.11% | 1.33% |
| Standard Deviation | 24.1% | 20.6% |
So, an interesting overview emerges. Over the extended bull run following the 2008-09 recession the revenue-weighted portfolios outperformed the cap-weighted portfolios, quite handily in the case of small cap stocks. This came at a cost of higher volatility as seen in the values for beta and the standard deviations. Interestingly, the revenue-weighted funds seem to have more of a value slant (based on the lower P/E ratios for their portfolios) something one tends to not associate with higher volatility in most market environments.
Recent performance-the recent downturn or correction, if you prefer-has shown a slight trend in favor of the cap-weighted funds. Not unexpected given the volatility numbers. One expects somewhat higher downdraws to follow from those higher standard deviations.
While we don't have a good record of performance during an extended bear market, the funds were introduced in the midst of the 2008-09 recession. How did they do? Not badly at all. As the charts below demonstrate, each of the funds tracked nearly precisely with its counterpart cap-weighted fund as they made their way through that valley of tears. Note, however, that slightly enhanced downdraws are associated with the Fall 2011 correction.
Total Return Since Inception
Large Cap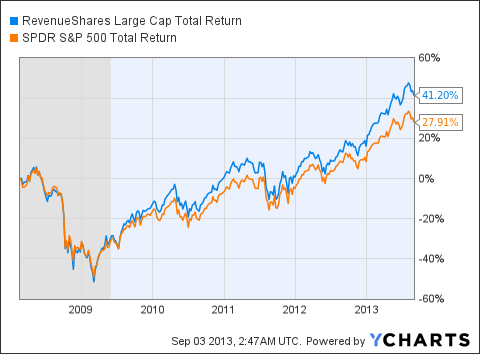 RWL Total Return Price data by YCharts
Mid Cap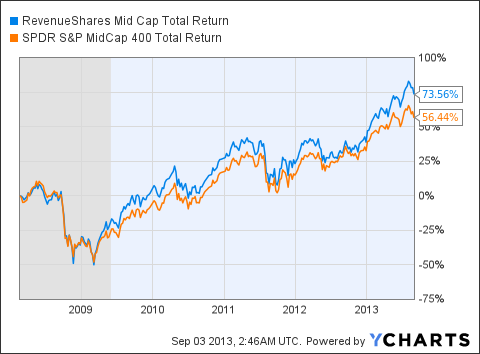 RWK Total Return Price data by YCharts
Small Cap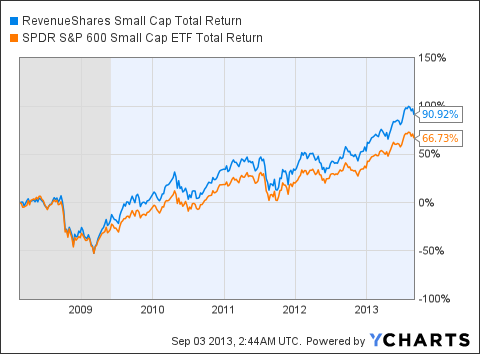 RWJ Total Return Price data by YCharts
Summing Up.
The unusual situation presented by the fact of having three pairs of funds with each pair sharing precisely the same portfolios, but applying a different (but in each case, well-defined) weighting tactic presents a real-world experimental test of the efficacy of the tactics. And the results show that the revenue-sharing approach has performed well, consistently well, across the cap-size classes.
The next graph shows how each of the revenue-weighted funds has compared to its cap-weighted counterpart on a return vs. std. dev. landscape. For this chart the large caps are shown with blue diamonds, mid-caps red circles, and small caps with green triangles. The markers are filled for the revenue-weighted funds to facilitate comparisons.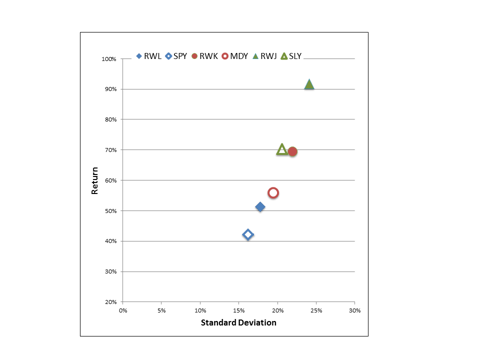 Even with the track records spanning a period of over five years, the life of the revenue-weighted funds may be too short to test performance in an extended down market, which indicates some caution is in order in applying these findings. But, an overall conclusion of enhanced returns with modest increased risk does seem to be justified.
Despite the strong performance of the revenue-weighted funds, they have lingered below the radar. One might expect more interest both in the media and in the market to accompany the solid returns, but there is scant mention of them on the financial websites, and searches in the usual places provide only minor results. Of more interest from an investor's point of view is the fact that their unloved status is reflected in low average volumes. The impact of this on liquidity is another cause for some concern.
Overall, I like what I see here. I'm watching carefully these days and am hoping for an indication that the time is right for increasing some of my equity positions. I'm inclined to think that time is not immediately at hand, but when it is, I fully expect to be opening positions in one or more of these funds.
As always, I remind readers that I am not a professional and I am most certainly not offering advice. I'm simply sharing my thoughts and research. Anything you may find interesting here will need your own thorough research and due diligence to determine if it may be appropriate for your portfolio.
Disclosure: I have no positions in any stocks mentioned, but may initiate a long position in RWJ over the next 72 hours. I wrote this article myself, and it expresses my own opinions. I am not receiving compensation for it (other than from Seeking Alpha). I have no business relationship with any company whose stock is mentioned in this article.